What TV Channels Did Not Inform You In 2002 Gujarat Riots Case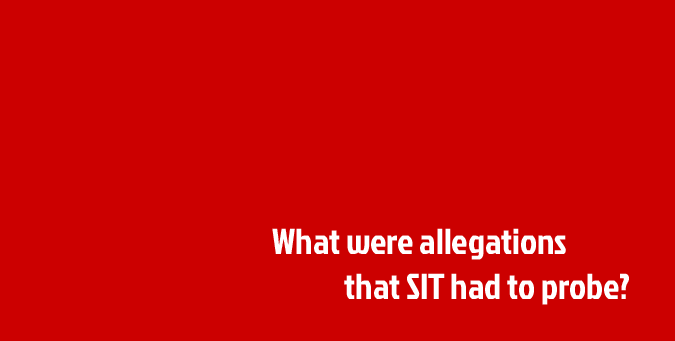 The first week of May 2012 was yet another "great" opportunity for some Padma award "winning" media folks and NGO crowd, to "show" their skills yet again. This was yet another episode, like they have been pouncing on selective reporting for a decade. Raju Ramachandran, the Amicus Curiae for 2002 Gujarat riots probe, was reported non-stop. The biggest "message" to common people of India was that "Narendra Modi can be prosecuted: Report by Raju Ramachandran". Unlike a very recent case involving Abhishek Manu Singhvi, veteran Congress leader, no worries from media this time about using a report, that is sub-judice.

Actually, the keen observers of Indian media aren't surprised at all, as all "respect" for court comes through when the matter involves non-Yeddyurappa and non-Modi cases anyway. But a worrisome point this time was that some journalists didn't even understand the core meaning of "Amicus Curiae", which in Latin means "Friend of the Court". Essentially, an Amicus Curiae is a volunteer, and not a judge. That message was either forgotten or totally missed out when the news channels and papers were blaring that Narendra Modi can be prosecuted, as though a judge said it in the court of law!
Let's examine the events a bit more closely, like we do on Social Media. Was this really a setback for Modi? Was the full information being provided to the common folks, taking into account both the SIT report and the Amicus Curiae opinion about the SIT report? Did any of the same media houses present the
entire
SIT report or at least excerpts from it, before rolling drum beats about an opinion of Raju Ramachandran?
Of course not...
When it comes to matters involving selective quoting, no one can beat Indian media. That too when the matter involves Narendra Modi or Gujarat, you can always expect one or the other media house goofing up, intentionally per my belief. You don't trust me? See this picture. A picture is worth 1000 words they say :)
Even when selectively reporting, some media houses look so immature and amateur. Here's one example I personally noticed and informed my friends too...
Not let's talk about the core matter, in a pragmatic way:
Without getting into too much details about who Zakia Jafri, Teesta Setalvad, Sanjiv Bhatt, GC Raiger, PK Mishra and others are, we jump straight into the crux of the mater. You can always look up on internet who each of those stalwarts are.
The Supreme Court setup Special Investigations Team (SIT), recently submitted its closure report on the 2002 Gujarat Riots' case, particularly focusing on the unfortunate Gulbarg Society Massacre. It happened a day after the unfortunate train being burnt at Godhra station, by fanatics.
What were the allegations that SIT had to probe?
On 8-June-2006, Zakia Jafri, the widow of an ex-MP who was a victim in the Gulbarg incident, accused 63 people as accused in her complaint. The number one accused was the Chief Minister of Gujarat, Narendra Modi. The rest included police officers, politicians and many more. There were at least 32 major allegations documented, with many sub-allegations too. The SIT, in its Closure Report, painfully lists each allegation, and gives details for each of them.
Starting from page 237 of the SIT Closure Report, specific
allegations
leveled against Chief Minister Narendra Modi are listed, explained, analyzed and verdict given.
Dispatch of Dead bodies to Ahmedabad.
Illegal Instructions at 27-Feb-2002 Meeting.
Presence of two ministers at police control room.
Illegal verbal instructions.
Delay in requisitioning the army.
Objectionable statements made by the CM to Zee TV and Times of India.
Delay in visiting areas in which Muslims had been attacked.
Phone conversation with the late Ahesan Jafri, ex-MP.
Failure to act on suggestions from state intelligence.
Questionable appointments of public prosecutors.
Intimidation of Sreekumar, Addl. DGP.
Manipulation of facts presented to Central Election Commission.
Speech on occasion of Gaurav Yatra.
Contact with controversial personalities.
Allegations carried by Tehelka magazine.
Rewarding Civil servants, who played a dubious role during the riots.
After an elaborate analysis and verdict, guess what the SIT gave in page 277 of the report!




That must be a HUGE vindication to the battered CM, whose bashing and demonizing was the source of income for so many thousands, for so many years!

You can go through all the 6 parts of this SIT Closure Report online or download for personal reading to cross verify against each of the allegation listed above, and how SIT dissects each before giving a clean chit to Narendra Modi...

Here are the online sources: SIT Final Closure Report on Gulbarg. Source CJPOnline - made available to them through an Order of the Magistrate's Court dated 10-4-2012; copies given on 7-4-2012. Report was signed by Himanshu Shukla, DCP & IO, SIT, Gandhi Nagar.

Part 1: SIT-Final-Closure-Report-on-Gulbarg-Part-1

Part 2: SIT-Final-Closure-Report-on-Gulbarg-Part-2

Part 3: SIT-Final-Closure-Report-on-Gulbarg-Part-3

Part 4: SIT-Final-Closure-Report-on-Gulbarg-Part-4

Part 5: SIT-Final-Closure-Report-on-Gulbarg-Part-5

Part 6: SIT-Final-Closure-Report-on-Gulbarg-Final-Part

But wait.. it doesn't end there...Yes, you heard that categorical issuance of clean chit to Narendra Modi at page 277 itself.. then what else is there till page 541? I will explain :)

Let me rewind the clock by 3 decades. Since 2002, Gujarat has been drummed all around electronic media for so long, as the worst Muslim massacre in India. Let's go back to 1983. One thing that shocked me from that year, when we look back, was that India's WORST Muslim massacre had happened in that year, when Asom state was under direct rule (President's rule) of then Prime Minister Indira Gandhi. Yes, far worse than the 2002 "genocide" that you keep hearing 24*7. While over 700 Muslims died in Gujarat 2002, almost 3 to 4 times that number died in Nellie, 1983. Have you ever seen any Indian TV channel even mentioning the name of Khudeja Bano? Did any Amicus Curiae ever opine about the IPCs under which the administrators of 1983 could be prosecuted? Was any SIT ever was formed to probe why Abul Hussain or Babu Ahmed's terrible experiences can be analyzed? No sir/madam... this is "secular" India where the WORST massacre of Muslims in independent India was hushed beneath the carpet. It took me 28 years after 1983, to even hear about this ghastly incident. If you want to spare some time, check this rare writeup about Nellie Massacre.

So for the unfortunate Zakia Jafri, a humongous amount of legal and media focus is given, but for the unfortunate Khudeja Bano, another Muslim woman, not ONE SIT? Yes.. that's "secular" India for you!

Now back on track with SIT Closure Report analysis:

The chief driver behind the SIT probe was Sanjiv Bhatt, IPS. His core claim was this fax, being reproduced from SIT Closure Report, page 524.




Apart from this, numerous allegations were laid by Sanjiv Bhatt primarily, to press on the 16 charges against CM Narendra Modi, we saw above. We must credit the SIT team for their patience in dealing with this apparent blatant liar. Am I overreacting by terming him a blatant liar? No friends.. You will know why, if you read through the next few excerpts from the SIT Closure report, that my social network friends already shared here. Just like his "best friend" Teesta Setalvad, who was exposed big time for a series of shameful lies over the years, he also got exposed big time in this SIT Closure report.

I know you want to know at least some details of how this seemingly blatant liar got exposed.. read these excerpts. These are from the link provided above:

When Smt Swarna Kanta Verma, then acting secretary was shown the picture of Sanjiv Bhatt, she said that she did not see him in the meeting or in fact, ANY meeting.
Ashok Narayan then ACS Home says Sanjiv Bhatt was not present and DGP gave sequence of events.
Both Ashok Narayan and Swarna Kanta Verma says Narendra Modi did not say anything about venting of Anger.
Everyone who was present in the meeting recollected everyone else, who was present in the meeting. But Sanjiv Bhatt could not say if PK Mishra was there.
No participant said Bhatt was not there. Also, none said any such statements were made.
"No movement diary system submission there and Sanjiv Bhatt had not submitted anything" – GC Raiger
Even Sreekumar said Bhatt was not present in meeting.
Call records of ******9398 of Sanjiv Bhatt showed that Sanjiv Bhatt was in Ahmedabad till 10.57 AM and no way he could attend the CM's residence for a meeting that started at 10.30 AM, while being 25 KMs away!
Another Lie - Sanjiv Bhatt seeing I K Jadega in DGPs' office was wrong as at 11.00 his location was at Vastrapur.
There are tons of other info. It actually took the SIT over 40 pages to expose the lies of Sanjiv Bhatt, lie by lie!
Those were some key text excerpts using what my friends had provided on social media. Now some actual screen shots from the SIT Closure report itself.

This "whistle blower" was paraded in prime time across TV channels, for months, to tell Indians how "evil" was Narendra Modi! I wish the same channels at least read the report and make a 30 second apology for their unethical behaviour. Oh.. do I have to remind them that even the apparent liar Teesta was paraded the same way across "debates", for years? Double that apology to 60 seconds then :)

Here are some more from the report directly:

Page 421 exposes his 1990 dubious record:
Page 421 again, cites a criminal case involving a death, where Sanjiv Bhatt was probed.
Page 423 brings out Sanjiv Bhatt's dark past from Rajasthan, from 1996.
Contrary to the propaganda that Sanjiv Bhatt was harassed, Narendra Modi govt that did NOT dismiss him in 2002 or 2006, when the Gujarat Vigilance commission complained about him for professional misconducts. Those are serious charges against a serving IPS officers. The SIT Report page 423 cites the same.
Then the SIT report goes on exposing Sanjiv Bhatt being an obvious "plant" of Congress party and dubious NGOs, step by step. Here is one from page 423.
Then Sanjiv Bhatt's expected links with media journalists and the dubious "NGO" people like Teesta comes out open. Long live the fourth pillar of democracy!
Oh.. how about the fax that we referred above? SIT on pages 530 and 531 stripped all false claims using this.. Check this :)
If you still have the appetite to learn how this Supreme Court appointed SIT bared the numerous lies of Sanjiv Bhatt, read this.

Apart from Narendra Modi and Sanjiv Bhatt, the SIT Closure Report also talks about a wide variety of things. It covers Sreekumar's points in pages 459 and 462. It gives ample information to counter the allegations that VHP was involved in taking out Godhra Karsevak bodies to incite tension, at page 464. It exposes Sanjiv Bhatt's attempts to influence witnesses which was shameful. It even shows Sanjiv Bhatt's attempt to influence the Amicus Curiae himself!

There are extremely important details about how army was called on time. The report shows how the neighbouring states were requested to send additional police force, and how all three Congress ruled states disappointed Gujarat, including the vocal Digvijay Singh ruled Madhya Pradesh. Narendra Modi did everything he could do under his control, to slow or stop riots, per SIT to sum things up on this sub-topic.

After all this, the SIT Report takes on the Amicus Curiae opinions, step by step, from page 515 onwards. Our Indian "secular" media wouldn't highlight that :) Most didn't even mention the very important fact that every major "charge" the Amicus Curiae wrote, the SIT had already countered it, so that there's no ambiguity left in the message.

And in the last page, that is the 541st page a "THE END" sign is shown for 10 years of sustained vilifying campaign against Narendra Modi :-




Let me leave you guys with two questions;

>> Is it the end of India's longest witch hunt using every possible option available on media, NGO, bureaucracy and government side?

>> Shall we now loudly say Satyameva Jayate?

Your precious comments are most welcome. Any correction in this serious matter is welcome too.


Related article ...
# When Social Media expanded BBC into "Big-time Busted Credibility"
# Modi outsmarts Chidambaram: Humiliated HM says CMs should recognise need for NCTC
# Policy paralysis: Is it an economic term for exploitation?
# Is Kalki the only hope? - S Gurumurthy


Author : Kiran KS | Follow the writer on twitter/KiranKS
- - - - - - - - - - - - - - - - - - - - - - - - - - - - - - - - - - - - - - - - - - - - - - - - - - - - - - - - - - - - - - - - - - - - - - - - - - - - - - - - - -
Kiran KS is an Information Technology industry veteran who is well traveled observing global IT trends. He has the habit of closely watching current affairs, spirituality, social development and politics. He is active on social networks talking about his hobbies, rather than primary business line.
- - - - - - - - - - - - - - - - - - - - - - - - - - - - - - - - - - - - - - - - - - - - - - - - - - - - - - - - - - - - - - - - - - - - - - - - - - - - - - - - - -
Disclaimer: The author is a commentator on issues of national interest. These are his personal views and do not necessarily reflect IBTL's opinion.
Share Your View via Facebook
top trend
what next
IBTL Gallery