Dear Congress Mouthpiece, Here's The 'Real' Rahul Gandhi For You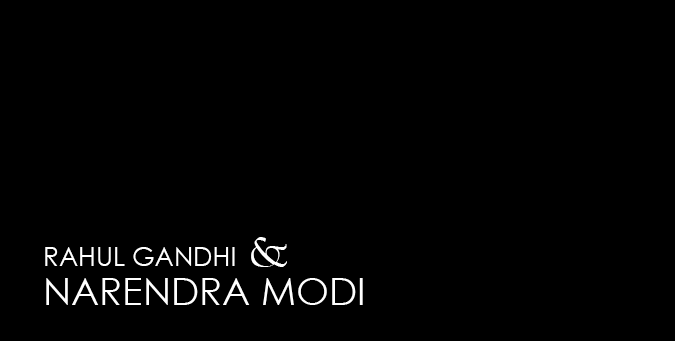 Today, I came across a truly hilarious comparison between Rahul Gandhi and Narendra Modi, titled "Isn't the choice obvious?" by HamaraCongress writer Sanjay Jha. Once I recovered after falling off my chair laughing out really loud, I managed to peep into his profile on his own website.

He seems to be an Executive Director of Dale Carnegie Training Operations, claims Management Science specialization including *cough* *cough*, "leadership development"! To make it more torturous for my stomach which was so numb due to hard laughing, his profile also claims to be that of an executive coach & mentor of "senior" political leader :) Then he listed a number of mainstream papers to which he has 'contributed'.

Without focusing any further on his other personal details & accomplishments, let me tell you why I checked his profile. My interest was solely to find out who can be that "Brihaspati" (Genius) who could concoct such nonsensical "facts" about Rahul Gandhi. Once you read the points below, you will find out why. I am covering the 12 key points from Mr.Jha's writeup, with specific focus on Rahul Gandhi only. Because one can write a book on Narendra Modi's achievements, which are not the focus points here for me.
1. Political Philosophy :
Mr. Jha claimed: Rahul Gandhi's is "Democratic, secular, liberal, pro-poor".
The Reality is : Democratic? Rahul Gandhi is there in politics mainly due to dynasty sycophancy of Congress supporters. He was made a General Secretary of a national party without even demonstrating the administrative capabilities as a mayor of a small city. It does not happen in any truly democratic party.
Secular? A party's top leader, whose party allies with "Muslim" league in Kerala and Majlis Ittehad-ul "Muslimeen" in Andhra Pradesh claiming itself to be secular? Give us a break. Mr.Jha needs to read the history of India as to which party broke a 5000 year old civilization playing 2 nation theory.
Liberal? A person who proclaimed that he is a "Brahmin" playing caste card, in his own party's meeting, is termed liberal?
Pro-poor? Just bringing down the criteria for poverty line to Rs.32 and Rs.26, in the most unscientific means, does not make anyone pro-poor. In fact, if Mr.Jha or other blind Congress followers spend some time analyzing real statistics, they will know how pathetic
the indices of Rahul's own constituency
is. Over 50% of the people there are dirt poor, which does not speak well for him or his dynasty that represented Amethi for decades.
2. Media Relationships :
Mr. Jha claimed: Rahul Gandhi Respects media, keeps low-profile, no unnecessary plugs and PR
The Reality is : When majority of the media houses are bought by Rahul Gandhi's family, via dubious means of public tax money plunder, like Rajiv Gandhi's birth and death day
government ads
, what is the need for him to step up PR at all? They would behave like loyal "you know whats". Isn't that common sense Mr.Jha?
If by chance they had not done that, and dear Rahul Gandhi had come up for any serious media talk, he would have shocked even Mr.Jha himself. Watch this serious display of
Rahul Gandhi's general knowledge
that a quarter of a million people already watched :)
3. Visa Status :
Mr. Jha claimed: Rahul Gandhi is welcomed all over the world.
The Reality is : Can Mr.Jha explain on which passport? Because there have been serious allegations all over internet that Rahul Gandhi has more than one passport. Mr. Subramanian Swamy, a seasoned Indian politician in particular has gone dozens of times in front of media openly telling Indians that
Rahul Gandhi has an Italian Passport
too. So far we have not seen Rahul Gandhi coming out to just tell these words. "I have never had any Italian passport". Why is that Mr.Jha?
4. Corruption Charges :
Mr. Jha claimed: NIL
The Reality is : While Rahul Gandhi was the General Secretary of Congress, India saw 2G, CWG, Adarsh, Coalgate, Cash for Votes, NREGA and a whole list of corruption charges. In fact the corruption during the past few years has been so humongous, that a
new alphabet scheme
has been generated with most of the corruption entries there being from Congress and its allies. After all these, Mr.Jha is saying Mr.Gandhi and his party has no corruption charges? You got to be kidding me like Mr.Sibal did with "zero loss" theory. One can't take credit for all glory of the party, but duck when the party is under terrible cloud of allegations & charges.
5. Cases under active investigation :
Mr. Jha claimed: None
The Reality is : If there was no case 'under investigation' against Rahul Gandhi, why did he approach Supreme Court to dismiss
'baseless' rape charges
?
6. Respect for law :
Mr. Jha claimed: Fully
The Reality is : Rahul Gandhi has violated the law. He
rode pillion on a bike
to a village in Uttar Pradesh, when there were prohibitory orders. Isn't that a violation of law?
Rahul Gandhi was photographed driving a car without seat belt.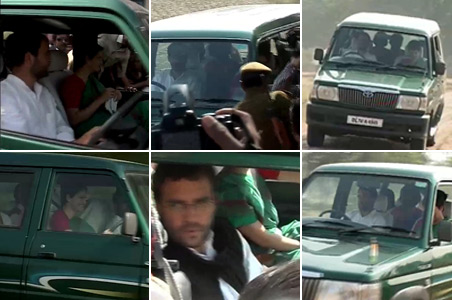 Image credit: NDTV
Isn't that a violation of law?
Worse Mr. Jha, neither Rahul Gandhi nor his mother
have informed their place of work
, that is the parliament, about their foreign trips since 2004!
Would you ever take off dozens of times to countries abroad, without telling your work place where you are going? And you call that kind of irresponsibility as 'respect for law'?

7. Spirit of Leadership :

Mr.Jha claimed: Has strengthened Youth Congress from grass-roots; the process of direct entry for youngsters is on. Took responsibility for UP results, even if it was a collective responsibility.

The Reality is : Rahul Gandhi's "leadership" has been the biggest hoax of 21st century India. In Bihar the party was reduced to 4 seats. In Tamil Nadu 5 seats. In Karnataka, Congress lost 19 out of 21 by polls since 2008. Got decimated in UP elections. It has become so pathetic that most state Congress leaders would be praying to God, please don't make Rahul come and campaign for us (and in Manipur Congress won, when Rahul did not campaign, precisely that way).

In fact, wherever Rahul Gandhi goes, terrible things follow. For instance he worked "very hard" to get Tamil Nadu Youth Congress membership increased. Guess what ended up happening? He brought morons into the party who can't tell the difference between Times of India and TIME Magazine!

Worse, when Rahul Gandhi went to Phulpur, UP for campaigning some young people showed black flags. In front of this "leader" Rahul, his government's MPs kicked a protestor openly in the view of TV cameras.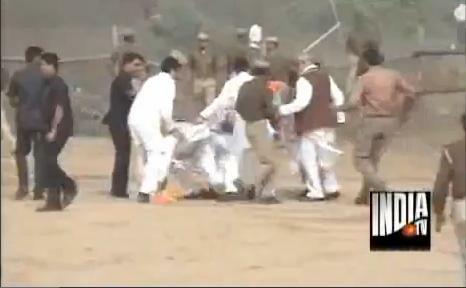 Image credit: outlookindia

Did anyone hear the "spirit of leadership" from Rahul here condemning the shameful act by his party's MPs? Let Mr.Jha clarify here.

8. Lust for power :

Mr. Jha claimed: Despite repeated chorus to become PM, has patiently worked hard for the party. Respects the PM Manmohan Singh immensely . Is a team-player.

The Reality is : He is incompetent. He loves to enjoy power from back door. Authority sans responsibility is a perfect gift handed over to him and his mother by sycophants, and why should he say no to that? His attendance in his work place is pathetic. For instance UP's average MP attendance in Lok Sabha is 80%, while Rahul Gandhi's is 42%. An average Uttar Pradesh MP participated in 32.1 debates so far this term of the parliament, while Rahul attended a grand ONE debate! An average UP MP has asked 161 questions while Rahul is yet to open his account!

Of course one incompetent would automatically respect another incompetent immensely. Want proof from a reputed international magazine?



Image credit: Gulfnews

9. Marital Status :

Mr. Jha claimed: Single

The Reality is : I don't understand how in the world someone claiming single is better? Of course Rahul Gandhi had a girlfriend and he himself accepted it publicly. In the Indian traditional social structure, a girlfriend is not that of a prestigious thing to flash for a man, as a man marries a woman lawfully first before starting to live with her. Nevertheless, how will being single at age 42 compare him as "better" compared to a competitor? Irresponsible criteria by Mr.Jha.

10. Development credo :

Mr. Jha claimed: Accepts India has a long way to go despite high GDP growth, and India's super-power economic status achieved under UPA . Gap between Bharat and India needs to be bridged.

The Reality is : Rupee has lost more than 25% in 2012 itself compared to Dollar, under UPA government. India is being downgraded by all rating agencies like S&P. GDP growth rates has fallen down. Fuel prices have gone up at least by 20% in most metros over the past 2 years. Being a part of the ruling party, it is not enough to just "accept" that India has a long way to go, results need to show up.

If India is developing in any area, like software exports, it is in spite of Rahul Gandhi's party's corruption & incompetence, not because of the government. Please note the difference!

11. Milestones :

Mr. Jha claimed : Under UPA- landmark legislations have happened; – RTI, RTE, MNREGA, NRHM, Aadhar, Lok Pal bill ; high GDP growth, Doubling of Per capital Income, reduction in poverty etc.

The Reality is : This is exactly the problem with sycophancy. You credit every piece that even remotely looks or sounds good to Rahul Gandhi's personal "milestone", but blame others for all failures. What was Rahul's personal involvement for any of the things listed above?

In fact, Aadhar has been a big white elephant so far. Lok pal bill was scuttled by Rahul Gandhi's party during the murder of democracy at Rajya Sabha during the last week of 2011. And the entire country is protesting against it even now. UPA government ruthlessly attacked Baba Ramdev's protest against politicians' black money, and a woman even died in that midnight crackdown. GDP growth has slowed down compared years immediately after NDA rule (when benefit was reaped due to good policy spillover).

In fact RTI has been a death trap for activists due to poor protection provided to whistle blowers. Will Rahul Gandhi take "credit" for these unfortunate deaths too?

RTE has gradually become another minority appeasement project. Will Rahul Gandhi explain to the country why unaided minority institutions are keeping poor students away in a secular country?

Regarding the badly implemented socialistic populism like NREGA, there are scams across India. In fact Rahul Gandhi's own mother's Lok Sabha constituency reported a scam. Will he take "credit" for the same?

Enough said about these "milestones" :(

12. Vision of the future :

Mr. Jha claimed: Of a strong, united, equitable, pluralistic, stable and fast-growing India.

The Reality is : Why critics? Mr. Jha should talk to UPA's minister Salman Khurshid about Rahul's "vision" :)

13. Oratory :

Mr. Jha claims : "Gandhi is soft spoken, focused, raises fundamental issues and speaks from his heart. Above all, his speeches are inclusive in nature, like his political philosophy".

The Reality is: His speeches wouldn't even stand a chance in front of 18 year old students, forget seasoned voters. I hope Mr.Jha has seen how Darbhanga, Bihar students made Rahul eat crow.. "Main galti se Gujarat Bol diya... sorry" :) Video Link

14. Theatrics :

Mr. Jha Claims : What you see is what you get.

The Reality is: Rahul Gandhi mislead the nation after his Bhatta Parsaul theatrics. This is a serious problem if this person is looked upon as a future PM of the country.

When he met the PM, he claimed on TV that "people have been killed, people have been raped". Video Link

The reality was that NHRC came out quite clearly that there were no rapes or killings at Bhatta Parsaul.

Can we trust a man who misleads the nation so shamefully, that too when it comes to matter of such grave concern as rape of a woman?

15. Twitter followers :

Mr. Jha claims : He is not on Twitter. Zero followers.

The Reality is: He probably is not savvy enough or capable of handling intelligent people. That's all I can say. Even the most likely busiest man in the world, the POTUS (President of the United States) makes time to communicate with his people on Twitter. Rahul Gandhi, who has no cabinet responsibilities, who is not a mayor, CM, or PM, who hardly is seen in public doing something meaningful to the country for most part of the year, has NO time for Twitter. That says it all :)

Summary : In summary, Mr.Jha should be introspecting as to why a seemingly well read person like him would go to such nonsensical extent to project a flop politician like Rahul Gandhi... worse in comparison with Narendra Modi, against whom Rahul wouldn't even stand a chance of 15 minutes live TV debate. Hope Mr.Jha treats himself of the sycophancy grip and starts to analyze a bit more objectively going forward.


Author : Kiran KS | Follow the writer on twitter/KiranKS
- - - - - - - - - - - - - - - - - - - - - - - - - - - - - - - - - - - - - - - - - - - - - - - - - - - - - - - - - - - - - - - - - - - - - - - - - - - - - - - - - -
Disclaimer: The author is a commentator on issues of national interest. These are his personal views and do not necessarily reflect IBTL's opinion.
Share Your View via Facebook
top trend
what next
IBTL Gallery