Opinion Poll 2015: Battle of Bihar
Fri, Oct 09,2015, 12:09 PM IST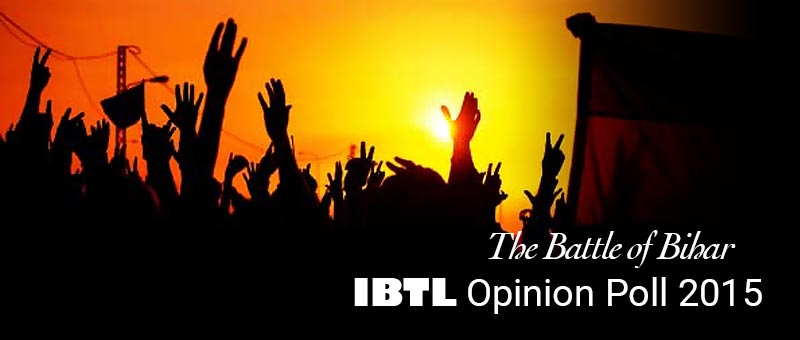 Chankaya has been rightly called the Father of Ancient Economics but people have underrated his political prowess. He must also be hailed as a Guru of politics. Many of his findings hold relevance even 2400 years after his reign. Chanakya had dethroned arguably one of the most powerful Kings of the world (The great Alexander who conquered half the world got scared due to the large army of the Magadh King Nanda), Dhana Nanda to install a child from underprivileged community as the new emperor. Gandhiji started his Anti British movement from Champaran in Bihar. The 1st Anti Congress movement started in Bihar in the 1970s. The foundation of 1st non Congress with full majority was laid in Bihar when in spectacular move; Bihar BJP passed unanimous resolution to demand their central leadership to name Narendra Modi as the PM. Rest is history. Today IBTL is back with the its pre poll survey for Bihar.
We will cover 2 scenarios. More focus will be on the current scenario with a slight discussion on 'what if'. What if Nitish had not broken up with the BJP? What if Manjhi continued as the CM? What if JDU did not ally with Congress and RJD?
Survey Results
How do people see different alliances?
Did Nitish do the right thing by breaking with BJP?
Did Nitish do the right thing by allying with Lalu Prasad Yadav
Did Nitish do the right thing by removing Manjhi as the CM
Are you satisfied with Nitish Kumar as CM?
Are you satisfied with Narendra Modi as PM?
What is the biggest issue as per you?
Do you agree with Nitish Kumar that PM Modi's DNA remarks have hurt Biharis?
Have Mohan Bhagwat's statements on reservation hurt BJP?
Has Lalu yadav's recent comments on beef, hurt his party's image*?
Will Akbaruddin owaisi's MIM be effective in Bihar?
It is clear that most of the people have not liked JDU's tie up with RJD. They would have liked to have Narendra Modi as PM and Nitish Kumar as the CM. Bhagwat's remarks on reservation might have hurt BJP a bit, but off late, we also tried to find out what did Lalu's remarks on beef effected into. A whopping 71% said these remarks had hurt his image. The corresponding number among his community members was quite lower at 37% while 52% of them believed his comments were twisted. Owaisi factor would be negligible as per our survey. In Seemanchal area, which is muslim dominated, only 12% people said, Owaisi would have some effect. The corresponding number from his community, stood nearly the same at 14%.
Caste wise preferences
IBTL does not believe in castewise segregation of Indians, however this polity is still alive in many states, hence it would be pragmatic to gauge the mood of the people across castes.
A few key learnings from the data
The Upper Castes (Brahmins, Rajputs, Bhumihars and Kayashtas) were strongly behind BJP alliance with over 3/4ths of them preferring to vote for NDA, irrespective of who the candidate was (caste of the candidate did not matter)
The Dalits are strongly behind NDA while Mahadalits are moderately behind the NDA.
The Muslims are very strongly behind the Grand Alliance and the 3rd front and MIM has not been able to dent much from this votebank
The OBCs (almost half of Bihar's population) are a divided house. However more OBC voters prefer the Grand Alliance than the NDA
However this skew is largely because of the presence of Yadav, Kurmi and Koeri voters in the OBC fold who have rallied behind the Grand alliance. Leaving them out, a fair majority of other backward communities seem to be behind NDA
We targeted 10,000 voters and successfully got responses from 8782 of them. The voters were distributed across 28 districts of Bihar. The representative sample was close to the actual population distribution of Bihar (except for 1 question on Lalu's beef remarks which was executed later on a sample of 1200 people from 5 districts). The sample constituted of Muslims 16%, Yadavas 14.5%, Kurmis 5%, Koeris 6%, Dalits 4%, Maha Dalits 10%, Brahmins 5.5%, Baniyas 7%, Rajputs 5%, Bhumiahars 4.5%, Kayasthas 1.5%, and the remaining EBCs at 21%.
Vote share and Seats
Using the above calculation, we arrived out at following vote share
Region wise distribution of seats
Total Seats
NDA: 144 (BJP 119, LJP 16, RLSP 5, HAM 4)
UPA: 85 (JDU 41, RJD 40, INC 4)
Others: 14
What If
We will analyze what if Nitish Kumar had gone independently, instead of allying with the RJD, Congress or BJP. In this case, the caste wise segregation would be
Overall Voteshare
JDU: 32.8%
NDA: 31%
UPA: 18.45%
Others: 17.75%
In such a scenario, the M-Y combination of Lalu Yadav would have been shattered 2 ways. First his Yadav votes would consolidate slightly behind BJP, to counter JDU. Second, large chunk of his Muslims would rally behind JDU as the most viable alternative to the BJP. BJP would gain more Yadav votes, but lose many of the EBC and UC votes in this scenario to JDU, catapulting it to the single largest party in the Assembly. At this forecast, JDU on its own could win a simple majority
Seat Forecast
JDU: 123
NDA: 96 (BJP 84, LJP 8, HAM 2, RLSP 2)
UPA: 18 (RJD 17, Congress 1)
Others: 6
If the JDU, continued it's alliance with the BJP, the formation would poll over 53% votes and win 220 out of the 243 seats in the Assembly.
Please note – This situation is as on Mid-September, when the survey was done and indicates only the voting preferences. The actual voting and the turnout of respective voters will determine which direction the results would go. For that we need to wait till the 8th of November. However 1 thing is clear, the momentum has shifted in favour of NDA and this election is for them to lose. Probably among the 4 costly mistakes of Nitish Kumar (breaking alliance with BJP, making Manjhi as CM, removing Manjhi from CM post, allying with RJD), the 4th one, that is alliance with RJD seems to have hurt him the most. It could mean the difference between continuation and termination of a successful political career.