Discovery of mass graves in Balochistan is a question mark for the civilized world - BRP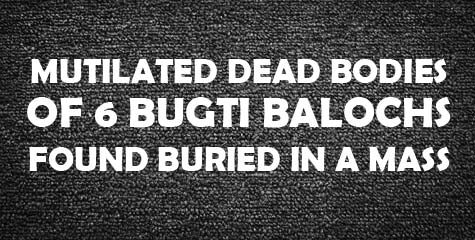 Balochistan, for most Indians, is just another part of Pakistan about which we don't care. However, a fact is that Balochistan region was an important region belonging to the Harrappan Civilization. From 1st century AD to 3rd century AD, the region was ruled by the Pāratarājas, believed to be the same as Pāradas mentioned in the Vayu Puraan and Mahabharat too. Present day Balochistan covers around 40% of Pakistan and some parts of Iran and Afghanistan. The region used to enjoy autonomy under British rule but after division, just like Pakistani Army invaded parts of Kashmir (now PoK), they also invaded Balochistan, which had refused to accede to Pakistan. Since then, Baloch people have been fighting for independence. There have been army operations by Pakistan, to crush the movements. Pakistani army often indulges in atrocities and human right violations in the region.

To bring the issues to the awareness of common Indians, IBTL contacted Shri Abdul Bugti Baloch, a Baloch freedom fighter who is leading the campaign to, as he puts it, let the world know about atrocities of occupying Pakistani forces against Baloch nation, .. for the end of illegal occupation of their land. In this series, we'll be sharing the news-and-views of the 'Baloch Freedom Struggle'.
The Central Spokesman of Baloch Republican Party Mir Sher Mohammad Bugti has said the discovery of mass graves in Dera Bugti is a big question mark for the world particularly for the Islamic countries. Occupying forces of pakistan have extended the range of military operations in Balochistan to many areas of Sindh.

Condolences references and 'Quran Khuwani' were organized in Sui, Dera Bugti, Quetta and many other areas of Occupied Balochistan on March 25, the 1st martyrdom anniversary of 'Shohdah-e-Machi Gorani' (Martyrs of Machi Gorani). Tribute was paid to the Baloch martyrs during these events.
After two days, my brother and his one colleague were killed in custody of occupying pakistani forces and their bullet-riddled dead bodies were found in a deserted area near Sui – he added.
On March 25, 2011, he continued, dead bodies of Ali Bux Bugti, Shah Bux Bugti, Iqbal Mazari, Rahm Dil Bugti, Koh Dil Bugti & Khetaran Bugti were found buried in a mass grave discovered in Machi, Gorani area near Sui. The deceased were abducted during the December 05, 2010 offensive and the whereabouts of other 11 Baloch remains unknown to date.
He said BRP condemns the military operation in Baloch areas (i.e. Lyari, Malir etc) of Karachi and appeal to the Islamic Countries, international community, European Union & Human Rights Organizations to take immediate action against the discovery of mass graves and other human rights violations in Balochistan.
#
Independence is the only solution for Balochistan, says BRP leader Nawab Bugti
First published at March 26, 2012
Share Your View via Facebook
top trend
what next
IBTL Gallery