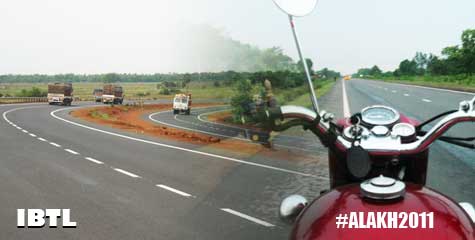 After bidding Goodbyes I started for Medinipur. Met Jehangir & his brothers to thank them once again for their excellent job on Khanabadosh . Believe me, it was really impressive. And I do think that a little bit of respect & appreciation could do magic on Hardworking and Honest people. They value these more than money.

Kept going towards Kharagpur following NH5 and was really appreciative of the good job put up by NHAI. If what Rajiv Gandhi had said was true, then they really haven't done a bad job in just 15% of the moneyJ. Came across some children from slums playing football . The slums were provided a very contrasting backdrop by the under construction high rises.
It was just then I heard sounds of Harikatha. I was instantly drawn towards the place. I saw people engrossed in Harikatha , I decided to spend some time there and seek a way out of my dilemma. Sat there quietly for almost 30 minutes and strangely it was a clarity that I experienced. It dawned on me that we had the ways and means to retain our sanity through our age old beliefs. And it is these beliefs and values only that we can fall back on, to seek strength. I was feeling better now and I sought leave from the organizers who had welcomed me with benign smiles.
Was feeling hungry, and I think I had enough of fruits etc for past some days, so I decided to indulge in some sinning. I entered in a SWEET SHOP!! And had my fill of Rosogollas!! They were divine. It was as if Baba Bholenath wanted to refresh every emotion of mine- sadness, calm, elation!!
Now that all my senses were satisfied, I took care of Khanabadosh's hunger and got the tank topped. I was back on the roads and kept riding. It was a blissful experience because of the servicing that Khanabadosh had received. Was not he the unsung hero?? It was really BEAUTIFUL and I was enjoying every bit of it. I was on the way to Kharagpur and a bit tired a few hours later. It is here that I decided to SLEEP at a bus stop. Made a BED for me, applied ODOMOS to the exposed parts and TRIED sleeping. But I was assured soon by the passing trucks that it's not possible to sleep at a bus stop if you are not intoxicated. Soon I gave it up and decided to move on. I was starting to get really tired.
When I reached the place where you take a left turn to Kharagpur and a right one to Medinipur, I decided to turn right and visit Habibpur which is the birthplace of Khudiram Bose. And when it is about Medinipur, how could one forget Bimal Dasgupta, Jyothi Jibon Ghosh, Pradoot Bhattacharya, Prabhakangsu Pal, Mrigan Dutta, Anath Bandhu Panja, Ramkrishna Roy, Braja Kishor Chakraborty, Nirmal Jibon Ghosh and Satyendranath Basu. They will continue to inspire us for generations to come.
It is a populated place now and with in municipal limits. Whenever I have asked for the descendants of the Martyrs, I have received different answers each time. Making me think that either people don't feel that related to these Martyrs, and don't bother about what they did, or since these Martyrs died young they didn't leave behind anyone!! I for one, did feel that there was something in the air that made Medinipur different from other cities. I was no more tired and wanted to keep going.
The decision to keep going was rewarded with a beautiful day break and a great view of fields with ripe crops.
The farmer in me was jumping with joy. I was really thanking myself for taking this journey. The roads, the fields, the people were all blending into one to give a beautiful picture of this great nation.
I was falling more and more in love with Bharat. I must have done something really good to have taken birth here.
At times there is a slight mismatch between your spirits and your body J. I came to know this when I found myself almost sleeping and decided to have tea at one of the roadside tea stalls. Met one school teacher Mr Moduaa who gave me an insight into the conditions prevailing there . The things that I come to know were totally contrary to my perceptions about Odisha. These were the most effective cups of tea I had ever had. Odisha was a land of freedom fighters, farmers and keepers of faith to me now.
I preceded further and crossed Balasore/Baleshwar where the Legendary Bagha Jatin was martyred. I am surprised at the gradual deletion of these legends from our history texts. I was wondering who toyed with the name like Baleshwar to make it sound like a SORE.
While I was riding on, I was greeted by one UNIQUE NHAI employee, who made sure that everyone followed the diversion.
I was all fresh after having tea, so I took a slight detour and entered a village to get a view of the villages in Odisha. I was impressed the way they have managed to preserve the traditional beliefs. But like all villages, arrival of a stranger attracted immediate inquisitiveness. Despite the language barrier, I was able to tell them that I was coming from Kashi, and most of them knew about Kashi !! I was offered water & sweets which made it worth the effort J.
I took their leave and proceeded further. I saw many temples of Hanuman ji all around, his presence was really reassuring for me !!
I was at Bhadrak now, taking a break after doing almost 260 Kilometers. And what a sight I was greeted with, when I entered Bhadrak- "Garam Garam Jalebi's" , so tempting that I was FORCED to devour quite a few of them. Its taste will last long enough in my memory to keep reminding me that "Kuch Meetha Ho jaye" will always mean these delicacies for me and not some IDEA SELLING by some MNC!!
At Bhadrak I wish to visit the Rakta Teerth, or the second Jalianwala Bagh, which is located about 35 Kilometers from here at Eram. My next post will be dedicated to Rakta teerth.
Vandemataram
Share Your View via Facebook
top trend
what next
IBTL Gallery