Bounty on Modi's head - how many crores did we spend?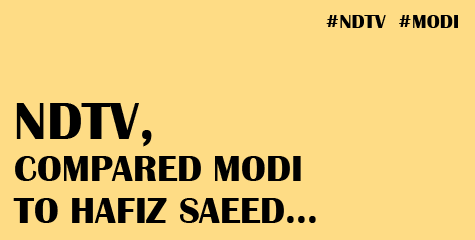 After grilling the witnesses and churning the facts to extract the truth from them for 3 years, the Supreme Court appointed SIT came up with its closure report that not only exonerates Gujarat's longest serving and inarguably most successful Chief Minister Narendra Modi from any criminal culpability in connection with the riots' cases that it was formed to investigate, but also virtually certified that he carried out his responsibilities effectively and riots were controlled despite the enormous magnitude. This is another death blow to that conglomerate of pseudo-secular, left-liberal fundamentalists posing as crusaders for justice who left no stone unturned to carry out their personal vendetta on the corpses of the deceased and the tears of their kin. May such people rot in hell in this very life and their end be a lesson for everyone to see!

Why do I say that? I say that because in the name of fighting for justice, these people, the leading anchors of the media houses (and I loathe to take their names here) and the perjurer Teesta Setalwad and her army of crickets, with their endless lies and propaganda created an ambience of immense mistrust among Hindus and Muslims which was not limited to the riots affected parts of Gujarat, but was pan-Indian. Read the comments on any news featuring Modi, and you'll get a taste of it. Figuratively speaking, they used the blood and flesh of the deceased as toppings to garnish their pizza of their perceived pseudo-secular justice!
Consider this
: Zakia Jafry was examined by the police for the first time regarding the Gulburg Society cases on March 6, 2002 but she did not come up with allegations against Modi and others. May be she was shaken at that time. Later, she appeared before the Nanavati Commission on August 29, 2003 but did not disclose the facts given in the complaint, she later made to the SIT. In September 2003, she filed an affidavit in the Supreme Court but did not level any allegations against Modi and others. More than four years after, she was coerced (or brainwashed) to file a complaint against Narendra Modi. That was in June 6, 2006. Who made this happen? Teesta Setalwad and her gang, of course. How Teesta Setalwad was reprimanded by the Supreme Court of India, first for raising the issue on an International Forum even when the top court of the nation was looking into the affairs, was for everyone to see. This showed the faith she had in Indian judiciary. That she forged affidavits and presented fake witnesses in the court of law, is also what stands as something that should make her head in shame. Her "Citizens for Peace and Justice", was just a sham as exposed by her own former colleague, who incidentally was a Muslim who she used and threw.
And so it goes for
Sanjeev Bhatt
, a suspended officer facing severe charges in many criminal cases, and still posing as a crusader for justice openly playing in the hands of those inimical to Modi. But, what made these people take that position. Who else, but our media, whose own attire has stains of wrong-doings, so stubborn that they refuse to fade away. Be it Radiagate, or the cash-for-vote sting operation, the journalists have always been sacrilegious of the trust we had in them. Their brazen bias against Narendra Modi needs no examples. From
mediacrooks.com
and
sandeepweb.com
to
fakingnews.com
, everyone has had a take on that, from serious to satirical, but always a reflection of reality.
And what does the SIT report say? It says, law and order review meetings were held by Modi and all the things was done to control the situation and the Army was called on time to contain the communal violence. It goes on to say, "Modi was busy with steps to control the situation, establishment of relief camps for riot victims and also with efforts to restore peace and normalcy". Even when the SIT made it categorically clear, some of the media crooks did not give up. They questioned the SIT itself in connection with the action-reaction remark. Modi had unequivocally stated that he doesn't want either action, or reaction, and the rioters won't be spared, but the media did not report this, at large, even when the SIT report also mentions it.
Instead,
Nidhi Rajdan, the NDTV anchor
, compared Narendra Modi to Hafiz Saeed, saying if Modi's supposed remark of allowing Hindus to vent out their anger doesn't cause an offence, than Hafiz Saeed also must have commanded the execution of 26/11 in a closed room, and he would also not be guilty by this logic. More than it shows the intellectual bankruptcy of 'Nidhi' (her name meaning quite the opposite), it shows the incorrigible approach of NDTV as a whole. They make no mention of the fact that SIT said that there is no evidence to establish Modi had said so, even while there are witnesses testifying to the contrary, and even if it was said, since it was not executed, it doesn't cause an offence. What Hafiz Saeed must have said, was executed and over 160 people were killed. It's quite another thing that our spineless Prime Minister did not have the guts to tell Pakistan President on his face that he should not come to India until Hafiz Saeed is prosecuted or handed over to us. Instead, he was happy to follow the cricket diplomacy of last year, with Chaadar diplomacy.
But the point that pops up here is, who was made to pay for all this? As long as
Teesta and her team receives foreign or 'secular' funding to fund their 'crusade'
, we don't have a problem, but when she files complaints (or makes Zakia file one), and a Special Investigation Team is appointed to investigate those charges, most or perhaps all of which were motivated by her own prejudices and her agenda, it is the Indian taxpayers who are paying for the functioning of the SIT. Were the 'compulsions' to keep terrorists alive and feeding and protecting them out of the money that I and you pay as income tax even when a third of our countrymen sleep hungry, not enough that we had to pay for the whims and fancies of these self-appointed 'crusaders'?
By paying for the cause of harrassing a man who has not only endured and withstood this endless streak of calumny and demonization pointed at him unperturbed, but also has proven his meetle by developing the state despite all the road-blocks and hurdles, doesn't that inadvertently make us all tax-paying Indians a party in this sin?
40 Crores might have been spent on saving Kasab's head
, to keep him alive, but only an RTI complaint will reveal, how many crores were spent to take Modi's head over all these years, and what fraction of that money came from our taxes, used to fund everyone, from SIT to the Amicus Curiae to the Supreme Court hearings. And those, who were busy calculating the funds spent in
Modi's sadbhavana mission
, will they make a good use of their arithmetic skills now to calculate this expenditure now? And please let's not forget the pain of Zakia Jafry, who was duped into believing that Narendra Modi was responsible for her husband's death, even when it was her deceased husband who had fired bullets at the mob assembled outside his house, literally inviting his death. Zakia was fed with a false sense of justice, and the hopes of that poor widow are dashed now. The pain of this all might surpass the pain of the very death of her husband, and by paying for Teesta's misadventures, we all taxpayers have been made to sponsor Zakia's amplified pain, that too, in the name of justice!
Author:
Abhishek Tondon
| Follow the writer on
twitter.com/BhaaratATmax
- - - - - - - - - - - - - - - - - - - - - - - - - - - - - - - - - - - - - - - - - - - - - - - - - - - - - -
Disclaimer: The author is a commentator on issues of national interest. These are his personal views and do not necessarily reflect IBTL's opinion.
- - - - - - - - - - - - - - - - - - - - - - - - - - - - - - - - - - - - - - - - - - - - - - - - - - - - - -
Also See ...
#
Are issues with BJP issues with Hindu society?
#
Godhra and beyond: A man called Narendra Modi
#
Ambedkar: What the Dalit icon wrote of Islam
#
Sanatan Secularism
Share Your View via Facebook
top trend
what next
IBTL Gallery