Punjab Govt started military operation against Baloch IDPs, 2 killed & 6 abducted: BRP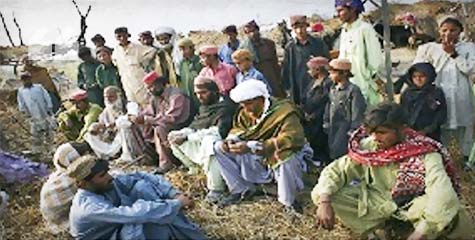 RAJANPUR : Government of Punjab has started its military aggression against innocent Bugti Baloch IDPs in bordering areas of Balochistan and Punjab. Forces raided the population of Bugti Baloch IDPs in Giyandari area of Balochistan adjacent to the Rajanpur area of Punjab. In this military action, two innocent Bugti tribesmen namely Mawali Bugti S/O Qaisar Bugti and Ghanra Bugti S/O Kharghi Bugti were extra-judicially killed by the Punjab forces and several including women and children were wounded.Other six men were abducted in wounded condition & shifted toward an undisclosed location.

The government of PML-N in Punjab on one hand deceptively cries for the situation of Balochistan & on the other hand carrying out deadly military operation against those Baloch IDPs who were forced by the military operations in Dera Bugti, Marri areas and other parts of Balochistan from 2004 onward.
PML-N dramatically express concerns on the situation of Balochistan & extra-judicial killings of Baloch youth there but at the same time do the same against those unarmed Baloch civilians who live a miserable life in Punjab and its bordering areas with Balochistan.
Baloch Republican Party (BRP) condemn the military operation in Mastung, Balochistan ,where Pakistani security forces surrounded the house of Baloch leader Mir Abdul Nabi Bangulzai along with the houses of other unarmed Baloch civilians and has set them on fire. The sanctity of the households was violated and women, children and aged-people were harassed and tortured. These acts of Pakistani forces are the continuity of Baloch genocidal policies.
We appeal to the United Nation's institutions for refugees and displaced people to take notice of military operation against innocent Baloch people who were forcefully displaced from the ancestral towns by the heavy military operations of Pakistani forces from 2004 onward. We appeal to the UN refugees organizations to provide security and aid to the Baloch IDPs in Balochistan, Sindh and Punjab & to those Baloch refugees who migrated to Afghanistan and living a miserable life there.
-
Balochjohd
Share Your View via Facebook
top trend
what next
IBTL Gallery