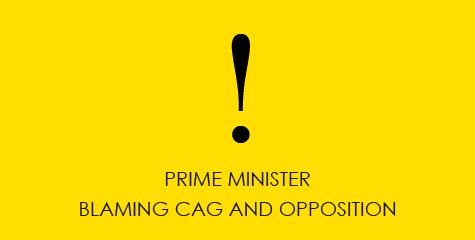 Prime Minister cites the letter of the Chief Ministers of Rajasthan, Chattisgarh, Madhya Paradesh, Odisha and West Bengal to justify that there was No Loss to the Exchequer.

We Need to Know few basic terms before analyzing the PM Statements and the Stories that blame the State governments for the Coal Scam. We Should know the difference between Captive Mines and Non- Captive Mines. We Should also know the meaning of the term Value Addition.
Captive Mines : The term "captive" infers being locked up. In the sense of a policy, it is a mandatory allocation of resources. The intent of the captive coal mining policy is to allocate a specific block to a specific need.
Non-Captive Mines : Non-Captive Mines not a not Locked up mines. These are blocks given traders to mine and export or sell the coal mined for the usage of different Industries.
Value Addition : A broad definition of value addition is to economically add value to a product and form characteristics more preferred in the market place.
Captive Mines mines create value addition by creating Industries, Full Times Jobs, Better infrastructure, Better life whereas Non-Captive Mines creates jobs like NREGA Jobs for 100 or so days a year. So every State Chief Minister opposed Non-Captive Mines policy of the Union Government.
Read the March/April 2005 Letters of Govt of Rajasthan,Chattisgarh and MP's letter on Coal block Allocation. They have written about Captive Mines. Letter clearly talks about Captive mines and the Project Concerned. It has not talked about Non-Captive mines.Letters of Rajasthan/MP/Chattisgarh Govt are well argued, nuanced and extremely clear.clearly distinguishes Captive/Non-Captive Blocks. Letter talks about States saying they will allocate Coal/Lignite blocks to People Who set up Down Stream Projects/Projects that creates Value addition and Full Time Skilled employment.
The State Governments wanted to allocate Coal/Lignite blocks to those who set up Power Plants/ Cement Factories and Iron and Steel Industries.
The State Governments have opposed to Union Government move of allocation of Coal Blocks to traders. They did not want traders to mine coal/lignite and sell of export to users outside the state. State Government wanted to create meaningful skilled jobs for its people so that they can have a better life.
Letters from the State Government also asked the Union Government to increase the Royalty on coal/Lignite so the money that states get from Increased Royalty can be used for development of Maoist and under developed part of the states.
All states agreed to the auction of Coal Blocks. Its the Prime Minister's office through its Note/Memo on 24th June 2004 Sabotaged the auction of Natural resources.
Prime Ministers office asked for a legal Opinion from Ministry of Law whether executive order is good enough or amendment of the Minerals act is necessary for the auction Procedure. First Law Ministry suggested Executive order is enough then a week letter the same Law Ministry wrote back amendment to amendment to Minerals act is necessary. It took two years for Law Ministry to give an opinion on Prime Minister's Query.
01
. Question here is not about auction of the coal/lignite blocks. its about fictitious firms and Beedi/Garments manufacturers getting Coal blocks.. Prime Minister should answer why Government allocated Coal Blocks to these fictitious and Non-core companies.
02
. Prime Minister should answer why it took 2 years for Law Ministry to reply to the query raised by the Prime Minister's Office.
03
. Prime Minister's statement is silent on Traders/Fictitious firms getting Coal blocks.
04
. Prime Minister blamed the allies and opposition for the amendment bill getting delayed. If he can stake his Government for Nuke Deal. He can get allies and others for Presidential elections, He should have reached to all to build consensus on Minerals amendment act. He failed to do so.
05
. Prime Minister should not blame the Chief Ministers for the loss coal scam caused to the exchequer.
06
. Many companies did not even have the equipment to mine coal, On What basis Prime Minister is saying We did all this to augment the Production of Coal.
07
. Power Situation is now worse than it was in 2004. How did this Policy helped increasing the generation of power?
08
. Power PSU's used to have 35 days of Coal Stock, Its now having just 7 days of Coal stock. Prime Minister argument of we did this to augment coal supplies falls flat.
09
. Prime Minister should answer how unmined Coal is contributing to the growth of the Country.
10
. Prime Minister should not blame the opposition if his Govt fails to bring in a Legislation to the parliament.
11
. Prime Minister blaming CAG and Opposition is like a kid giving 1000 excuses to his/her parents for failing in the Exam.
12
. Prime Minister should answer why many Coal Blocks were given between the period January 2009 and March 2009. All this were allocated months before the General Elections. Was there any Quid-Pro-Quo in this allotment.?
Prime Minister should take full responsibility for the Coal Scam. He should not pass the buck to Opposition/State Governments and the Baabus in PMO/Ministry of Coal and Screening Committee.
Prime Minister should behave like a Prime Minister and accept responsibility for the Coal Scam. He Should not behave like a Babu and pass the buck to State Government and Opposition.
Author
:
Narayanan
| Follow the writer on
twitter/visaraj
- - - - - - - - - - - - - - - - - - - - - - - - - - - - - - - - - - - - - - - - - - - - - - - - - - - - - - - - - - - - - - - - - - - - - - - - - - - - - - - - - -
Disclaimer: The author is a commentator on issues of national interest. These are his personal views and do not necessarily reflect IBTL's opinion.
- - - - - - - - - - - - - - - - - - - - - - - - - - - - - - - - - - - - - - - - - - - - - - - - - - - - - - - - - - - - - - - - - - - - - - - - - - - - - - - - - -
Share Your View via Facebook
top trend
what next
IBTL Gallery