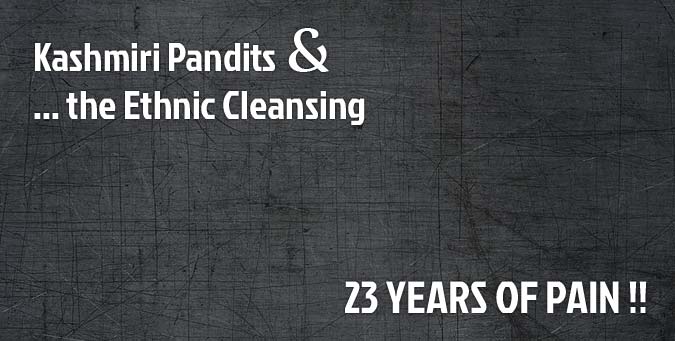 Yesterday night I couldn't sleep the days of chilly autumn months at my home in Srinagar 23 years back came alive again... it shook my nerves with the sense of fear and nightmere... never wish those days return again nor will wish anyone to face those days in one's life ever.

Those were the days when we were quite disturbed with frequent Bomb blasts, cross firings and whats was very much a disturbing trend was strong islamic (Read Anti Pandit/India) tendencies in our very close friends and neighbors, who have suddenly changed and looked different and at times dangerous.

Also those days a new trend was emerging in news papers with putting up of public notices two Headings -
1. "Siyasat se la taluki" Retiring/relinquishing politics and
2. "Mai Mukhbir nahi hoo" I am not a spy.

Why I am mentioning the news paper Notices is that there was a great psychosis among the Political class of petty workers and also of some people who had ever been working with police or intelligence department... even the people working for Indian Govt. establishments were also scared.
The Kashmiri pandits had their firm belief in Indian state which made them assured that nothing is gonna happen to them and hence continue to be there... alas they were proven wrong just in matter of days.
14th September 1989 is a day which changed everything for ever in Kashmir, it's the day when a death warrant was signed for the small minority of kashmir the Kashmiri Pandits.
It all started with the Killing of a tall leader of the Kashmiri Pandits Pt Tika lal ji, a lawyer by profession but a Sawayamsevak and true nationalist by heart was gunned down in broad day light in Srinagar.
Tika lal ji has been with Bhartiya Jansangh and BJP since him joining politics and was the face of BJP/BJS in the valley. He had fought elections on both jansangh and BJP tickets but never won electorally but his dedication and honesty won him nay admirers even in the opposite ideological camp.
Its widely known, that his dedication to the ideology made him to be honest to core and he had refused all favours from the Governments of the state, and once in an election meet he stood as a guard in front of Atal Ji when some miscreants wanted to throw stones at him.
The killing of Tika lal ji was the first Killing of kashmiri Pandits in the valley, which opened gates for massive selective killings in the community and finally led to the ethnic cleansing of the valley of the Pandit community.
The target was chosen very carefully, just to gauge the mood of Secular Indian state as Pt. Tika lal ji represented the RSS and BJP in ideology as well as he was the national Executive committee member of the BJP. Above all he was respected senior member of Kashmiri Pandit community and the face of the Hindu Rightwing Politics in Kashmir.
It was in the afternoon when people came to know about the killings and one could easily see the glee and joy in the faces of Kashmir Moslems as they came to know about it, we the pandits were shell shocked and all felt that something has terribly gone wrong.
Pandits rushed to home of Pt Tika lal ji in disbelief of what has happened, all shell shocked, here let me apprise the fact that the bulk of Kashmir Pandits were even uptill that moment hard core congress supporters and had never supported Pt Tika lal ji either in his political pursuits or social Sangh activities and had looked down the Jansangh and RSS.
But today all were feeling the pain and insecure for the first time…yes Kashmiri Pandits never felt insecure in Kashmir prior to this event and this day marked the turning point for the Pandit Minority of Kashmir.
By evening the roads leading the habbakadal were full of Kashmiri Pandits and for the first time in many years one could see such a large gathering of Pandits on the death of a poltical leader.
And yes those who have followed Kashmir the gathering/procession was many times bigger than that of the mourning of Indira Gandhi, which again Pandits as loyal Congressmen carried in the valley.
Soon BJP Leaders LK Advani and Kedarnath Sahani arrived and the situation became quite emotional as both the leaders were moved to see the simplicity and poverty of this great Soul… And the procession started to karannagar Shamshan Bhoomi, amdist the slogans of Bharat mata ki jai, Vande Matram, jab tak suraj chaand rahega lala tera naam rahega, I was part of it as I had gone there straight from college, while on the way one can see the cheerful faces of many moslem watching us from their windows…and finally the shamshan bhoomi came and lala's body was put to flames.
With those flames not only got burnt the secular Charter of Indian state which failed the entire Pandit community but also the belief that Indian state is a super power which cant be defeated.
Yes 14th Sep is the day when Kashmiri Pandits realized that India enjoys to be in Coma and never ever bothered to look and understand what has changed this all, today after 23 years had anything changed either in Kashmir or India.
Just think over…
Share Your View via Facebook
top trend
what next
IBTL Gallery