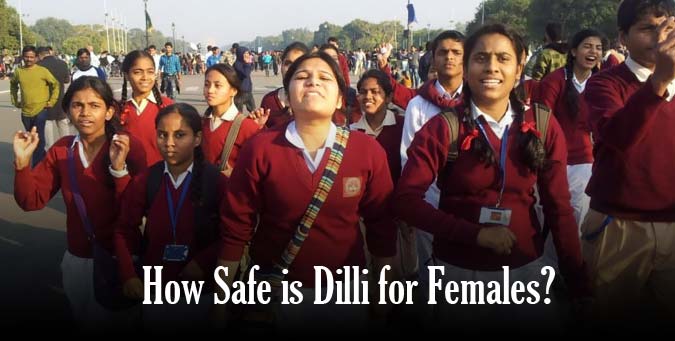 A 23 year old paramedic student from Dehradun, Uttarakhand, who in Dilli (Delhi) for internship is struggling for a week now for her life. This is not just a personal tragedy for her, but a societal tragedy, considering that she wanted to save other lives through the noble medical profession.

Without getting into the gory details of what happened to her, it is sufficient to state that she became yet another casualty of sexual crime in Dilli. For starters, we are talking mostly about Dilli city, which forms most part of the Dilli (semi) state.
"Please don't call these rapists as animals. Animals don't rape and then try to kill. These humans are far worse"
. Our sincere hope is that she survives, she gets the justice, the crime perpetrators are severely punished so that such ghastly incidents do not occur again. But deep inside, we know that our wish is more of a wish on the punishment part, and less of a practical chance.
Read further and you will understand why we are pessimistic here.
To start with, Dilli is ruled by a woman Chief Minister for three terms now. But unfortunately, she blames the porous borders and migrants for rapes. Worse, she is not even in the city, when a massive protest breaks through against this rape we are talking about. So the reality is different from what she claims or analyzes. It is a combination of our electoral system letting sex crime charged men becoming law makers, our system's utter disregard to speedily punish the sex offenders, and the lack of initiative from the ruling class to make the nation more safer for women. Only blaming on some out of state migrants is not going to stand any scrutiny.
So we will dissect the key problems, starting at the national level, and then going into state/city level, followed by a few solutions for women to secure themselves. Read on…
Problem 1: India's Law Makers are not seriously outraged at sexual crimes:
The crime against women is rampant in India. Since the current coalition government UPA came to power in the year 2004's May, approximately,
58 females are raped
in India every single day. Here is how the number is computed, based on the statistics that the National Crime Records Bureau provides.
Year 2004 (7 months in power) 6333
Year 2005 18,359
Year 2006 19,348
Year 2007 20,737
Year 2008 21,467
Year 2009 21,397
Year 2010 22,172
Year 2011 24,206.
Now going by the same growth in crime numbers, 2012 can be guesstimated as 26,000.
These are the
reported rape cases only
, and also excludes other forms of crime against women, like molestation and abduction.
These are not mere numbers. Each woman has suffered here. Each girl or woman has a story of brutal assault to tell (if she is still alive). But we "outrage" for select few. Between Jan 1st 2008 and Dec 31st 2011, a staggering 1814 women got raped in Dilli itself, the seat of power in India where all parliamentarians live and work. That's
38 women per month
. How many went to the Rajya Sabha like the current case? That shows that law makers mostly focus on what is a burning issue in the media or on the street, and lose focus of victims who didn't get enough coverage, unfortunately.
Now after all this, when the ruling Congress party says, "Delhi gang-rape should not be mere statistic", it shows how hollow their understanding and will to fight this menace. Also, other MPs like Jaya Bachchan who voiced their opinion in the Rajya Sabha, need to be more consistent. She should have also talked to her party's CM in Uttar Pradesh when nearly 8.4% of India's rapes occurred in UP last year.
Here is the worst factor about the administration's apathy. In spite of even the Supreme Court convictions, for the rarest of the rare crime deserving death penalty, the former President Pratibha Patil pardoned 35 criminals. A whopping 22 of them had killed women or children (while raping many during the crime). Where was the "outrage" dear MPs? What message does this send to the 1000s of victims of sexual crime in India?
Over the last 8 days since the brutal assault of Dilli bus, while we've been "outraging" on the social media with #DelhiGangrape tag, 464 more girls/women would have been raped in India going by data averages. That is the level of severity of the situation, but unfortunately, our MPs don't get it.
Problem 2: India's temples of democracy have law makers with sexual and other crime charges:
Now this bothers more than anything. Is the will power of the administration weak, because there are law makers who have sexual and other crime cases against them, across India? Take a look:

# 189 out of 403 MLAs (Members of Legislative Assembly) in Uttar Pradesh have criminal cases in their declared affidavits. 146 out of 287 in Maharashtra and 139 out of 241, analyzed in Bihar, have criminal cases.

# 162 out of 540 Lok Sabha MPs have criminal cases. That's a shocking 30% of law makers of the lower house of India's parliament. Similarly, 38 out of the 232 Rajya Sabha MPs have criminal cases listed in their affidavits. That's 16% of the members of India's upper house of the parliament. And these MPs make law for rest of India, which is a big tragedy.

# Among the parties, all the major ones have bad apples. Congress party, the ruling one in India today, has 305 MLAs/MLCs/MPs with criminal cases. BJP the prime Opposition party, has 313 and SP the ruling party of India's biggest state, has 125 such tainted MPs/MLAs. In the percentage terms, JMM has 82% with criminal charges, SS has 77%, TRS has 67%, SP has 48% & JDU has 47%. See the image below for details.




# The share of Criminal MPs/MLAs/MLCs in the worst states (more than 1/3rd of law makers with charges) is as follows: Jharkhand 74%, Bihar 58%, Maharashtra 51%, Kerala 48%, UP 47%, Dilli 45%, HP 39% and WB 35%.

# Here's even a bigger shocker. Six MPs/MLAs/MLCs have declared rape charges in their affidavits. They are KV Prasad of TDP, JG Ahir of BJP, MA Khan of BSP, A Sanda of SP, MK Paras of SP and B Sharma of SP.

# A total of 141 murder, 352 attempt to murder, 145 theft, 90 kidnapping & 75 dacoity charges were found by those analyzing the affidavits of these members. See the references section for sources.

# Kameshwar Baitha, a JMM MP in India, has an astonishing 35 criminal cases against him. Pradeep Maharathy, a BJD MLA has 26 and Pradip Kumar, a JDU MLA has 18 cases listed. With such MPs, only Bhagwan can help Bharat!

We hope by now you got an idea of how rotten the system is, that is supposed to clean up the dangerous streets.. Worse, many of these tainted law makers reside right in the heart of Dilli.

Problem 3: India's capital has a horrible track record of safeguarding its females:
You can make out the entire situation, when you just listen to Dilli state's Chief Minister Sheila Dikshit. She said after last week's ghastly incident, "I could not muster courage to visit the rape victim. But met her family and doctors". This, coming from a woman, that too a CM, tells you the pathetic situation of Dilli.
Just look at the number of rapes in Dilli over the past 4 years.

466 during 2008.
469 in 2009.
507 in 2010.
572 in 2011.

It could be getting worse in 2012, based on what we read and see in media so far.

The numbers clearly show that it is progressively getting worse under Sheila's Congress regime. It's not that other cities don't see such crime, and they do. But the sheer volume of rapes in Dilli tells us that something is very much rotten in this city. For instance, look into the top 6 cities in India. The combined number of rapes in 2011 from Mumbai (221), Bengaluru (97), Chennai (76), Hyderabad (59) and Kolkata (46) equals 499, while Dilli's alone is 453. Obviously, Dilli has been nicknamed the "Rape Capital of India", not without a solid reason. We saw a news item that the Dilli bus where the brutal rape was happening, passed through five police picket points. Yes, 5 and Dilli police still slept. And this in the heart of India, where there are sufficient cameras and lighting arrangements.

Problem 4: It's not budget, training or police strength, but something else is the problem in Dilli:
If you analyze the crime data, focusing exclusively on the heinous crime of rape, here is how Dilli will stand in front of other states. Let's first pick the safest (for women) big states and most dangerous (for women) big states. Then we will dig into a comparison with Dilli, even though Dilli is not truly a big state. But since it is a very key state of India comprising the nation's capital, a comparison will be needed.
The safest 5 big states for women (Rate of rapes per population) in 2011:

1. Gujarat (0.7 per lakh population)
2. Bihar (0.9)
3. Tamil Nadu (0.9)
4. Karnataka (1.0)
5. Uttar Pradesh (1.0)

Politically, none of the above were ruled by Congress party in 2011, which is a strange coincidence.
The worst 5 big states for women (Rate of rapes per population) in 2011 were:

1. Asom (5.5)
2. Madhya Pradesh (4.7)
3. Chhattisgarh (4.1)
4. Kerala (3.4)
5. Haryana (2.9)

Politically, three of the above had Congress party CMs in 2011, which is a again a strange coincidence.

Many people would be shocked by now as to how the notorious reputation holding UP and Bihar are among the safest states for women. Yes they are! Bihar 934 rapes in 10.38 crore population and UP 2042 for 19.96 crore. Overall, bigger states like Gujarat, Karnataka and Tamil Nadu keeping the rate at 1 or below per lakh, compared to Dilli's rape rate of 3.4, tells us that something is terribly wrong in Dilli. This 3.4 figure puts Dilli right along with the 4th worst big state in India. And, since it is a capital region, a lot more focus on it makes it take the center stage.



Source : Tribune

Now let's review other factors beyond rate of occurrence.

Police Budget: Karnataka, with 129 times more area & 4 times more population than Dilli, gets only 63% of the police budget earmarked for Dilli. Still 3.4 times more safer for women then Dilli. Why?

Dilli police's annual budget is a whopping Rs.3,867 crore paid by the union of India's tax pool. Still they fail miserably compared to all other cities. In comparison, Mumbai police budget was Rs. 650 crore, and they fared much better in protecting women at a rate of 1.2 rapes per lakh people, compared to 2.8 in Dilli. Why?

Police Training: Dilli state got Rs.201 crores last year, just for police training. That's 28% of the entire India's police training budget! Still they fail badly compared to most states, even though sizewise it is a tiny area to safeguard. Why?

Police Strength: Gujarat with 4 times more population per policeman and 152 times more area to cover per policeman, managed to keep rapes far below the Dilli state's rate (4.9 times better). Numerically, Gujarat had 1 cop per 907 people and 3.04 sq KM, while Dilli had 1 cop per 223 people and 0.02 sq KM. But GJ recorded 439 rapes (at 0.7 per lakh people) while DL state recorded 572 (3.4 per lakh). Why?

Similarly, in 2011, the Police strength in Karnataka was 81,842, while Dilli's was 82,818. In terms of area, KA is 129 times bigger than DL state!! Still Dilli police fared 3.4 times worse in comparison to a huge state. Why?

So what could be the problem? Is it the lackluster ability demonstrated by the administration in Dilli that is a combo of state and union governments? Is it the focus on safeguarding a large number of VVIPs that distracts Dilli police from their basic job of protecting people? Maybe.. Your guess is as good as ours. We have presented enough numbers for you to leave us a comment as to what is the problem precisely.

So what are the solutions to keep women safe?

Now that we have seen 4 categories of problems in India and Dilli, we need to go in for some solutions. Those solutions, can't be fully dependent upon the government, as remember.. the same UPA government promised you a "strong" Lokpal, to bring the black money back in 100 days of assuming power and a "strong" action against the corrupt every time a mega scam popped out. So expecting a serious and quick action from the current government is hard. If they really wished, they could have reduced the rape pandemic problem with just three steps.
Government solution 1: The easiest way to reduce rapes & molestations in Dilli is to mandate all female members of political families to travel in public transport. When the politicians' family needs to be secured, automatically, others will be secured too.
Government solution 2: The only way you can prevent a rape is for the law to let the would-be-rapist know.. "this will be the last sexual intercourse you will ever have in life".
Government solution 3: As plenty of placards held yesterday, death penalty for rapists. Here, even the staunchest opponent of the BJP party, must admire L.K. Advani for his stance on rape cases. He wanted and still wants a death penalty for rapists.

While we wait (till cows come home), for this government to implement any of these or better solutions, there are ways women can secure themselves, particularly in Dilli.
Practical solution 1: Beware of the men you know. Suspect everyone to be safe! Yes, this may sound bizarre, but ladies, we have analyzed the NCRB sourced statistics about rapes in India. The gist is that, 93% of the rapes were committed by people that the victim knew! In 2011, out of the 24,206 rape victims, 22,549 knew their offenders. 267 were parents or close family, 1,560 were relatives, 7,835 were neighbours, 12,887 were other known people.
Practical solution 2: Though it is for westerners, Indian women can learn a lot from this.. "Through a rapist's eyes… how to prevent rape"
Practical solution 3: Ladies, a rape is nothing but a predator "hunting" down a prey. 24 steps here on how to avoid being a rape victim. 'How to Prevent a Potential Rape' Rape is not an accidental phenomenon, but it is a well planned and executed crime. A rapist's plan and action is almost like a murder attempt with precise planning in most cases.
Practical solution 4: And, ladies, please do watch this two minute video shared online by a friend, 'CanvasM facilitates Women to Fight Back'. This kind of technology usage can keep you safe in Dilli. Please share widely with all your female friends and relatives, across the nation. We hope more such technology comes to help prevent these ghastly crimes.

Finally, a song for all those feeling depressed after last weekend's Dilli police brutality.. Celine Dion sings "Don't give up on your faith". The lyrics will get straight to your heart after reading about the not-so-good situation of Dilli right now. > Céline Dion - That's The Way It Is
Let's hope for the best ...




Reference :
# Sheila Dikshit blames migrants, porous border for Delhi rapes
# President Pratibha Patil goes on mercy overdrive
# National Crime Records Bureau Data
# Criminal Charges against MPs, MLAs and MLCs
# Police Data File
Share Your View via Facebook
top trend
what next
IBTL Gallery