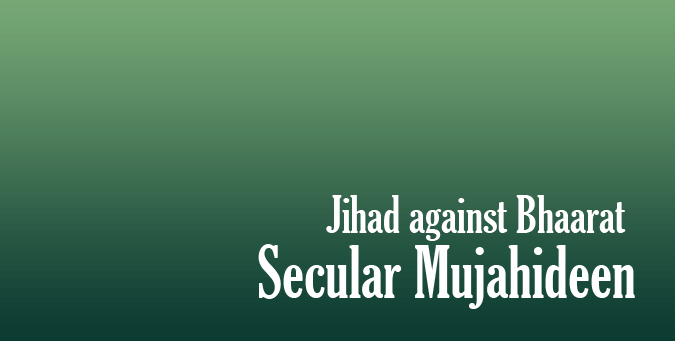 "RSS is no different from Taliban", screams a tweet [1] by Shazia Ilmi, a prominent member of Arvind Kejriwal's Aam Aadmi Party. The statement can be matched in stupidity (or hatred) only by a similar one issued by Rahul Gandhi over two years ago in which he had compared RSS with banned terror outfit SIMI [2]. Rahul's remark can be condoned as just another exhibit of his ignorance– he has many to his credit for that matter – for example the one where he talks of removing terrorism in 15 minutes by empowering villages [3]. But Shazia Ilmi is not as naïve. What else would explain her different and contradictory replies to the same question depending on the religion of the person asking her. When a Muslim asked her to support communal violence bill, she said, she already supports it [4], and months later, when a Hindu asks her the same, she said, she hasn't even read it [5] and has never expressed her views on it.

Well, Secular deception, secular double standards and secular amnesia! These are all common characteristics with this breed, which referred as Secular Mujahideen, (or Psecular Mujahideen, where the silent P stands for pseudo) here onwards. Why Mujahideen? Because, they're running a Jihad against this country and what majority of this country holds dear. They practice the Islamic concept of 'Taqiyya' (deception) with utmost perfection, as exhibited by the tweets of Shazia Ilmi on Communal violence bill. Also noteworthy is the synergy and sync in which they act with Islamic extremists. Notice how Akbaruddin Owaisi makes up his mind to surrender in court [6], and the secularists who had quickly removed the attention from Owaisi and had been running a smear campaign against RSS Chief Mohan Bhagwat by selectively reporting an excerpt of his remark, started apologizing profusely. The apologies came from the flag-bearers among them, Sagarika Ghose [7], and Shazia Ilmi [8] herself. I wonder if these apologies would have happened but for the immense pressure from the social media, including that mounted by from Kiran Bedi [9] and Madhu Kishwar [10]. If anything was voluntary and wilful in this regard, that was the misquoting and distortion of what Shri Bhagwat had said regarding Bhaarat and India [11], and the following 3-day vilification campaign on those remarks.
The third pattern in this context is of obfuscation and wilful misrepresentation. Obfuscation is used when the Islamists overlords of these secular mujahideen utter something grossly damaging and anti-national. The case at hand is that of Owaisi's hate speech against 100 Crore Hindus and the national at large [26], which was downplayed by media as much as possible citing NBA guidelines. It would not even have been reported had it not trended on Twitter for a whole day. Also, recall the cold treatment that was given when a CPM leader openly admitted to killing political rivals [27], and contrast it with the storm created on Varun Gandhi's speech, even when he had questioned the veracity of the tapes. Of course, in the case of Varun Gandhi, he was considered a danger for National Security and NSA was invoked against him [28], and Owaisi's case where he even termed Indian army as impotent, was left for "law to take its own course" [29]. No one from this coterie of secular mujahideen took offence at the fact that a sitting MLA of one state of India was daring a 4-time Chief Minister of another Indian state, Gujarat, Narendra Modi from entering the state capital of Andhra Pradesh, or that he compared an elected Chief Minister with Ajmal Kasab. None among this secular mujahideen complained of the "idea of India" being in danger while they find that idea in danger at every successive step that takes Narendra Modi closer to Delhi. Contrast how much noise this brigade creates when a Raj Thackeray says similar things about Bihari common man. On that note, does anyone remember any hue and cry when current Union Finance Minister P Chidambaram openly spoke against Hindi and North Indians back in 2004, just a short report [30]?
The examples of such double standards are aplenty in very recent memory itself. When a BJP MLA suggested having Indian traditional Salwar-kameez as the school uniform for girls at Alwar instead of Western Skirts, the entire industry of secular mujahideen stood against him. They spread stories of how the demand has "irked women" [31]. Why shouldn't an Indian dress-code be followed in government run schools? Have these secular mujahideen ever spoken against the custom of burqa? This is 21st century and even well-educated Indian Muslims keep their wives in burqa. Islamic dress code is followed by Madarsas, many of which are government aided, and have still refused to comply with Right to Education and have had the 'secular' government complied [32]. Many madarsas even have reservations against teaching modern science [33] but our secular mujahideen will never speak against their ideological brethren.
And this is not a new pattern. It's gone on for long. Remember the hue and cry that was made when BJP called Sonia Gandhi a foreigner, but when Congress called Atal Bihari Vajpayee and L K Advani foreigners [34], do you recollect any such coverage? When VHP runs 'shuddikaran' campaigns to bring converted Muslims/Christians back to Hinduism, the secular mujahideen burn in anguish, calling them communal. When Hindu organisations demand a law against mass conversion, they cry fascism and cite religious freedom, but remain spectacularly silent on the fact that the punishment for leaving Islam as per Islam is death, and that's what Islamic nations follow [35].
Yes, our Bhaarat is in seize by these secular mujihideens (ironic, as mujihideen means freedom fighters, but for most Indians, this word has taken the connotative meaning of terrorists). It is because of them that there's even a debate on the existence of a Ram temple at Ayodhya and the fact that it was demolished and Babri structure was built on that, while the fact is celebrated by Islamic writers. Ayodhya – the finale [36], by Dr. Koenraad Elst, makes for an eye-opening read to understand the machinations of these secular mujahideen. While they termed December 6th, in which a structure where pooja had been taking place for years, was demolished, the saddest day for India, these secular mujihideen didn't say so when 58 sleeping pilgrims were burnt alive in Godhra, reduced to black coal. They even tried to portray the victims as the culprit and remained silent when Gujarat High Court pointed out that not only Muslims had burnt the coach, they had even shouted the slogans of 'Hindustan Murdabad' and 'Pakistan Zindabad' from Godhra's mosque [37]. Did we see any debates on such dangerous trend? Nor will we have a debate on how nearly 50 thousand people were cheering Owaisi all through his anti-India, anti-Hindu hate speech. The dangerous white wash of history by 'Eminent Historians' [38] as pointed out by Arun Shourie in his book with the same title and that by Sita Ram Goel in his book 'The Story of Islamic Imperialism in India' [39] through the NCERT guidelines and otherwise, and teaching concocted history in the form of Aryan Invasion Theory has only helped breeding of this ideology that Secular mujahideen flourish upon and use to wage Jihad against our country.
Time, we follow to the fullest, the preaching of Kathopanishad, popularised by Swami Vivekanand, "Arise, Awake, and stop not, till the goal is achieved", the goal being liberating our country, our Bharat ma, from the clutches of these Secular mujahideen and their jihad against her!
References:
[01]
twitter.com/shaziailmi/status/287823871112003584
[02]
articles.economictimes.indiatimes.com/2010-10-07/news...
[03]
indianexpress.com/news/empower-villagers-and-defeat-terrorism...
[04]
twitter.com/shaziailmi/status/156335195665072129
[05]
twitter.com/shaziailmi/status/273073183140237312
[06]
articles.timesofindia.indiatimes.com/2013-01-06/india/36173576_1_...
[07]
twitter.com/sagarikaghose/status/287975999398883328
[08]
twitter.com/shaziailmi/status/287966119480934401
[09]
twitter.com/thekiranbedi/status/287263333227298816
[10]
twitter.com/madhukishwar/status/287954891886981122
[11]
youtube.com/watch?v=aGu8nNLfpyE
[12]
ibtl.in/video/6654/mahesh-bhatts-call-to-indian-Muslims-for-jihad
[13]
youtube.com/watch?v=f5h-Q9tI744
[14]
youtube.com/watch?v=m4RL8SH355I
[15]
youtube.com/watch?v=mvCiO9aHJV4
[16]
youtube.com/watch?v=hmUguHWtoOA
[17]
bbc.co.uk/news/10349564
[18]
news.nationalpost.com/2010/06/22/controversial-Muslim-televangelist...
[19]
www.youtube.com/watch?v=XAf7foqZZu4
[20]
twitter.com/sardesairajdeep/status/286525920582451201
[21]
mediacrooks.com/2013/01/patriots-psychopaths.html
[22]
youtube.com/watch?v=3zkFcQ2t-ZY&t=2m9s
[23]
articles.timesofindia.indiatimes.com/2012-12-17/delhi/35867810_1...
[24]
firstpost.com/politics/beef-biryani-politics-cooked-in-caste-and...
[25]
twitter.com/sardesairajdeep/status/192294632229580801
[26]
www.youtube.com/watch?v=DeNtqKtijlk
[27]
hindustantimes.com/India-news/Thiruvananthapuram/Law-catches...
[28]
hindu.com/2009/03/30/stories/2009033056840100.htm
[29]
indianexpress.com/news/law-will-take-its-own-course-in-owaisis...
[30]
timesofindia.indiatimes.com/young-india-votes/from-the-states/Chidambarams...
[31]
newsbullet.in/india/34-more/38046-bjp-mlas-demand-to-ban-skirts-irks-women
[32]
indianexpress.com/news/hrd-clears-the-air-madrasas-not-under-ambit-of-rte/824625
[33]
upi.com/Top_News/Special/2012/11/21/Indias-madrassa-schools-refuse-to-teach...
[34]
articles.timesofindia.indiatimes.com/2003-08-08/hyderabad/27192395_1_mahila...
[35]
timesofindia.indiatimes.com/home/opinion/sa-aiyar/swaminomics/The-sad-silence...
[36]
koenraadelst.bharatvani.org/books/finale/index.html
[37]
articles.timesofindia.indiatimes.com/2011-03-05/ahmedabad/28658067_1_godhra...
[38]
goodreads.com/book/show/651154.Eminent_Historians
[39]
voiceofdharma.org/books/siii/
Share Your View via Facebook
top trend
what next
IBTL Gallery