Mushy Media: Vigorously ranting for Dutt while omitting Sadhvi's cancer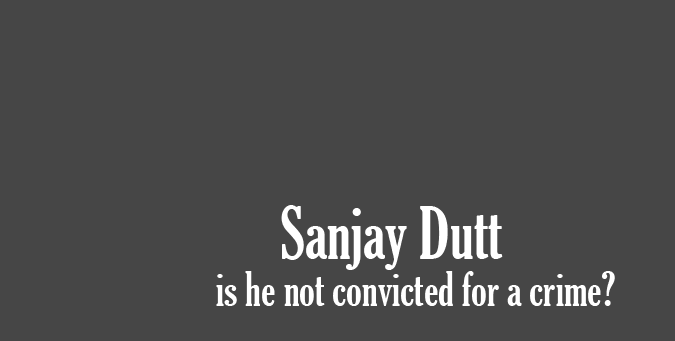 The bright sunny afternoon of the then Bombay turned murky on 12th march, 1993 when the city was rocked by 13 consecutive explosions in a span of two hours. They are speculated as the most pernicious attacks in Indian history which resulted in700 injuries and death of over 250 innocents. The attacks were methodized and concluded on the orders of Dawood Ibrahim. Tiger Memon and his family members also supported him in this monstrous crime.
Hundreds of people were arrested after the attacks including Sanjay Dutt. He was arrested under Terrorist and Disruptive Activities Act (TADA) on the charges of interaction with terrorists and illegal possession of a 9mm pistol and an AK-56 rifle. In 2006, the prosecution claimed that Abu Salem delivered nine AK-56 rifles and some hand grenades to Sanjay Dutt. Later in 2006, 100 people including Sanjay Dutt and four members of the Memon family were found to be guilty and were convicted by TADA court. In July, 2007 Sanjay Dutt was cleared of terrorism conspiracy charges but was sentenced to 6 years of rigorous imprisonment for illegal possession of weapons. In his defense, Dutt stated that he feared for his life after the notorious "Black Friday" bombings. But he was immediately sent to the jail. Dutt was granted interim bail by Supreme Court in August 2007, after his appeal against the sentence. Finally after 20 years of judicial proceedings the Supreme Court upheld the TADA court verdict but shortened Dutt's sentence to 5 years. He has already spent 18 months in jail and will serve the remainder sentence only. Court has stated that the circumstances and nature of offence was so serious that he cannot be released on probation. He has been given four weeks time to surrender.
The verdict excited a hodgepodge response. Many politicians, bollywood celebrities and Dutt's fans flocked to defend him. Also Press Council of India chief, Justice Markandey Katju appealed the Governor of Maharashtra to pardon the actor under Article 161 of the constitution. According to his supporters, Sanjay has already been exasperating the sourness during the long spell of judicial procedure and his offence is pint-sized as compared to 20 years of sufferings.
It will be wrong to deny that Dutt's life has taken a positive turn in these years. He has given a series of inspiringly hit movies which received an over-whelming response. He is also blessed with twins after his marriage to Manyata. Verdict during this phase of life is not less than a catastrophe for the actor, his family and his work.
So, should he be pardoned?
If yes then why?
Few big question that can hurdle can our support to Dutt:
# is he not convicted for a crime?
# a 33 year old adult is a kid?
# was he really not aware of his wrong doings?
# Are u free of law just because you are a celebrity or a high profile citizen?
# How will we justify the life of other criminals with similar or a milder offense?
People who are irrationally building pillars to support Dutt are somewhere doubting the ingenuity and jurisdiction of Hon' Supreme Court. The Constitution has conferred extensive jurisdiction and powers on the Supreme Court. It can punish any person for its contempt. Thus, its actions and decisions should not be criticized by anybody. The power is vested in the Supreme Court to maintain its authority, dignity and honor.
In our country, delay in judicial proceedings is somewhat like a tradition. The reason is the methodology of trial procedures and burden of pending cases. Where people howl for the stalling in this case, they should recall that judicial proceeding in our country has witnessed delay in other parallel cases as well. Archana Huga case lingered on for about 25 years and the two accused died naturally during the trial. Another is the famous Beant Singh Assassination Case where the final decision was announced after 19 years.
Paradigm to Dutt's case is Sadhvi Pragya, who is in jail as accused in Malegaon blast case and is suffering from breast cancer. She is being offered chemotherapy at a hospital in Mumbai but she wants to try with yoga and allopathic remedies. She has moved her bail application for the same which has been rejected repeatedly. She can be released on interim bail as she is seeking this only for her health and treatment against a deadly disease.
Media, bollywood celebrities, politicians never raise their voices over such issues where as they are constantly yelling for Dutt with their futile and frivolous statements. Justice Katju talks about Article 161, according to which the Governor has the power to grant pardons, reprieves, respites or remissions of punishments or to suspend, remit or commute the sentence of any convict of offence against any law. But here the nature and the situation during which the offence was committed should not be ignored. Although no evidence has been traced against him that can directly link Dutt with bomb blasts, still the penumbra of doubt against him cannot be overlooked.
Pardoning Dutt will not be an easy task. He has been punished for his wrongdoings and is not guilt free to be released for the sake of his present happy life. There are many other criminals with milder offense but are lodged behind the bars. Even their families, children and work might be deteriorating. So, should we release all of them citing this example? In spite of "Right to Life" of our Constitution, the court is being rigid and disregarding the bail plea of Pragya Sadhvi who is demanding only the treatment of her choice. On the other side, we have people in our society who are disrespecting the decision of the apex court by ignoring the malfeasance of a celebrity.
Decision by the Supreme Court though delayed but is not unfair. Dutt is already given relaxation of one year in his sentence and as a law abiding citizen he should respect the decision.
Our justice is not blind rather it is egalitarian, unprejudiced and honest!!
Author : Shweta Puri | Follow the writer twitter.com/drshwetapuri
Share Your View via Facebook
top trend
what next
IBTL Gallery