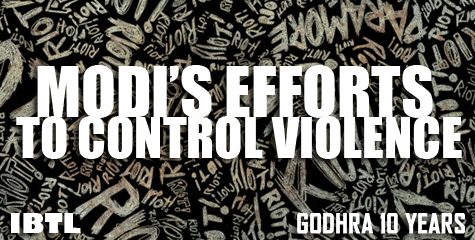 On the second day of riots i.e. 1st March 2002, the Army staged a flag march in Ahmedabad at 11:30 AM. The Hindu reported "The Army began flag marches in the worst-affected areas of Ahmedabad, Baroda, Rajkot and Godhra cities and the 'shoot at sight' order was extended to all 34 curfew-bound cities and towns in Gujarat". Now even the Army couldn't prevent the riots. Direct evidence of the fact that Muslims were equally on the offensive is also available from this report. "But unlike Thursday when one community was entirely at the receiving end, the minority backlash caused further worsening of the situation. The official sources said timely arrival of the police foiled a retaliatory attempt to break into a prominent temple in Jamalpur locality in the walled city."

By then, just into the second day, some media houses had started to act on their bias. The bias of The Indian Express can be seen from the fact that though it reported that George Fernandes appealed the citizens for peace in Ahmedabad- and later left for Vadodara- it did not bother to mention that he was bravely on the streets of Ahmedabad at a great risk to personal life! This was mentioned by India Today weekly.

Official records show that on the first day- i.e. February 28- 10 Hindus were shot dead and 16 injured by police firing. On the second day- i.e. 1st March, additional 24 Hindus were shot dead and 40 were injured. These are figures given to B. P. Singhal – former Director General of Police by official government sources. On 1st March 2002- the Police saved 2,500 Muslims from certain death when they were attacked by 8,000 armed tribals in Sanjeli, a town in North Gujarat. This was reported by weekly India Today in its issue dated 22 April 2002.
# On morning of 1st March, George Fernandes bravely took to streets to check violence
in Ahmedabad, at a great risk to personal life. He was pummeled with stones.

# 24 Hindus were shot dead by police and 40 injured.

# The Army staged flag marches in Ahmedabad, Vadodara, Surat and Rajkot.

# Shoot-at-sight orders were extended to all 34 curfew-bound cities and towns in the state.

# 2500 Muslims were saved in Sanjeli, from a crowd of 8000 armed tribals by the police.

On March 2, Ahmedabad was almost completely peaceful - with major violence occurring in other parts of Gujarat. The police brought the situation under control there and fired on pitched battles between Hindus and Muslims. The Tribune reported on 3rd March 2002 that: "Ahmedabad, the worst hit by the communal flare-up in the wake of Godhra train killings, was virtually back to normal…"

That is- the Gujarat Government managed to control riots in the state in 3 days after Godhra; and in only 2 days in a communally ultra-sensitive place like Ahmedabad! Reports of The Hindu and The Telegraph of 3rd March 2002 also prove that Ahmedabad was virtually back to normal on 2nd March 2002 itself.

On the third day of the riots- i.e. 2nd March 2002- the police shot dead 47 people in Gujarat- including 19 in Ahmedabad- as per the report of The Hindu dated 3rd March 2002. The same day- The Indian Express reported- "The toll went up to over 450 as police recovered more bodies and 77 more people were killed either in police or Army firing".

Thus, in brief, the steps taken on 2nd March 2002 were:

# The police fired 1031 rounds & burst 1614 tear gas shells as summed up by Modi, (The Hindu)

# Police controlled riots by firing at rioters in the process killing many of them.

# Curfew was imposed in 40 places in Gujarat.

# Border Security Force units were dispatched to Surat.

# 2000 Muslims were saved in Dahod by the Police.

The efforts of Narendra Modi to control violence can be clear from India Today weekly dated 18 March 2002 in an article titled "Chronology of a Crisis"
08.03 AM: Incident at Godhra claims lives of 57 kar sevaks

08.30 AM: Modi is informed of the carnage.

04.30PM: Gujarat Assembly adjourned and Modi visits Godhra where he holds a meeting,
giving shoot-at-sight orders to the police.

10.30PM: CM holds meeting with senior government officials at Gandhinagar;
orders curfew in sensitive places and pre-emptive arrests.

FEB 28, 2002 - - - - - - - - - - - - - - - - - - - - - - - - - - - - - - - - - - - - - - - - - - - - - - - - - - - - - - - - - - - - -
08.00 AM: Special control room set up in CM's house to monitor the situation during VHP bandh.

12.00 PM: Modi informally contacts Centre for calling in army. Cabinet Secretary T.R. Prasad tells
Defence Secretary Y. Narain that army is to be mobilised.

12.30PM: Vice-Chief of Army Staff Lt-General N.C. Vij tells Narain that only twocolumns are available
as the rest are deployed on the border.

12.35 PM: Prasad directs Narain to advise Chief of Army Staff Gen Padmanabhan to have troops ready
due to the rapidly deteriorating situation in Ahmedabad.

12.45PM: Narain tells Vij to arrange immediate movement of troops to Gujarat.

04.00PM: Modi requests army deployment following consultations with Advani.

06.45PM: Cabinet Committee on Security meets under the prime minister's chairmanship;
approves the immediate movement of troops to Ahmedabad and other parts of Gujarat.
Vajpayee deputes Fernandes to supervise the deployment of troops.

07.00PM: The Gujarat Government's formal request for army deployment is received inDelhi.

11.30 PM: Airlifting of troops begins.

MARCH 1, 2002 - - - - - - - - - - - - - - - - - - - - - - - - - - - - - - - - - - - - - - - - - - - - - - - - - - - - - - - - - - - - -
02.30 AM: A brigade reaches Ahmedabad. The 54th Division's General Officer Commanding contacts acting Chief Secretary.

09.00AM: Discussions between representatives of the army and the statetake place,followed bytroop flagmarch in Ahmedabad."

Reports from the biased English media also proved that the real riots had stopped in the first three days. Not just that, the media knew it fully well. In the coming episodes, we'll highlight how the media managed to paint a picture completely contradicting the facts that they themselves reported when the riots were actually on.

Continued at The Facts the media published then, before unleashing anti-Modi propaganda
Share Your View via Facebook
top trend
what next
IBTL Gallery