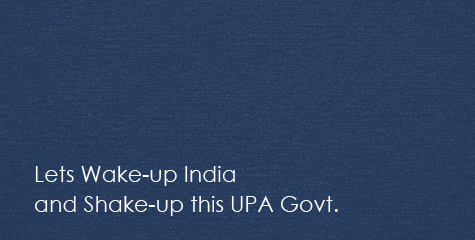 When politician's sell their soul and self respect then 'prostitution of politics' starts, Assam riots are a clear result of that. This "prostitution of politics" is a gift to our country by the UPA Government.

हिंदी में पढ़ें : असम की इस परिस्थिति का जिम्मेदार कौन... ?
The Bodo linguistic ethnic group is an integral cultural part of India, the Bangladeshi infiltrators who have entered our border are openly attacking them and the UPA government is just silently watching the genocide. For the last couple of years, these Bangladeshi infiltrators under the guidance and support from terrorist outfits like HUJI, IM, ISI have been openly hoisting Pakistan's flag unchecked on the heart of our Assam's soil. Has the greed to gather Muslim vote bank, lead the UPA Government to blindly, silently and deliberately allow the slow poisoning to spread rampantly in Assam?
In the last one week alone, two lakh people from 500 villages have been rendered homeless from Assam state from where Shri Manmohan Singh is MP, hence India's Prime Minister, but he has not come out in open and neither he talked earlier nor is he doing so now and also, he is not willing to take any strong step at this present moment. The UPA government who preaches secularism over and over again in our country, at the time of Gujarat riots, did not leave a single stone unturned to spoil the image of Narendra Modi saying that Modi took action after two days. Now that in Assam riots have sprouted, even after one week, no concrete steps have been taken by Shri Manmohan Singh, Sonia Gandhi and Rahul Gandhi, no one knows why?
For the last one week, Assam is burning and our UPA government is sitting idolly and not doing anything. Through wikileaks cables, we all know that Rahul Gandhi said Hindu Terror is the biggest threat to our country, now Is he not able to see the terror caused by Bangladeshi muslim infiltrators? It seems stupidity, to expect anything from the UPA government, that even after having 1.2 billion Indians in our country, still the illegal migrants from Bangalesh are a blot on India's sovernity. The Bangladeshi muslim infiltrators are spreading terror and the government seems weak in representing itself.
We Indian have to learn one thing from this episode that:
" If one lion leads a pack of hundred donkeys it is sure to win, but if hundred lions are lead by one donkey it will surely loose".
The UPA government's is showing its complete lack of leadership. Lots of questions are being raised on the leadership qualities of the UPA government. It is the time for a wake up call for all the citizens to safe guard our country, our culture and our self respect. We will have to take out this failed government from its roots now.
Lets Wake-up India and Shake-up this UPA Govt.
We should remember that "If we are unable to save our heritage, then we would not be able to make our future."
Share Your View via Facebook
top trend
what next
IBTL Gallery