Team Anna - Shutting India's Lights Off On the Way Out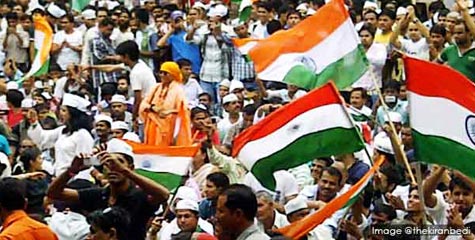 Earlier this week, half of India plummeted into darkness. It was dubbed as the world's worst power failure affecting millions of people. On the 2nd August 2012, the lights went out of the rest of India. After inspiring millions of people world-wide, progressing positively on their current protest, Team Anna decided to end their fast prematurely on the 3rd August 2012. This was despite promises of "Do or Die" and numerous challenges to the government. There were big promises made to people who placed their faith and trust in them. I am one of those people. Not only did this provide the wrong signal to their opponents but it instigated a barrage of negative responses against them. The precedent here is this - Congress decides to threaten forced hospitalisation, force feeding and uses the police to oppress and this campaign group backs down in fear. Of course, there is no place for fear in the fight for justice.

Following this, there was their decision to enter politics. This concerned me.

At 0912 UK time, a survey landed in my in-box. It stated

"Many have also expressed the sentiment that Anna must provide a political alternative. What do you think? We want to ask you, and we want to ask the nation for inputs on the way forward. We value your input more than anything else. Please take out 2 minutes of your time and answer 2 simple questions at the earliest"
I felt Team Anna wanted to survey the public before deciding to go "Political". Sadly, this was not to be the case. India Today's headline cited that there was no end to the deadlock in sight. At 12.22 UK time, the Indian media cited that Team Anna was ready to provide a political alternative.
The correct way would be to allow the public to make the decision as opposed to making the decision for the public then persuading them that it is a great idea. This prior decision making process is certainly not democratic in any way or form. I certainly did not expect this from Team Anna. I understand that Congress has previously been attempting to lure Team Anna into politics by their usual demeanour. They have succeeded. Team Anna is even following in Congress's corrupt style of press management. I remain horrified of course. This issue was totally unexpected for me.
Following the decision about Team Anna and their entrance into politics,
Congress was gleefully gloating in the media
.
"We have always said that these people seemed inspired by politics. It is good that whatever the intention was has come out clear. Many of the stances they took seem to suggest this. I am glad that they have gone ahead," Information and Broadcasting Minister Ambika Soni told reporters here. "Now they will realise, how much work you have to do in politics and what are the difficulties and compulsions," she added.
Now the above isn't just a statement from a well wisher. The trap had clearly been laid by Congress sometime ago. I say this because divide and rule is an ancient and effective tactic. It was famously used by the British Raj whose tactics Congress has inherited. Here is the definition of Divide and Rule.
"In politics and sociology, divide and rule (derived from Latin: divide et impera) (also known as divide and conquer) is a combination of political, military and economic strategy of gaining and maintaining power by breaking up larger concentrations of power into chunks that individually have less power than the one implementing the strategy. The concept refers to a strategy that breaks up existing power structures and prevents smaller power groups from linking up."
Splitting political opposition to Congress between IAC supporters and other parties serves only to strengthen the position of Congress. This is unfortunate that India's newest politicians lack the political savvy and insight into human nature to perform well in their chosen arena. Congress has effectively neutralised the threat posed by IAC and decimated IAC's popular support at a stroke. Now that is now the game of politics is played. Congress is clearly a master of underhanded tactics to achieve control and supreme rule.
Tushar Gandhi tweeted
"Tomorrow at 5 pm at Jantar Mantar the people of India will once again be betrayed".
For once Tushar is actually right. IAC has gone from a position of influence to achieve justice and jumped into the gutter with the rest of the politicians. While we can debate on this until the end of time, it is the vulnerable of India that has been failed today. Team Anna gave everyone hope and then removed it within 24 hours. The freedom fighters of yesteryear would never have done this. What India needs is another Rani of Jhansi, another Bhagat Singh and another Gandhi. They would never have backed down to Congress' pressures. and low-life political tactics. For now though India's lights have been switched off. Team Anna, you have betrayed India.
Share Your View via Facebook
top trend
what next
IBTL Gallery