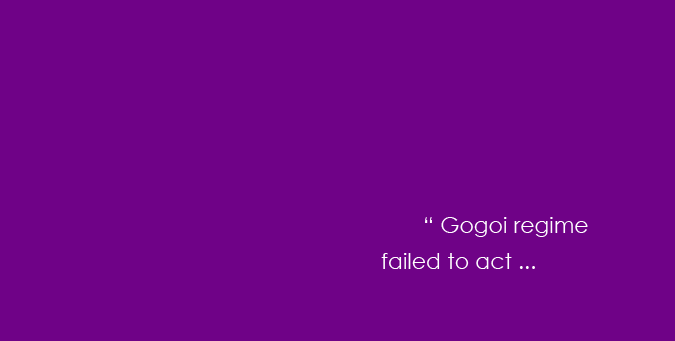 When a resolute MP chaperones Rohingya Muslims from far eastern Myanmar to Hyderabad in the south without a hitch en route, it is obvious the Centre has consented to compromise nationality. Prime Minister Manmohan Singh should explain if the entrenched complicity with the demographic invasion from Bangladesh is the template for his quest for open borders with our western neighbour, and if New Delhi is determined to disregard the communal and civilisational challenges posed by the Assam crisis.

Bodos and other native tribes are tormented by the unending deluge of illegal immigrants who have grabbed all government and vacant land and are now squeezing the native populace. The arrest of Kokrajhar MLA Pradip Brahma (Bodoland People's Front) in the wake of the recentviolence there has enraged locals as no one has been apprehended for the 20 July murder of four Bodo youths who were publicly snatched away from the police.
Dhubri district bordering Kokrajhar is full of
Bengali-speaking Muslims
, alleged to be illegal immigrants. All flaunt apparently valid legal documents: electoral rolls with their father's name on it; birth certificates; ration cards; and judicial stamp papers signed legibly by magistrates. Some have land tax records and Indira Awas Yojana houses.
The Assam riots were followed by grim violence over the Assam situation at
Azad Maidan, Mumbai
. In this backdrop, a delegation of the National Commission for Minorities visited the Bodoland Territorial Autonomous Districts and Dhubri district on 11-12 August. The Asian Centre for Human Rights has denounced its report as 'inflammatory' and demanded a probe by the National Commission for Scheduled Tribes as Bodos are STs.
ACHR director Suhas Chakma questions NCM's wisdom in sending Planning Commission Member Syeda Hameed and Adviser G.B. Panda (with NCM Member Keki Daruwala) for the probe when NCM Member H.T. Sangliana hails from Mizoram and knows the regional demography. Ms. Hameed, interestingly, participated in a seminar hosted by the UN Information Centre at Delhi in September 2010, where rabid secessionists from Srinagar raised anti-India, pro-azadi slogans without hindrance from the organizers or panelists.
The NCM report claims the displaced in camps include 300,000 Muslims and 100,000 Bodos; the cause of conflict is a half-century of immigration. The Bodoland Accord of 2003 was to give Bodos autonomy and constitutional protection under the Sixth Schedule to people of the four contiguous districts carved out as BTAD. The delegation visited one Bodo camp and noted that they feared to return home as they were surrounded by Muslim villages which had weapons like
talwar
and
dao
. It visited six Muslim camps and expressed dissatisfaction with facilities there, and recorded allegations that policemen in some camps were terrorizing Muslims.
The NCM report says that besides Muslims, Bodos have a history of conflict with non-Bodo tribes. It notes 'public opinion' that Bodos (30%) want to drive out other ethnic groups to increase their population to 50% or more, so they can demand statehood for Bodoland. It says Government must firmly tackle BTAD chief executive Hagrama Mohilary in this regard.
The NCM report adds that though infiltration is continuing, the current conflict was not between Bangladeshi immigrants and Bodos, but between Bodos and resident Muslims of the BTAD. It claims (with no evidence) that Bodos have arms like AK-47s leftover from their militancy over a decade ago, while Muslims are poorly armed in comparison; hence militant Jihadi outfits may start supplying lethal weapons in this area.
Incensed at this report, Suhas Chakma counters that the Commission's mandate is to protect religious minorities. Bodos are Christians (15%) and native Bathou (50%) and both are minorities under the NCM Act. But the delegation reduced the Assam riots to Bodos versus Muslims and treated only the latter as minorities, blatantly violating the Act. NCM's "inflammatory statements" aggravated the vulnerability of northeastern people, and though the exodus of nearly 50,000 northeast people (majority Christians) from some southern states in the third week of August falls within its mandate, it was ignored.
Worse, though the Bodoland Territorial Council was created under the Sixth Schedule which prohibits transfer to tribal lands to non-tribals, Bodo land rights remain unprotected. The Bodoland Accord failed to bring the National Democratic Front of Bodoland on board. The Bodo Liberation Tigers signed the Accord, became the Bodoland People's Progressive Front (BPPF), and has been in the Congress-led coalition for the past six years, but has had no positive impact. Bangladesh handed over NDFB leader Ranjan Daimary to India in May 2010, but the Centre failed to dialogue with him and seems reluctant to bring the peace process with all Bodo groups to a logical conclusion.
The Gogoi regime failed to act when two Muslims were killed by unknown persons in Kokrajhar on 6 July, and on 19 July two leaders of the All-Bodoland Minority Student's Union and All-Assam Minority Student's Union were shot at near Kokrajhar. On 20 July, four ex-members of the Bodo Liberation Tigers were killed in retaliation; this triggered violence across Kokrajhar, Chirang and Baksa districts under the Bodoland Territorial Council areas and in Dhubri district outside the BTC. As the state government dithered, nearly 80 lives were lost and four lakh displaced (community-wise figures have been suppressed by the government to contain emotions).
With no convenient scapegoats available, the media and civil society groups are clueless about whom to blame for the crisis. The Prime Minister offered a relief package of Rs 300 crore during his visit, but gave no details of how it was to be spent. Then Congress president Sonia Gandhi landed and advised people to remain in the camps, triggering fresh tension and violence as suspicions rose that the torched homesteads would be grabbed. The conveniently timed exodus of northeast persons distracted national attention from Assam. As those who quit their jobs out of alleged fear take trains back south (free both ways on humanitarian grounds), the crisis of Bodo land and identity remains unresolved, as does the issue of national security.
Share Your View via Facebook
top trend
what next
IBTL Gallery