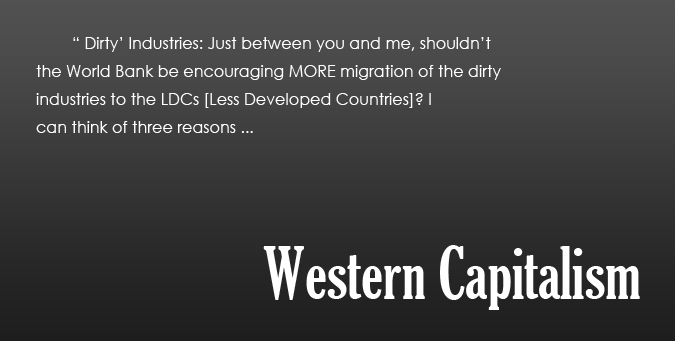 In a confidential memorandum in December 1991, Lawrence Summers, World Bank Chief Economist, urged his colleagues: "'Dirty' Industries: Just between you and me, shouldn't the World Bank be encouraging MORE migration of the dirty industries to the LDCs [Less Developed Countries]? I can think of three reasons". Those who believe that the transfer of manufacturing from the US to Africa, Asia and China is a one-way ticket to economic salvation, and that more FDI equals India's financial redemption, should pay heed.

Summers elaborates: "The measurement of the costs of health-impairing pollution depends on the foregone earnings from increased morbidity and mortality. From this point of view a given amount of health-impairing pollution should be done in the country with the lowest cost, which will be the country with the lowest wages. I think the economic logic behind dumping a load of toxic waste in the lowest wage country is impeccable and we should face up to that".
Finally, he asserts, "The demand for a clean environment for aesthetic and health reasons is likely to have very high income elasticity. The concern over an agent that causes a one in a million change in the odds of prostate cancer is obviously going to be much higher in a country where people survive to get prostate cancer than in a country where under-5 mortality is 200 per thousand. Also, much of the concern over industrial atmosphere discharge is about visibility impairing particulates. These discharges may have very little direct health impact. Clearly trade in goods that embody aesthetic pollution concerns could be welfare enhancing. While production is mobile the consumption of pretty air is a non-tradable".
When the memo leaked in February 1992, Brazil's then environment secretary Jose Lutzenburger wrote to Summers: "Your thoughts [provide] a concrete example of the unbelievable alienation, reductionist thinking, social ruthlessness and the arrogant ignorance of many conventional 'economists' concerning the nature of the world we live in... If the World Bank keeps you as vice president it will lose all credibility. To me it would confirm what I often said... the best thing that could happen would be for the Bank to disappear". Lutzenburger was sacked soon after sending this epistle; Summers became US Treasury Secretary in July 1999 under Bill Clinton.
The crux of Summers' argument, however, boils down to the fact that if India or any third world country actually enforces the labour and environmental standards allegedly demanded by the west, not a single item of manufacture can be delivered back to the European Union and America. All foreign retail giants and other buyers are aware of this reality. They know that whole river systems have been polluted by dyes and bleaches and other effluents; that child labour helps local manufacturers meet costs when multinationals beat down wages; and that all compliance certificates are bogus. There are formal expressions of horror and denial when they are caught; then it back to business as usual.
Readers may recall a horrible fire in a garment factory in Bangladesh on November 24, in which 112 workers died. Now, a garment with the logo "Faded Glory', owned by Wal-Mart, and documents found in the gutted remains link two US apparel makers to Tazreen Fashions at the time of the blaze. Caught on the back foot, Wal-Mart quickly issued a statement claiming it had stopped authorising production at Tazreen many months ago (it did not say when or why), but that a single supplier, Success Apparel, had "subcontracted work to this factory without authorisation and in direct violation of our policies". Success Apparel claimed it had placed an order with Wal-Mart-approved subcontractor, Simco, which unauthorisedly subcontracted part of the order to Tazreen's parent, the Tuba Group.
Some documents indicate that I.T. Apparels, a subcontractor for International Intimates, another Wal-Mart supplier, was getting women's robes and nightgowns made there, as well as women's nightwear for Sears. But International Intimates claimed Tazreen Fashions was "NOT one of our approved partners and no one was authorised to make our products there", while Sears said it did not know that one of its suppliers was using Tazreen and that it, too, had terminated that supplier. Thus, everybody was using the factory and nobody knew anything about it.
Another recent expose shows the scanty concern for ecology by foreign investors. The Centre for Science and Environment investigated local complaints of serious pollution by a mill at Kharsia, Raigarh district, Chhattisgarh. It found non-compliance with air emissions norms by the sponge iron manufacturing facility and unsystematic dumping of fly-ash, which was getting mixed with waste water discharge and contaminating the Rakshapali village water body, making it unfit for domestic use.
Students of nearby schools repeatedly complained of itchy eyes and skin irritation owing to the heavy dust emissions of fine particulate matter. Fly-ash from the captive power plant was being dumped close to a school boundary, though the plant had come up long after the school was established. Shockingly, there is no ash-dyke facility at the unit.
The eye-opener in this story is that the major public shareholders of the company are feted global banks, a famous global private equity player, and a Norwegian sovereign wealth fund. The parent fund, Norges Bank Investment Management, claims to have a policy for responsible investment. All foreign investors are formally committed to protecting the local community and ecology, and all willfully turned a blind eye to overt pollution and basic environmental concerns.
If this is the state of affairs under the old rules, one shudders to think what enhanced FDI would do to the ecology, the workers, and the farmers. The lesson seems to be that Summers was right: only exploitation makes industrial capitalism profitable.
Share Your View via Facebook
top trend
what next
IBTL Gallery