A Silent Spiritual Revolution : Volunteer for a better India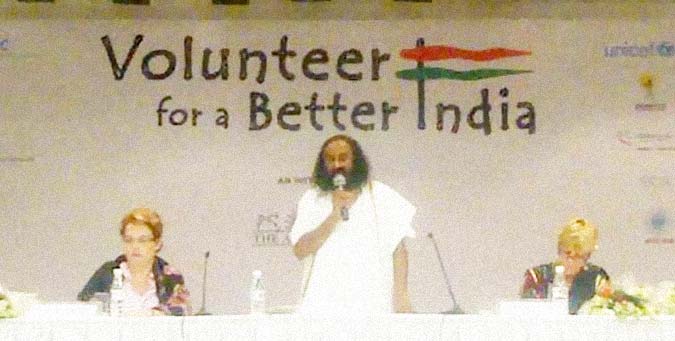 As the public outrage continues to outpour against the heinous and horrific gang-rape in Delhi, the intelligentsia of the country is busy passing the buck and amidst all this thousands of young people without indulging in any dharnas, protests, blame game are taking out peace marches, creating awareness, meditating and praying. These youth are part the of Volunteer For A Better India (VFABI), an initiative launched by H.H Sri Sri Ravi Shankar, spiritual leader, humanitarian and founder of The Art of Living with an aim to create a new wave of volunteerism and advocacy to bring about an on-ground change and combat issues challenging society in a concerted effort towards nation building. Appealing to the youth Sri Sri said "The country has problems because good people are apathetic. Youth must take charge and Volunteer for Better India,"

With a call of "Give one Hour to the Nation" VFABI aims to bring youth together to address the critical issues affecting India like crime against women, the declining child sex ratio, sexual and reproductive health and rights, various issues affecting youth, environmental sustainability, drug and substance abuse, inequality in education and entrepreneurial opportunities, corruption and child protection issues. Thus sensitizing public through voluntunteerism, patriotism and rekindling hope in people to take charge and responsibility for making a better India. This is an opportunity for making a difference to our city, Delhi-NCR, our country and above all to one's self. It is a Citizen's Action Plan.
Since sometime, Guruji, (His Holiness Sri Sri Ravi Shankarji) has been talking about "a silent spiritual revolution". Let's examine what's a Spiritual revolution. According to H.H Sri Sri Ravi Shankarji spirituality is when a deep question arises within "Who am I and Where I have come from? And that I am not going to be here (on this earth) forever so what kind of society I would want to live in and leave behind for future generations…" This is spirituality. And process of transformation of society through spirituality is spiritual revolution.
Now many of us will ask Why a Spiritual revolution to transform India? And I ask why not? Everyone since last week is orating on TV shows about change in Judicial System, Police system, Media, administration but no one is talking about change in the Individual, mindset, and attitude. After all it is the individual only who implements these systems. When we deal with system we are dealing with the individual. Transformation of society/nation depends upon transformation of individual. Only spirituality talks about change in Individual his mindset and attitude/outlook. And Spiritual revolution is needed to bring about this transformation as it can provide us the satvik positive commitment required to bring about change.
Today what is needed most is to move together (unity) and the biggest obstacle is "apathy of good people" as mentioned by H.H Sri Sri Ravi Shankar. Even Krishna has said "Sanghe Shakti Kalyuge." Bertrand Russell has also beautifully touched upon it in "The Harm that Good Men Do" Imagine if Mahatma Gandhi had gone to Himalayas and not united people through satsang/spirituality our history would have been altogether different. Instead of debating and blaming if everybody takes part in transformation we can really make a difference. Only Spiritual revolution can unite the country and turn things around in our society which is today ridden with crime, corruption and violence.
This way, good people will come forward and cleanse politics also. Our history has created a type of dispassion towards politics. Teaching has been that good people do not join politics nowhere our curriculum encourages us to do so. The country, where this belief has taken roots, evil or bad people are bound to take over politics (political scene) there. The greatest damage that a good person does is he creates (vacates) place for bad people by being silent and escapist. This is very well evident in state of affairs of our Society (which has become ridden with caste and class distinctions, the new reservation bill in promotions is an apt example), Economy (declining, one side farmers are committing suicide other side FDI is being allowed in retail), Culture and Samskriti (no faith in Dharma left).
Certainly, the widely rampant discontentment prevailing today has created a possibility of a spiritual revolution (change). Experience says that if revolution does not come in a constructive form in society then in name of revolution (change) anarchy and confusion chaos and corruption remain the only alternative. Why just India even if we see globally (internationally), time bears testimony that without spirituality, revolution only brings change in the face (face change)For example nothing changed after revolution in France, in Russia revolution happened but after the revolution Czar occupied throne by a new name; Stalin. In India also revolution did take place but just the skin color of those in power changed, slavery (slavish mentality) did not go it rather changed form.
Even this illusion of ours needs to be broken that our country is essentially spiritual. Just by taking pride in great saints and avatars, it won't be factual to assume our country is even today very spiritual. Today, we are so inherently material, it's apparent not only from our own mindset, behavior and character (both individual and social) but from what kind of policies we formulate for our nation. Speaking of the latter, FDI in retails is the latest example. Amongst other things it will only foster consumerism and greed. Policies like this only go to prove, "as the Ruler so the Subjects" (yatha Raja tatha Praja).
It is contended that after a long time country had high hopes when Anna Hazare began a movement for a corruption free society. Initially the movement saw overwhelming participation of urban India. Common man had a sigh of relief. Unfortunately, this movement also failed due to lack of spiritual values. Team Anna fell apart consequently people lost hope in social movements. Even the government has also only one answer to reforms in the country that is electoral process. Thus in this context also Spiritual revolution is not the only answer but the need of the hour.
Let's heed to this clear call of time and not wait for more remorseless crimes , violence, scams to happen and participate overwhelmingly in this youth led initiative Volunteer For A Better India (VFABI). Unless everyone joins in nation building we cannot make any significant progress. Let's build awareness about the need to volunteer and contribute and carry on it as a part of life. VFABI is inspiring everyone to come up with their own ideas to make a better India, free of crime, corruption, unjust practices. Thus we can work towards creating a society that is aware, vigilant and has a zero tolerance towards crime, corruption violence and other evils.
—Sanjay Kumar
Share Your View via Facebook
top trend
what next
IBTL Gallery