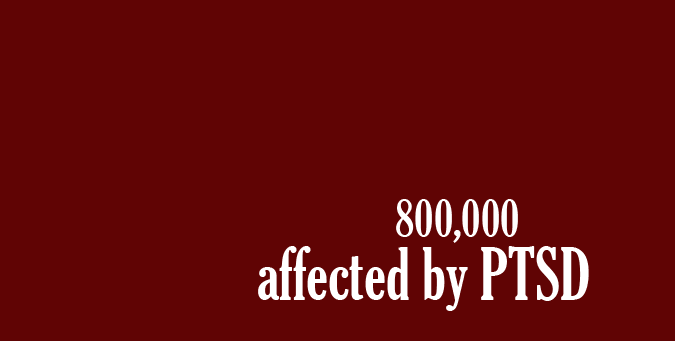 Post Traumatic Stress Disorder (PTSD) is a psychiatric condition that may develop in response to one or more traumatic events, such as deliberate acts of interpersonal violence, severe accidents, disasters or military action.
The syndrome has been recognized for over 100 years; during the First World War it was known as Shell Shock, by the Second World War it had become Combat Fatigue, and in the Vietnam conflict it was referred to as post Vietnam Syndrome. Typically, PTSD sufferers experience three distinct groups of symptoms – hyper-arousal, intrusions and avoidance.
Features of hyper-arousal include persistent anxiety, irritability, inability to sleep and poor concentration. Intrusions include difficulty in recalling stressful events at will, intense imagery or flashbacks and recurrent distressing dreams. Avoidance involves inability to feel emotion, diminished interest in activities and detachment. Other possible complications include chronic pain and poor health such as circulatory and musculoskeletal disorders, and a greater number of medical conditions than people without PTSD. To cope, people may resort to addiction to various drugs, alcohol and nicotine, anger, harming themselves etc. Vulnerability to developing PTSD can be related to temperament, age (children and the elderly are more vulnerable), a previous psychiatric history, low self-esteem and traumatic experiences. Several treatments for PTSD exist, and can be divided into biological, psychological and social therapies. Their effectiveness is reliant on resource issues, especially in regions like Kashmir.
Epidemic PTSD : After the armed conflict in the Kashmir Valley two decades ago, there was an epidemic outbreak of stress related disorders. The region has witnessed numerous militant attacks, human rights violations by men in uniform, insurgency and infiltration attempts from across the border in the last two decades. In 2006, Mushtaq Margoob published a research paper in the JK Practitioner in which he found that the nature of Kashmir conflict - sustained, unpredictable violence over a long period – has had a particularly bad effect on mental health in the region. The situation is similar to other places where there has been prolonged conflict – Bosnia, Northern Ireland and Rwanda – "The exposure of traumatic events rises manifold when the fight takes the form of guerrilla warfare, which extends for a long time". The study described a phenomenal increase is psychiatric conditions since the 1990s.
The number of patients visiting the Government Psychiatric Hospital in the year 2008 reached approximately one lakh, in comparison to 1989 when only 1700 patients attended. By October 2011, a study conducted at Sher-e-Kashmir Institute of Medical Sciences demonstrated that 55% of Kashmir's population suffered from various psychiatric disorders. About 58% of the population has been through mental trauma, leading to about 800,000 individuals suffering from PTSD.
Children Affected : The Sri Maharaja Hari Hospital in Srinagar, founded in 2008, receives 150-200 patients per day, with the majority being young boys and girls. Despite the absence of research in relation to children, PTSD appears to be more common in this group.
Research conducted in Kashmir orphanages showed that just over 40% of all orphans between the ages of 5 -12 years suffered from PTSD. One of the criticisms is that, while basic needs are provided, psychological and emotional wellbeing is neglected in this group. In 2010, Mustaq A Margoob wrote in the Times of India "Since the young brain is yet to develop psychological mechanisms, children and adolescents are much more vulnerable to emotional actions and reactions. When they assume that they are getting pushed against the wall they get dominated by their emotions and stop caring for the consequences. Young Kashmiris reflect the above referred psychological processes in more ways than one. The recent developments of defying the law could be a manifestation of ever increasing indescribable levels of frustration and anger among this trauma generation who have hardly seen a minute of complete peace or tranquillity in their lives"
Half –Widows : The second most commonly affected group are women. The Psychiatric Diseases Hospital data shows that 15% of women suffer from stress and prolonged trauma. 70-80% of cases of acute depression are women, with 16% with PTSD. Disappearances or deaths of male members from as early as 1990s – due to operations by security forces or militancy - have forced many women to be "half widows", desperately trying to be the main breadwinner of their family.
The unknown status of their husbands, according to local law means that they cannot claim widow benefits or property, and have to wait seven years before remarriage. The international medical aid group, Medicine Sans Frontiers (Doctors Without Borders)'s report, Conflict and Health showed that over one-third of people in the study where found to have symptoms of psychological distress, expressed through symptoms like nervousness, tiredness, being easily frightened and complaints of headaches. Women scored significantly higher. Ideas of suicide were twice as high as in India. The main reason for problems appeared to be dependency on others for daily living, witnessing killing and torture, and a sense of powerlessness.
Mental Health Services – Kashmir : Resources for mental health are scarce. Doctors work at a relatively high speed, constantly multi-tasking - each patient is reviewed in about three minutes with follow-up appointments. Psychotherapeutic treatment such as counselling and cognitive behavioural therapy requires time, resources and manpower. Fortunately, manpower is slowly increasing. In the year 2000, there were only six psychiatrists in Kashmir, but this had increased to over 20 across the state by 2011. The central government identified the Psychiatric Diseases Hospital as a centre of excellence under the National Institute of Mental Health, with the aim of improving resources in the long term.
One negative effect of this surge in mental health problems is the so-called "mental health industry" - untrained store-front practitioners supplying medication that they are not qualified to prescribe. Rather than qualified psychiatrists, they are medical students - graduates/post graduates who make arrangements with the local pharmacists. Diagnosis by someone who has limited or no experience is dangerous, and can lead to serious and - on occasion - life threatening side-effects.
Healing Kashmir's Ms Justine Hardy is a pioneer in development of mental health support. She summarized the main problems in 2011, when she told the media:
"The government hospital is inundated. The thing that is most apparent is the lack of time each doctor has. Counselling or concept of therapies does not exist here. The government solution has often been blanket medication of sedatives and anti-psychotics but what do you do with a whole society that is suffering from some form of PTSD."
Healing Kashmir : Justine Hardy quickly recognized that a more integrated approach was required to manage this problem. She writes on her website, "Our aim is to treat trauma patients with a combination of conventional and alternative medication and therapies that will support the fullest recovery they can make, and enable them to return to their families and communities."
In 2009, Healing Kashmir brought professionals from the UK to train selected individuals in Kashmir in alternative therapies. Over six weeks, patients were given between four and seven sessions that included counselling, homoeopathy, physiotherapy, cranio-sacral therapy and Reiki, with positive results. Hardy states that patients feel able to open up more freely to foreigners, and feel a great sense of support having been isolated for a great deal of time. The conflict resulted in mistrust, especially regarding disclosure of personal information. By Stage III of this project, they had expanded to include a suicide and mental trauma helpline, and an integrated mental health centre called Kashmir Lifeline. The crisis helpline was developed with the assistance of Barbara Krieger, a senior multi-media producer and team leader at Swiss TV. Callers to the helpline have options of live online chat, email and being able to call on a toll-free number. The caller is also given the option of coming to their mental health centre or outreach centres for further treatment.
Social stigma appeared to be a predominant factor preventing people – particularly women - from seeking assistance. Time magazine reported that many women were more comfortable seeking help from Sufi Spirituality instead of conventional medical support. An anonymous confidential phone-line was therefore required to enable people to speak in confidence.
This phone-line has also been particularly effective in tackling the anger and frustration in the younger generation, which has, in some cases, resulted in an increased crime rate. The phone-line concept has been effective in managing anger and problem solving emotional issues.
Justin Hardy summarises the current progress as follows:"To sum up recent progress we now have a very punchy three tier-system in place: the suicide and mental trauma helpline is the top layer, and the phones are ringing all the time"
Self Help Guide : This self–help guide should not replace medical advice. It is simply a short lifestyle advisory that may be useful in day to day living. For information about PTSD, it is worth speaking to the Helpline, speaking to your doctor and / or researching it on the internet, although you should always confirm your findings with a qualified healthcare professional – not all of the information on the internet is reliable.
It is vital to first learn about the condition so that symptoms can be rationalized. Mental health problems are caused by chemical imbalances in the brain, which in turn cause low mood and / or stress related problems. Everything in our day-to-day lives can affect our body physiology. The guide below suggests how the body can be trained to function in a better way.
Your life should be kept as normal as possible. Every effort must be made to keep to your normal routine. You should try and attend college, university or work if at all possible. This may be discussed with your doctor.
Your family members or friends can help you. You should be able to talk about what happened to them. Confiding in someone who cares about you is important. It also provides a way of reducing the burden of the issues you are worried about. Relatives may wish to know how they can help. This is some advice for them:
Allow the person to be upset without necessarily trying to console them.
Encourage the person with PTSD to talk to, and gain support from, other survivors.
Help them contact organisations that offer specialist support.
Discourage them from getting into a pattern of avoiding situations that remind them of the trauma.
It is important to exercise regularly. Studies have shown that exercise improves mood. This could be as simple as a 30 minute walk every day. Any exercise, including playing football or cricket, helps to improve mood.
Kashmir has a lot of surrounding beautiful nature. Some research in the UK has shown that being out in nature helps to improve mood, and also reduces anxiety. Young people might find it useful to go trekking with their friends.
People who have mental health problems tend to neglect themselves by not eating or drinking properly. It is vital that the person suffering from low mood or anxiety is on a proper, healthy diet. Meals should be eaten three times a day, the most important being breakfast. Regular healthy snacks should be eaten during the day. Failure to maintain your blood sugars, and neglecting food, will result in low mood and increasing anxiety. Some directions are as follows:-
Eat every 4 to 5 hours
A chemical called Omega 3 is said to help mood. This is present in oily fish. It is best to include fish in your diet at least two to three times a week.
Foods that contain good vitamins that help your mood are fortified whole-grain breakfast cereals, lentils, black-eyed peas, soybeans, oatmeal, mustard greens, beets, broccoli, sunflower seeds, wheat germ and oranges, shellfish (clams, oysters, and crab), lean beef, cottage cheese, yogurt, milk and eggs.
It is worth avoiding fast foods and trying to eat a healthy well balanced cooked diet.
It is very easy to become addicted to abusing illicit drugs. Drugs that are misused include painkillers like Spasmoproxyvon, codeines, sedatives and other painkillers. These substances affect mood, and worsen the situation. If you have an addiction problem, it is important that you seek medical help so that you can come off the drugs safely. Think twice before consuming these substances in high quantities, because they will not improve the situation. In fact, the situation might worsen quite considerably. Addiction to any illicit substance – or even alcohol - is a bad idea, and will mean sabotaging any potential for recovery. It is therefore important to practice a clean way of living without dependence to these addictive substances.
The Institute of Medicine determined that an adequate intake of water (AI) for men is roughly 3 litres (about 13 cups) of total beverages a day. The AI for women is 2.2 litres (about 9 cups) of total beverages a day. It should be noted that large amounts of caffeine in tea and coffee can dehydrate you. Caffeinated drinks can make you jittery, sleepless or anxious. Water is probably your best bet to stay hydrated. It's calorie-free, caffeine-free, inexpensive and readily available. Caffeinated drinks should not be consumed before bed as they can cause sleep problems.
According to research in 2003, listening to music helped to improve the mood of some university students in the USA. Music has a positive impact on mental health, and is also applicable for all age groups.
One cost effective way to improve mood is to try and engage your brain in reading, watching television or listening to the radio. Zee TV, for instance, has a very colourful selection of soap operas describing some interesting story lines. This stimulates your visual senses and helps you think about something completely different. Programmes that do not require intense concentration can have a positive impact on mood. After watching a programme, a relative can ask you questions on the soap opera to test your memory and concentration. This can be done regularly to see if you can remember story-lines, the times the programmes are on, the news etc.
You may also find that taking up hobbies has a beneficial effect. Sewing, gardening, painting and cooking are examples of activities that might be helpful, but anything that you enjoy and that is relatively undemanding could be effective.
Art therapy may also be helpful. Recently, Dena Lawrence, an Art Therapist and Mental Health Nurse from the Hollywood Clinic, established "A Path with Art – Expressing Untold Kashmir", a community-based Art Therapy project in Kashmir. The program aims to treat those suffering from PTSD, depression and anxiety as a result of traumatic events in the ongoing conflict between India and Pakistan by providing a way for the Kashmiri participants to find new meaning and to develop a sense of community and trust.
It is important for everyone who has mood problems to develop a daily diary. In this diary, you should note down a plan for the week of all the things you would like to do. These plans are made because patients with low mood find it hard to motivate themselves. Initially, you may not be able to do everything in your diary, but it is important to be patient and to try and do as much as you can. This is a way of rehabilitating of yourself.
Some people find it helpful to write a diary describing their feelings, emotions and ideas as a way of recovery. This may or may not be useful in some cases.
Many of the youth in Kashmir have found Face book and social networking a way of interacting with the outside world. Socialising has the net effect of helping mood. Also, studies have shown that computer games can be good for improving mood. In 2012, research presented to the British Psychological Society Annual Conference showed that playing the game Tetris may improve flash backs and other psychological symptoms following a traumatic event. The researchers say that "the Tetris game had a positive effect and the visual-spatial demands of the game may disrupt the formation of the mental imagery involved in flashbacks. Further research is being done to see whether it is effective long after the trauma has been experienced.
A bright future – One Step at a Time.
Finally, the level of mental health support has developed quite considerably. The main problems appear to be the failure to recognise PTSD and social stigma in seeking assistance. Nevertheless, there is a ray of hope. It is possible to recover from psychological trauma; all that is required to live a good quality of life is a good deal of positivity, determination and strength. This is something worth fighting for. People can rebuild their futures with the desire to go forward, slowly, one foot at a time, without looking back. Each day is a new day, with a new sunrise and a new hope – Kashmir is the land of survivors and, together, PTSD can be defeated.
Share Your View via Facebook
top trend
what next
IBTL Gallery