The Dark Face of Communist Brinda Karat unveiled in TOI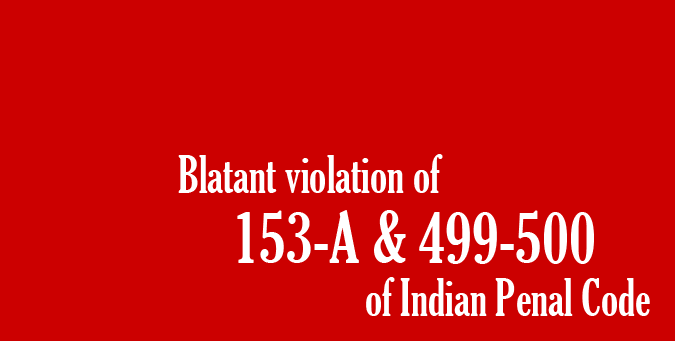 In an article titled "Modi's concerns for Puppies" in The Times of India dated 16 July 2013, CPM MP and Politburo member and wife of all-powerful CPM General Secretary Prakash Karat, Brinda Karat gives a lot of lies which are not 'harmless white lies' but dangerous, inflammatory and defamatory lies. This is blatant violation of 153-A & 499-500 of IPC.
She begins her piece with the line:"In defence of the insulting and repugnant 'puppy' analogy he used when asked in an interview about the 2002 pogroms in Gujarat, Narendra Modi tweeted "In our culture every form of life is valued and worshipped." Except, he could have added, if you are a Muslim or a Christian."
This is an extremely dangerous and inflammatory statement. Modi's full interview shown by Reuters made it clear that he did not give any analogy he simply said that anyone would feel pain even if a puppy is crushed under a car. Yet Brinda Karat calls it an 'insulting and repugnant 'puppy' analogy' despite knowing fully well that Modi did nothing of the sort which is clear by reading the full text of his interview, even Reuters' journalist had to tweet to this effect. Brinda Karat has not only violated 153-A by needlessly infuriating a community by trying to imply that Modi used an 'insulting analogy' which he never did she has also defamed the democratically elected CM of Gujarat. She conveniently forgot to add the link to the text of Modi's interview which was also tweeted by Modi which would have made things clear on the words used by Modi.
After that, Brinda Karat gives some superfluous, and needless reference to Nazis of Germany and their love for animals trying to label Modi as a Nazi and compares Modi to them. She then says:"Similarly, the Gujarat CM can find it easy to express sadness for a puppy run over accidentally, but cannot bring himself to directly express sympathy for the thousands of Muslims, including women and children, who were butchered under his watch in 2002."
Another outrageously dangerous statement full of lies. Firstly, 'thousands of Muslims including women and children' were not 'butchered in Gujarat in 2002. As per figures given by the UPA Government through Union Minister of State for Home Shriprakash Jaiswal, who belongs to the Congress Party, in Parliament on 11 May 2005, 790 Muslims and 254 Hindus were killed in the riots and 223 people were missing. This was in a WRITTEN REPLY to a question asked by a Congress member on the religion wise casualties in Gujarat after Godhra.The UPA government gave these figures, and hence they themselves may be inflated, and that government was supported from outside by Brinda Karat's own CPM.
Even Indian Muslims' English newspaper Milli Gazette also reported this [Link]
Brinda Karat has needlessly infuriated a community & defamed a CM on such a sensitive topic (ignoring the gruesome roasting of 59 Hindus including 25 women and 15 children in Godhra completely, which was the cause of the riots) by using hyperbole and exaggerating and inflating the number of people killed.
Secondly, she is absolutely wrong to claim that 'Muslims were butchered' in Gujarat. Muslims were undoubtedly killed in one-sided attacks in the state in many places, but if 'Muslims were butchered' then Hindus were also butchered in Gujarat even after Godhra. Muslims were hardly the cattle hiding from the slaughter-house and were equally on the offensive even after Godhra and attacked and killed hundreds of Hindus and threw out 40,000 Hindus out of their houses into relief camps, like they did in Kashmir. None other than Brinda Karat herself admitted on 29 May 2002 after her visit to Gujarat that Hindus and particularly Dalits were also living in relief camps, as reported by The Hindu the next day.
The Hindu also reported on 2 March 2002 that "Unlike 28 Feb (Thursday) when one community was entirely at the receiving end, the minority backlash on 1 March (Friday) caused further worsening of the situation". There have been separate convictions of 80 Muslims for attacking and killing Hindus in Gujarat after Godhra. The conviction of Muslims proves that Muslims were equally on the offensive and yet Brinda Karat writes totally one-sided ignoring the suffering of Hindus completely, and the aggression of Muslims.
Her terrible lie that the CM cannot directly express sympathy for the Muslims is absolutely wrong on facts, and again infuriation and defamation. Narendra Modi has expressed regret for the riots and termed the riots as 'unfortunate' . In an interview to Aaj Tak's Prabhu Chawla on its program Seedhi Baat, the excerpts of which were published in India Today weekly dated 4 Nov 2002, Narendra Modi was asked "Prime Minister Vajpayee and Home Minister Advani have said that whatever happened in Gujarat was wrong" to which he said, "I say the same thing. The communal riots in Gujarat were unfortunate and we are sad they took place."
See link: www.indiatoday.com/itoday/20021104/conf.shtml#co
After the 2002 Gujarat riots Narendra Modi made a statement in the State Assembly (Vidhan Sabha) in March 2002. One paragraph from that statement is: "Are we not supposed to soul-search ourselves? Whether it is Godhra incident or post-Godhra it does not enhance the prestige of any decent society. The riots are a stigma on humanity and do not help anyone to hold his head high. Then why is there a difference of opinion". He also said on 16 September 2011: "The pain of anyone in the state is "my pain" and he had a duty to do justice for everyone."
Brinda Karat tried to paint Modi as 'Hitler' and 'Nazi'. Not only did Modi express sympathy for the victims he also did a lot to help the victims, both Hindus and Muslims.
The Gujarat Government spent a lot of money for providing relief to the riot victims. None other than the UPA Government's MoS for Home Sriprakash Jaiswal said this in the Rajya Sabha that too in a written reply on 11 May 2005. He said an amount of Rs 1.5 lakh was paid by the government to the next of kin of each person killed and Rs 5,000, Rs 15,000, Rs 25,000 and Rs 50,000 to those injured up to 10, 30, 40 and 50 per cent respectively.
In addition, Jaiswal said relief was also extended by the state government to the victims of the riots under the heads of cash doles and assistance for household kits, foodgrains to Below Poverty Line (BPL) families in affected areas, housing assistance, rebuilding earning assets, rehabilitation of small business, assistance to industries/shop and hotel and so on.
The state government, Jaiswal said has informed that a total of Rs 204.62 crore has been incurred by it towards relief and rehabilitation measures. The Gujarat government has also informed that they had published the data as recommended by the NHRC, he added. In end-April 2002, at the rate of Rs 30 per person, the Government was spending Rs 35 lakh a day on providing foodgrains to the 1.1 lakh inmates of the 99-odd relief camps in the state, 47 of them in Ahmedabad.
The relief operations at the camps were being directly looked after by IAS officers of the rank of secretary to the state Government.
The camps in Ahmedabad were divided into six groups. Each group was being monitored by a bureaucrat of the rank of secretary. The secretaries had been looking after the minutest problems of the inmates. Teachers were deputed in each camp to help the children prepare for the exams and the state Health Department had been taking special steps to look after the well being of the inmates. In order to rehabilitate the rural inmates, the Government had floated the Sant Kabir Awas Yojana as per the directions of Prime Minister A. B. Vajpayee. The scheme enabled the inmates to build houses.
How ridiculous to equate this with Hitler! Did Hitler ever spent crores on helping Jews or other Christian Germans affected by violence? He ordered killing of Jews- not spending of money to help them. Has any government in the world ever cared about minority Hindus who suffered like this?
Nobody ever reconstructed houses for these Hindus. Nobody gave them financial compensation of crores of rupees. And nobody spent 35 lakhs per day on them. Nobody arrested the culprits and punished them.On the contrary, for the Gujarat riots there have been a world-record 443 convictions, 332 Hindus and 111 Muslims, 31 for Godhra and 80 for post-Godhra. 148 have been in SIT seen cases (117 Hindus and 31 Muslims) but most of the convicted had already been arrested by the Gujarat Police and most of those arrested by the SIT were acquitted. Out of the remaining 295 convictions, 274 were in Gujarat under Modi Government's prosecution. On the contrary, only 3 to 4 people each were convicted for the 1969 riots and 1985 riots in Gujarat under Congress rule.
Brinda Karat then tries to downplay the SIT clean-chit to Modi on the 2002 riots. She claims that Zakia Jafri's petition has brought to light several facts. For this, she completely hides the facts of Zakia Jafri's complaint which is full factual errors and bundle of lies, like the claim that Chief Secretary Subbarao participated in the 27 Feb meeting which is not the case, or that as 'Anand District Police chief B S Jebalia was a participant to the Ode massacre' whereas the fact is that another officer B D Vaghela and not Jebalia was posted as Anand District Police chief at that time.
Brinda Karat then alleges that:"Details of the post-Godhra transcripts of frantic police messages to headquarters provide a blow-by-blow account of the build-up to the massacres and the role of various players like the Vishwa Hindu Parishad, Bajrang Dal and Modi himself. They reflect the puzzlement of the police why no action was taken on their reports. Why did the government not act in time in spite of warnings? Nor was it a question of being temporarily overwhelmed by unforeseen circumstances...Was it good governance not to take any preventive steps? Was it good governance to allow the post-mortem of the Godhra victims on a railway platform in full public view, as Modi did?"
Again complete factual rubbish. The fact is that on 27 Feb itself there were 827 preventive arrests made in Gujarat, even before any retaliatory riots had taken place. The Gujarat Government deployed the entire police force of 70,000 of 27 Feb itself, as reported by The Hindustan Times and The Telegraph (UK). The Gujarat Government asked the Centre to send in 10 companies of CRPF personnel on 27 Feb itself. All units of Rapid Action Force were deployed in Ahmedabad and other sensitive areas and the Centre sent in CRPF personnel on 27 Feb itself, as reported by The Indian Express and Mid-Day on 28 Feb. Narendra Modi himself gave shoot-at-sight orders and curfew in Godhra at 9:45 am on 27 Feb itself and also made 2 public appeals to the people to maintain peace and not retaliate. One was in Godhra on the evening of 27 Feb while talking to the electronic media. Also, since Godhra was under curfew, it was important to get the bodies out of Godhra so as to make it easy for relatives and also to calm matters in Godhra. The bodies were brought to Ahmedabad at 3:30 am of 28 Feb as reported by India Today (18 March 2002) and The Times of India on 28 Feb online to Western Ahmedabad's isolated Sola Civil Hospital where the Muslim population is negligible. Had the Modi Government wanted to instigate riots, it would have brought the bodies to Eastern Ahmedabad's main civil hospital from where most of the dead karsewaks resided, and from where it would have been ideal to instigate violence against Muslims, and also done that in the day time instead of at 3:30 am which is very inconvenient for relatives and also very difficult to instigate riots.
Karat continues: "Or were these the actions of a self-described Hindu nationalist whose very idea of India has more in common with Hitler's Germany than Ambedkar's Constitution? Or is this an example of the decisiveness that Modi boasted of as a sterling quality for his claim to leadership in the same controversial interview?" By putting outrageous lies and ignoring all steps and facts, it is Brinda Karat who is acting like Germany's propagandists and not Modi who did everything possible to prevent and control riots. Brinda Karat again also targets Amit Shah despite the fact that none other than the SC gave him bail and allowed him to re-enter Gujarat, finding little merit in the CBI's vindictive charges on its masters' orders. Karat also terms Ishrat Jahan's killing as 'cold blooded murder' ignoring completely the fact that no court has till now said so, and the Lashkar-e-Toiba had itself owned up Ishrat Jahan in 2004, along with David Headley in 2010, and the UPA Government itself gave an affidavit in the Gujarat HC that Ishrat was indeed a terrorist. Without any conclusive evidence at present, it is highly dangerous to call that killing as 'cold blooded murder' and at the most it can be said 'alleged cold blooded murder'.
The wounds of 2002 are being kept alive by the likes of Brinda Karat who instead of reporting at least some of the true facts, are lying outrageously about the riots as if they were one-sided and lying about the role of the Government in it, ignoring all steps taken by the Government to prevent and control the violence. By inflaming the situation, infuriating a community and defaming a democratically elected Chief Minister, Brinda Karat has violated 153-A and 499-500. As a minimum, she should tender an apology for twisting the facts and at least write based on correct facts.
Author : GujaratRiots.com
- - - - - - - - - - - - - - - - - - - - - - - - - - - - - - - - - - - - - - - - - - - - - - - - - - - - - - - - - - - - - - - - - - - - - - - - - - - - - - - - - -
Disclaimer: The author is a commentator on issues of national interest. These are his personal views and do not necessarily reflect IBTL's opinion.
- - - - - - - - - - - - - - - - - - - - - - - - - - - - - - - - - - - - - - - - - - - - - - - - - - - - - - - - - - - - - - - - - - - - - - - - - - - - - - - - - -

Share Your View via Facebook
top trend
what next
IBTL Gallery