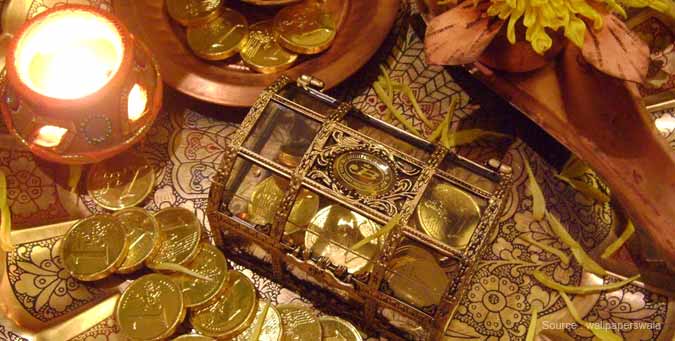 It starts with Dhanteras on the 13th phase, also known as Dhanvantari Trayodasi, a day of paying obeisance to prosperity, today celebrated by acquiring gold or other forms of wealth.
Dhan Teras or Dhan Trayodasi – the name itself suggests prosperity. Dhan means wealth and teras, trayodasi mean the thirteenth day of the waning moon cycle.
This day is associated with the emergence of the divinities for health and wealth – Dhanvantri and Lakshmi respectively, when the Universe was created.
Dhan Teras is the festival related to wealth. It comes just prior to Lakshmi Pooja. As we have already seen, this is the season post monsoon. Post the monsoon season, the crops would have been harvested and the farmers and the community at large have money in hand.
In the Indian ethos, gold has always been looked at, not just as an ornament to bedeck the women in the house but more importantly as an investment for future expansion or as a saving that one can dip into during a bleak period. With this thought in mind, the joy of having abundance to buy gold, ornaments and decorate one's house for the festive season was itself a reason to celebrate, a reason for a festival.
Today, in towns, the focus has shifted from Agrarian needs to the needs and demand of a city life. In this commercial world, Dhan Teras has taken on a commercial dimension of buying ornamental gold jewellery and for picking up electronic gadgets.
Dhan is of two types. One Dhan is the material wealth - gold, silver, luxuries, land and such others. These are all ever flowing wealth as they do not stick to one place. They are constantly in circulation, with us one today, gone tomorrow.
The other wealth is the wealth of health.
Dhanvantri Trayodasi – Health is Wealth
The wealth of health is denoted by Dhanvantri, the divine physician. Among the Indian pantheon of divinities, Dhanvantri is the divinity for health. In his very name itself, the first part of the name is Dhan. From this it is amply clear that the seers of ancient India believed that good health while one is living, is the most important wealth and the primary divinity for health aptly termed as Dhanvantri.
If you closely observe the image of Dhanvantri, you will see that Dhanvantri is coming out of water. Similarly good health in our body is dependent on the waters in our body as 70% of our body is after all, made up of water.
In one palm Dhanvantri holds a leach, Jalloka. The leach removes bad blood from our system so that fresh blood can rejuvenate our system. In the right hand is the Amrit kalasa, pot of nectar. Nectar is the elixir of life. It is that which gives us freshness and adds longevity to our life.
Alongwith celebrating Dhan teras as the festival of gold and wealth if we can celebrate it to bring about a right balance in our health, which is the true wealth, then celebtating Dhan teras gets a wholistic perspective.
If we see, one of the popular traditions in the South of India, especially Tamil Nadu, is the tradition of preparing and consuming an Ayurvedic, herbal, medicinal preparation called Deepavali Lehiyam, paste. This is given along with the sweets and goodies prepared for Deepavali.
This Lehiyam contains herbs that primarily help with improving digestion as well as immunity – 2 important factors required for a season of festivities and chillness due to winter.
One of the important rituals of this day, is to prepare this Lehiyam and seekDhanvantri's blessings to endow all with a life rich with good health.
Bharath Gyan | www.bharathgyan.com | twitter.com/bharathgyan | facebook.com/bharathgyan
Share Your View via Facebook
top trend
what next
IBTL Gallery