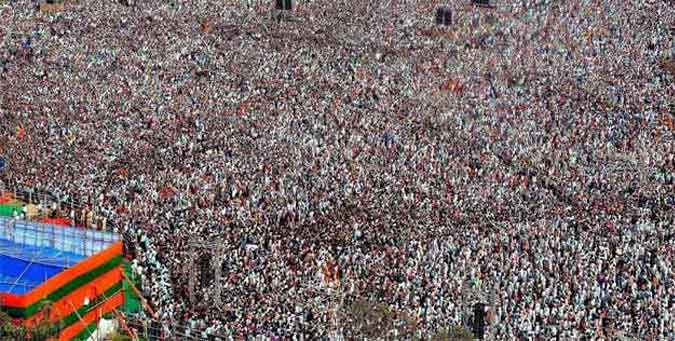 The recent bomb blasts at Shri Narendra Modi's public rally at Patna's historic Gandhi Maidan, in which six people died and almost a hundred were injured, have brought into sharp focus the minority appeasement vote-bank politics of the so-called secular parties which puts national interest on the back-burner. When Mr. Modi says that the next General Elections will be fought by the Indian Mujahideen and the CBI on behalf of the Congress Party, he speaks a truth that must be faced.
हिंदी में पढ़ें : वोट बैंक की राजनीति का जेहादी अवतार...
It is now clear that those who planned and executed the bomb blasts in Patna on that revealing-yet-tragic day were very close associates of Jehadi-terrorist Yaseen Bhatkal, who is currently in NIA custody. It is also clear that Yaseen and his associates set up many units across Bihar and Jharkhand to carry out terror strikes all over India.
In this context, it becomes inexplicable why the ruling so-called secular dispensation in Bihar thought it fit not to have the Bihar police take custody of Yaseen Bhatkal and interrogate him, especially since Yaseen had been arrested by the very same Bihar Police. Initial reports about Yaseen Bhatkal's arrest from near the Nepal-Bihar border did suggest that the valiant policemen involved in his arrest did not tell their superiors or the political leadership about the operation, and thus the success. Obviously, vote-bank politics was behind the unseemly hurry to hand over Bhatkal to the NIA.
It is also now clear that the same Bhatkal-module-jehadis were responsible for the Bodh Gaya bomb blasts, for which a video clip of a Sadhu as a suspect was repeatedly shown on TV. These revelations make the reluctance of the Bihar government to interrogate Bhatkal almost a criminal act of omission. The attempt to create a public impression that a Sadhu was being suspected for the Bodh Gaya blasts also fits the pattern of so called secular vote bank politics.
One recalls that when the dreaded terrorist Yaseen Bhatkal was nabbed, a very senior leader of UP's ruling Samajwadi Party batted for Bhatkal, saying that he should not be arrested just because he is a muslim. This was another example of vote bank politics.
Recently, Congress Party Vice President, Mr. Rahul Gandhi, said at a rally that a certain IB officer walked into his office and told him that ISI of Pakistan was in touch with 10 to 15 Muslim youth of riot-affected Muzaffarnagar. This, again, is an example of vote bank politics.
Recent revelations have shown that when Ajmal Kasab and his fellow jehadis attacked Mumbai on 26/11, they had local support. Since Maharashtra was going in for polls, this local support to the killers was shoved under the carpet and an honest investigation was not carried out. This is again vote bank politics.
It is well known that David Coleman Hadley, who did repeated reccees of the various 26/11 targets for the Lashkar-e-Tayyaba, was very close to the Bhatts of Bollywood fame, who had gone with him to the various targeted hotels. Not probing this angle adequately is a case of minority appeasement, since Bhatt calls himself Mahesh and flies under false colours.
Similarly, trying Sanjay Dutt only under the Arms Act and not under POTA despite the fact that he was involved with the terrorists in the Bombay mayhem of 1993, is a case of minority appeasement, since his father was a Congress Party MP, and close to Dawood Ibrahim.
Those who are practicing this brand of vote-bank-politics showed the utter crust recently to attempt to form an anti-communal front. This amounts to inverting logic on its head.
This is why there is an urgent need to define secularism, and only the Indian Supreme Court can do that, since secularism is part of our constitution. To my mind, the state has to provide equal opportunity to one and all, irrespective of caste and creed. To favour one community at the cost of the other, as Prime Minister Manmohan Singh has done in espousing that the minorities have the first right over national resources, amounts to outright communal politics.
When the so called secular parties harp on the 2002 riots in Gujarat, not mentioning the fact that there has been no communal incident in the 11 years since then, it amounts to seeking Muslim votes by scaring that community. The fact is that most of the communal riots in the country have taken place under Congress Party rule and far more fatalities have been there in those riots. The riot a day situation in Uttar Pradesh, is not noted by these forces.
A case in point is that of the 1984 Sikh massacre in Delhi and other North Indian cities after the death of Mrs. Indira Gandhi, which is traced straight to the Congress Party leadership and in which there were 2733 deaths, far more than the toll in the 2002 Gujarat riots. Rubbing salt on victims' wounds, there is hardly any conviction despite the 2733 deaths.
In Gujarat itself, communal riots took place under Congress rule in Surat in 1992, and Ahmedabad in 1985 and 1969, with almost a thousand deaths, but this is never mentioned as part of vote bank politics.
Also, huge communal riots under Congress rule took place in Moradabad, UP (1500 dead in 1989), Bhagalpur, Bihar (1161 deaths in 1989) and Nellie, Assam, (1819 death in 1983), but the Congress Party is not called communal for the same as part of vote bank politics.
The fact that the muslims in Gujarat have made tremendous progress and are very happy under Mr. Narendra Modi's Chief Ministership has rattled the so called secular parties. The trap they have laid for the Muslims ever since the independence of the country has been exposed. Muslims are now voting for the BJP and for Narendra Modi on the plank of development, having seen through the game of so-called secular parties who have done nothing concrete for the community.
So now the so-called secular parties are abandoning their erstwhile approach and we are seeing unprecedented violence during election rallies. It was a stroke of good luck that the bomb near the stage at Narendra Modi's Patna rally did not go off, or else the entire leadership of the BJP would have been assassinated. This politics of violence that utilizes jehadi terrorists to settle political scores and actually facilitates the jehadis through laxity and inaction must be exposed and must be negated by all right thinking people.
Share Your View via Facebook
top trend
what next
IBTL Gallery