BJP s support to Telangana gives hope and cheer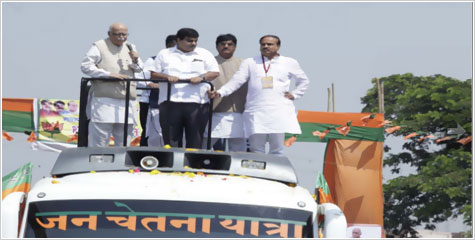 The Jan chetna yatra is moving through the Telangana region of the Andhra Pradesh. The support and warm response that the yatra is getting in the Congress-rules state is overwhelming.
Yesterday, when the yatra entered Andhra through Dolara village, a rousing welcome was accorded at Penganga bridge. Adilabad to Nizamabad, the similar scenes were witnessed. The Jan Sabha at Nizamabad, though delayed, was very well attended. Shouts of BJP & Telangana could be heard everywhere.
Advani ji declared BJP's full support to the creation of Telangana. The crowd present at Nizamabad cheered him and clapped when he said that the Congress had cheated and deceived the four crore people of Telangana region by failing to keep the promise it made in December 2009. He also lauded the peaceful month-long agitation by the people demanding Telangana.
He said the BJP understands that the people of the region have been exploited and their resources taken away. His statement, "Telangana is a genuine demand and our party supports its formation", drew maximum applause even in road-side meetings in Icchoda and Nirmal just before the yatra entered Armoor town in Nizamabad district late in the evening.
Advani ji demanded that the Congress-led UPA government must introduce a bill on Telangana statehood in the coming winter session of Parliament. He also expressed deep concern over the suicide of students and youths for the cause of separate state.
On the issue of corruption, Sri Advani ji cautioned the party workers to not to succumb to corruption. He said, "There is a tendency for weakness to come into politics and because of small slip-ups the party's fight against corruption can be diluted at the Centre."
Mentioning the by-poll results, Advani jis aid that the UPA's second tenure is dominated by corruption. The government should recognise there was a seething anger against the Congress. The UPA government should understand the real meaning of the election results — "It's a writing on the wall, an electorate's warning served to the government of the day" he said.
Yatra moves into Medak district from Nizamabad and will reach Hyderabad by evening.
Share Your View via Facebook
top trend
what next
IBTL Gallery