Baba Ramdev's Swabhiman Yatra starts getting Massive support – Pramod Bhargav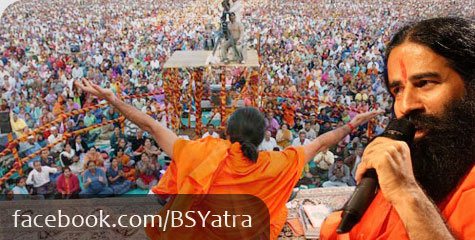 The call that Baba Ramdev has made for bringing the black money back from the land of Maharani Laxmibaai, that now appears to be synonymous with sensibility. Begun with the name of "Swabhiman Yatra", this movement is also turning to become an apotheosis of maturity. Having burnt his hands once, being cautious is the key, Baba Ramdev knows. So even if he's not getting the extensive coverage he received from the media earlier, if he continues to expand this movement at current pace, it's certain that it will make an atmosphere against corruption.
After having been driven away from Ramlila ground, the way conspiracies were hatched to engulf Baba Ramdev and his colleague Balkrishna in legal traps through CBI, this yatra is an apt response to the UPA government for that. This yatra also symbolizes Baba's moral strength and establishes that Baba's usiness empire is indeed founded in honest practices. Any dishonest entrepreneur would never have the will power to directly challenge the government.
Baba Ramdev has synthesized an atmosphere against corruption. This is why his continuing Swabhiman Yatra has now begun to attract massive support. These movements are also working to strengthen civil society. In this yatra, Baba is making wise moves, so while he attacks Congress in each speech of his, he's not making personal comments thereby not hurting any leader in person. Baba has indeed come out of the inferno like pure gold. Hence, instead of raising a multitude of issues, he's focusing singularly on Black money.
His demand is that the black money of Indians deposited in foreign banks be declared national property. When this money comes back to the country, not only the country will become an apotheosis of prosperity and development, but people will also cease to launder money abroad. Even though the issue of bringing black money is complicated due to being connected with double taxation, but it's not true that despite sincere and determined government attempts too won't be able to initiate the return of this vast money.
Baba has also refrained from his demand of discontinuing 1000 and 500 Rs currency notes. Similarly, he's currently refraining from his demand of Essential Public Services Guarantee Bill. Anyway Bihar and Madhya Pradesh state governments have introduced a similar bill and have put it to implementation lready, and Delhi and Himachal Pradesh are also working towards it.
Baba has also for the time-being played down the demand of reducing the clout of English language. This is an indication that Baba Ramdev has well understood that he should strongly pitch for a single demand at a time. Perhaps it is because of these careful moves that political parties too have ceased to attack him directly. Any politician, belonging to any political party, must be realizing by far that there is a strong mood in the country against corruption and black money. If they oppose it, they're bound to be punished by the electorate as and when time comes.
Though few politicians and intellectuals are insisting that Ramdev should restrict himself to Yog and Ayurved, but people having their roots in Indian culture know this fact very well that in the times of crisis, sages and sanyasis have always worked to restore the light of national pride. Those making unnecessary allegations against Baba must realize the Baba earned this money through his traditional knowledge and skills in Yog and Ayurved and he's now spending this money for the purification of the politics and bureaucracy of the country, and is exhibiting the audacity to challenge the government.
― Pramod Bhargav . Translate by Abhishek Tondon
Share Your View via Facebook
top trend
what next
IBTL Gallery