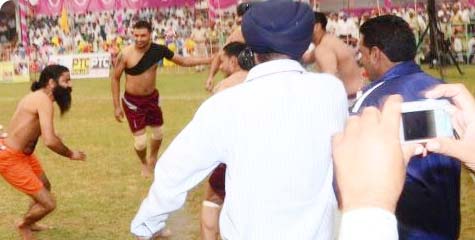 Crusader against corruption, charismatic Yog Guru and heartthrob of millions of Indians, Baba Ramdev has extended his final warning to Congress. He's categorically stated that if UPA govt doesn't bring stringent laws on Black money, Jan Lokpal and Systemic changes, he'll campaign against Congress in all Election bound states.

Baba made this statement at Jalandhar where he also raised the issue of anti-sikh riots and highlighted the deliberate failure of successive Congress governments to impart justice in the case. Baba also said that public anger will make Congress allies to split away if they want to save their fortunes.

Baba Ramdev reiterated that he has no ties with RSS but he doesn't see anything wrong if RSS supports the issues of national importance. Baba had in an interview with a TV channel clearly affirmed that he believes in nurturing the culture of India and is, thus, a right-minded person, unlike the members of Team Anna who are leftist in thier thoughts and action. Team Anna has been under fire from right-minded people for discarding the Bharat Mata image terming it communal, for issuing statements treating Hindu organisations as politically untouchable while at the same time going to Imam Bukhari and bowing to him for Vande Mataram issue.

Meanwhile, Sant Nirmal Dass, who is the president of Sri Guru Ravidass Sadhu Sampardai Society, assured Baba Ramdev that all 360 Deras of the community saints in Punjab would join him in the movement. Baba looks forward to organize all the sant-shakti of the nation on this issue.
Share Your View via Facebook
top trend
what next
IBTL Gallery