Baba Ramdev lashes out at Gandhi family, appealed to boycott Congress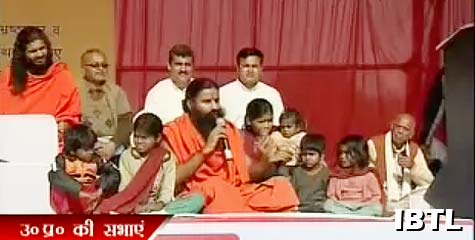 Feb 12, Lucknow: Yoga guru Baba Ramdev for the first time launched an attack on Gandhi family today at a meeting in which he called on voters of UP to "boycott" Congress and vote for only honest candidates belonging to other parties.

In his speech, Baba Ramdev without naming Congress president Sonia Gandhi said: 'Some people have tears in their eyes for terrorists, but they do not have tears for the wretchedness of 84 crore poor people, for more than 10 lakh farmers who committed suicide and children dying of starvation and malnutrition.

हिंदी में पढ़ें : बाबा रामदेव का गांधी परिवार पर हमला, कांग्रेस का बहिष्कार करने की अपील

"Will you vote for such people?", Ramdev asked.

Targeting at Rahul Gandhi without naming him, baba said: "Some people say people from UP got outside to beg. Such leaders go to the huts of poor people as part of event management, eat there and make those people poorer. All this is a drama."

Targeting Priyanka Gandhi for bringing her two children during her election campaign in Amethi, Baba Ramdev said; " Now they have gone to the limits. They bring two small kids to seek votes. I do not have children. So I have brought five poor kids on the dais and am seeking votes on behalf of 121 crore Indians.

On Salman Khurshid, Baba Ramdev said, it is really shameful that a Union Law minister is trying to break law and the Prime Minister is silent on the whole issue.
Share Your View via Facebook
top trend
what next
IBTL Gallery