Gujarat Forensic Sciences University, first of its kind in the world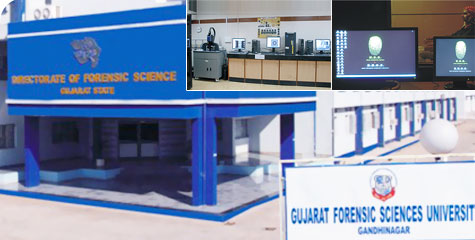 A unique super specialized University and first of its kind in the world for conducting The Government of Gujarat has established super specialized University which is unique and first of its kind in the world for conducting regular/online Degree/Diploma/Certificate courses in the field of Forensic Science, Behavioral Science, Criminology and other allied areas. It is situated at Gandhinagar, the capital of Gujarat, which is a vibrant, industrious, safe & business friendly state. It is being set up on a piece of land adjoining to the existing Directorate of Forensic Science building at Gandhinagar, a linked city with Ahmedabad. Ahmedabad is a major city of Gujarat and is also an industrial and educational hub having esteemed institutes as IIM, IIT, NID, NIFT & now GFSU. Ahmedabad and Gandhinagar are very well connected with other parts of the country and the world. The International Airport is hardly 20 kilometers away from the University.
One of the main objectives of the University is to create technically skilled manpower in the field of forensic science and behavioral science which is a need of the hour as presently many countries including India are facing acute shortage of such competent experts. This university aims to cater to the needs of various investigating and security agencies in addition to academic institutions.
Till the new university building becomes operational, the activities of the university will be carried out from the DFS premises, which is a state of the art forensic institute. The DFS is fully equipped with all advanced and latest technologies accredited by NABL/ISO-IEC 17025: 2005 for maintaining high quality standards. In addition to providing scientific support to State/Central investigating agencies including Central Bureau of Investigation, Narcotics Control Bureau, Directorate of Revenue Intelligence, Army Intelligence, Customs and Excise etc, the DFS also plays a major role in imparting training to the investigating officers, forensic experts and judicial officers of the country and also the neighboring countries like Nepal.
The Psychology section of DFS is a recognized National Resource Centre by the Ministry of Home Affairs, Government of India. The DFS laboratory consists of sections like Biology, Chemistry, Physics, Ballistics, DNA finger printing, Toxicology, Psychology (Equipped with Polygraph, Narco Analysis, Brain-profiling, Psychological profiling), Blood Alcohol Analysis, Document Examination, Computer Forensics, Photography, Narcotics, Explosives, Latent Fingerprint, Wild Life Forensics, 30 nos. of Mobile Investigation vans for round the clock Crime Scene Management (with Tele-Forensic facility), 4 nos. of Cow meat testing mobile vans, etc.
Share Your View via Facebook
top trend
what next
IBTL Gallery