Subramanian Swamy : Lets salute the real fighter 'SINGHAM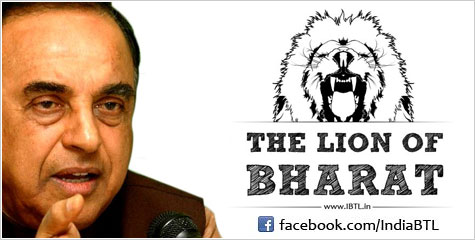 Subramanian Swamy (born 15 September 1939 in Chennai, sometimes spelt Subramaniam Swamy) is presently the President of Janata Party. He is a politician.Swamy is married to Dr. Roxna Swamy (a Parsi), an advocate at the Supreme Court of India. He has two daughters, Gitanjali Swamy and Suhasini Haider, the latter a journalist at CNN-IBN. His brother-in-law is Jewish, his son-in-law Muslim, his sister-in-law Christian and his wife Parsi.
Early life and education -
Subramanian Swamy was born in Mylapore, Chennai, India, into a Hindu Brahmin family. His father Sitarama Subramanian is from Madurai, Tamil Nadu who retired as Secretary to Government of India. His mother is from Tamil speaking family from Trichur, Kerala.
He attended Hindu College, University of Delhi, from where he earned his Bachelor Honours degree in Mathematics. He studied for his Masters degree in Statistics at the Indian Statistical Institute. He then went to study at Harvard University on a full Rockefeller scholarship. He was awarded a Ph.D. in
Economics by Harvard University (Class of 1965).
For some time, while completing his dissertation in 1963, he worked at the United Nations Secretariat in New York as an Assistant Economics Affairs Officer. He subsequently worked as a resident tutor at Lowell House at Harvard.
Academic career
In 1964, Swamy joined the faculty of economics at Harvard and since then has taught in the Department of Economics. He began as an assistant professor, and in 1969 became an associate professor. He regularly teaches economics courses in summer session at Harvard.
From 1969 to 1991, he was a Professor of Economics at the Indian Institute of Technology Delhi. He was removed from the position by its board of Governors in the early 1970s but was legally reinstated in the late 1980s by the Supreme Court of India. He continued in the position until 1991 when he resigned to become a cabinet minister. He served on the Board of Governors of the IIT, Delhi (1977–80), and on the Council of IITs (1980–82).

He is the chairman of School of Communication & Management Studies in Kerala, a business institute in India.
Political career
Role played during Indian Emergency
He first came into the spotlight for protesting against the emergency imposed in 1975. He went underground for a period of 6 months to avoid being arrested by police. Under the instruction of Jayaprakash Narayan, Swami escaped to US so that he could mobilise overseas Indians and world media against the emergency.
Elections contested
He was one of the founding members of the Janata Party and has been its president since 1990. He was elected Member of Parliament 5 times between 1974 and 1999. He has twice represented the city of Mumbai North East during 1977 and 1980, Uttar Pradesh and Tamil Nadu in the Parliament.
He was also a member of the Planning Commission between 1990 and 1991. Between 1994 and 1996, he held the position of "Chairman of the Commission on Labour Standards and International Trade" (equivalent to the rank of a cabinet minister) under the P. V. Narasimha Rao government. Dr. Swamy has been subject to several defamation cases. He is known to argue these cases himself without the agency of lawyers. In October 2004, he along with other members of the erstwhile Janata Party established the Rashtriya Swabhiman Manch to oppose the policies of the ruling UPA.
Minister of Commerce and Law of India
Economic Reforms in India
During the period 1990 to 1991 when Swamy was Cabinet Minister of Commerce and Law of India he created the blueprint for economic reforms in India under Prime Minister Chandra Shekhar Singh which was later carried out in 1991 by Manmohan Singh, then Finance Minister under leadership of Prime Minister Narasimha Rao. The current Prime Minister Dr. Manmohan Singh recently stated that Dr. Swamy was the first to envisage and articulate the need for reforms in India.
International relations
China and India
He is known for his efforts in normalizing relations between China and India. In 1981, he persuaded Deng Xiaoping to open the Kailash Mansarovar in Tibet to the Hindu pilgrims from India. He became the first Indian on the reopening to visit Kailash and Mansarovar in 1981. In 1990-1991, he was a minister in the Chandra Shekhar cabinet and was in charge of the Ministry of Commerce and Ministry of Law and Justice.
Israel
In his speeches and articles, Dr Swamy has expressed his admiration for Israel, and has credited its retaliatory capacity for its ability to survive in a hostile Arab environment. He made pioneering efforts at establishing diplomatic relations with Israel.
2G spectrum scam
In November 2008, Subramanian Swamy wrote the first of five letters to PM Manmohan Singh seeking permission to prosecute A. Raja in regards to the 2G spectrum scam. However, Singh took no action, leading Swamy to file a case on his own in the Supreme Court of India regarding the matter, which then asked the Central Bureau of Investigation to produce a detailed report on the matter. He further called on the Indian government to re-auction the 2G spectrum without the involvement of Communications Minister Kapil Sibal.
Swamy has raised allegations that that Sonia Gandhi's two sisters Anushka and Nadia have received sixty percent of the kickbacks in the 2G spectrum scam, amounting to Rs.18,000 crores each. On 15 April 2011, he filed a 206-page long petition with PM Singh seeking permission to prosecute Gandhi. In the petition, he claimed to have strong evidence of corrupt acts committed by Gandhi as early as 1972; he also raised doubts regarding her acquisition of Indian citizenship. At a lecture on corruption given on 29 May 2011, he again repeated his allegation against Sonia Gandhi, saying she has Rs.1 lakh crore stashed abroad. Most of Swamy's letters to the prime minister regarding this matter are not supported by proof, but he is not defensive about his allegations, stating: "I am writing to the prime minister, I am not holding a press conference. The PM has agencies available to him, they can investigate. My job is to bring things to his notice." Also, "They say I have no proof. Rubbish! As if on other things, they always have proof."
Reaction to 2011 Mumbai bombings
In response to the 2011 Mumbai bombings, he wrote an editorial in Daily News and Analysis (DNA) claiming that "Muslims of India are being programmed by a slow reactive process to become radical and thus slide into suicide against Hindus". He then set out a programme for dealing with this alleged threat, including repealing Article 370 of the Constitution of India (which granted special autonomous status to Jammu and Kashmir), removing the Gyanvapi Mosque at Kashi Vishwanath Temple and other mosques at Hindu temples, disenfranchising non-Hindus who refuse to acknowledge their Hindu ancestry, prohibiting conversion from Hinduism to other religions, and annexing part of Bangladesh in retaliation for Bangladeshi illegal immigration in India.
Negative reactions
His column provoked a variety of reactions. His house was attacked by people alleged to be Congress party workers. Minorities Council of Maharashtra Vice Chairman Abraham Mathai and National Commission for Minorities chairman Wajahat Habibullah accused him of violating Indian Penal Code Section 153A. New Delhi law student Shehzad Poonawala attempted to lodge an FIR against him at Defence Colony police station, but was disallowed by the officer on duty. DNA published two hostile response columns by Rakesh Sharma and Parsa Venkateshwar Rao Jr. calling him a "Hindu Taliban", "maverick", and "Zionist" in response to his views.
Reaction at Harvard
Some students at his alma mater Harvard University, where he also teaches economics in the summer school, accused him of stoking communalism and circulated a petition calling on the university to fire him and publicly repudiate his remarks. Adam Kissel, on behalf of the Foundation for Individual Rights in Education, wrote in a letter to Harvard that a disciplinary investigation against him would be inappropriate for an academic institution dedicated to intellectual freedom, represented a threat to free speech, and could lead to self-censorship by other faculty members.
In response to the petition, Donald H. Pfister, dean of Harvard Summer School, stated that the school would "give this matter our serious attention", but the school decided to stand by its instructor.
Tamil Nadu
He is well known for his critical views against the Government of Tamil Nadu and against the rationalist views of E.V.R. Ramaswamy. He is a constant fighter for the revival of Hindutva in Tamil Nadu.
He is staunch detractor of the Liberation Tigers of Tamil Eelam.
He obtained Supreme Court Stay against the implementation of Sethu Samuthiram Shipping Channel project (SSSCP). He believes that this shallow land connecting between Tamil Nadu and Sri Lanka was built by Rama approximately 1,260,000 years ago. He strongly opposes the implementation of SSSCP citing that implementing this scheme may affect the sentiments of Hinduism. He wrote letters to Prime Minister of India in June 2009 asking him to stop the project.
Share Your View via Facebook
top trend
what next
IBTL Gallery