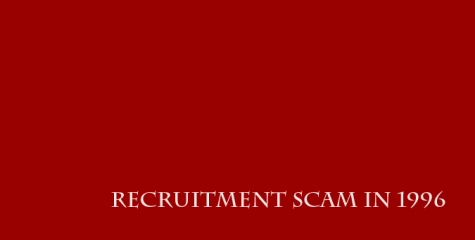 The list does not end here- Mr. Bhatt was at the centre of a massive recruitment scam that hit Gujarat in 1996 when he headed the recruitment process as SP of Banaskantha. The charges against him are very serious- he did not follow regular procedures including maintaining records of those candidates who were successful in the police constable examinations.

Read Sanjeev Bhatt not a Whistle blower
Ignoring the orders of the DGP, he did not follow the correct process of recruiting armed and unarmed constables separately preferring to go for a combined recruitment. The resulting lapses were against the principles of natural justice be it in terms of giving unfit candidates a chance to reach the second stage or concealing crucial information about the candidates. All these instances imply a clear misuse of power and carelessness, apathy towards his duty.

Mr. Bhatt's claims of being present at a meeting called by the Chief Minister on 27th February 2002 need to be discounted as lies- this is not only people saying it but also the seven officers who were actually present at the high level meeting then. Having remained of SP rank till as late as 2007, one wonders how he was present at such a top level meeting considering he held no high post then.

Even in recent times, lies and controversy have followed Sanjeev Bhatt. He has been regular touch with members of the opposition in Gujarat, even procuring expensive gadgets from them. Mr. Bhatt also turned towards civil society and requested Shabnam Hashmi and Father Cedric Prakash, who are no friends of the Chief Minister to launch a signature campaign to help him in his fight against the Gujarat Chief Minister.

Read Sanjeev Bhatt in Custody, arrest was inevitable
As late as August 31st last year, Mr. Bhatt was posted as the Principal SRP Training College at Junagadh but he not only refused to report to work but also misused his official vehicle. If absenteeism without notice is not a crime then he is innocent but there are certain rules public servants must abide by. It is unfortunate when officers chosen to serve the people refuse to report on duty while continuing to use the perks they are entitled to while on duty. This is a clear betrayal of public trust they are supposed to enjoy.
Share Your View via Facebook
top trend
what next
IBTL Gallery