Vivek Oberoi is a key sponsor of the school and its 1,750 underprivileged students, mostly girls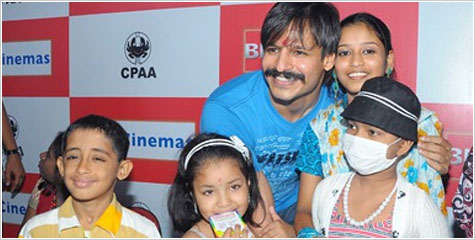 Like thousands of girls in India, Vrinda was abandoned at birth by her family. But she was lucky--she was brought to the Sandipani Muni School in Vrindavan, an ancient town off the New Delhi-Agra highway. Teachers took in the newborn and found a new mother to breast-feed her. Today she's a cheerful and cherubic 1-year-old. "If Vrinda's story was made into a movie, the audience might have dismissed it as yet another fantastical Bollywood yarn," says Bollywood actor Vivek Oberoi.
Helping to raise funds through his network and donating his own money, the 35-year-old Oberoi is a key sponsor of the school and its 1,750 underprivileged students, mostly girls. "This is no make-believe ... the children are real, their stories and emotions are real," he says as he cuddles Vrinda during a visit to the school.
Children swarm around him with lotus and marigold garlands, colorfully painted greetings and cries of "Vivek bhaiyya [brother]!" Away from the paparazzi that follow Bollywood actors' every move, his aura mesmerizes the kids. "Bollywood is every child's dream, so Vivek's visits are a great confidence-booster for the children," says Rupa Raghunath, who manages the school.
Click here : Vivek Oberoi bats for Hindu pilgrims, criticising government
But it's his star appeal in the wider world that helps Oberoi snare sponsors for the school, which he calls Project Devi, short for the Development and Empowerment of Vrindavan Girls Initiative (devi also means "goddess"). The school provides food, clothing, education and health care to children of single mothers and impoverished families.
Oberoi began supporting the school four years ago and started by sending a message of communal harmony to the Hindu temple town by sponsoring a Muslim girl's education. Today the school has grown from one campus to three and has a waiting list of 600 children. His ambition is to raise $2.5 million in the next two years to build another campus, provide hostel and training facilities, and increase the school's intake to 3,000 children.
Oberoi's involvement in philanthropy has run parallel to his Bollywood career, starting in 2002 when his first movie, Company, became a hit and turned him into a star. He donated his entire 300,000 rupees (then $6,200) in earnings from the film to pay for an operation to mend a hole in the heart of a 6-year-old, the daughter of a poor gatekeeper at one of the studios where the movie was filmed.
Since then his charity, the Yashodhara Oberoi Foundation, named after his mother, has funneled money to a variety of small, individual causes--restoring the vision of an 8-year-old boy, donating a prosthetic limb to a teenager, organizing emergency heart surgery for a victim of the 2004 tsunami that hit southern India. Altogether, Oberoi says, he has given away some $3 million of his own money and leveraged his celebrity to raise a further $25 million for a multitude of larger charities supporting cancer patients, natural-disaster victims, impoverished girls and mentally ill, destitute women.
Share Your View via Facebook
top trend
what next
IBTL Gallery