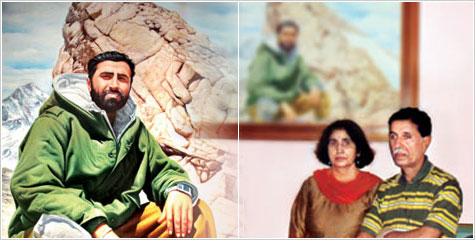 Captain Vikram Batra, a name that still strikes awe in the minds of the enemy, for he is synonymous with unmatched valour and blinding courage. Batra was 24 when he laid down his life for the nation and changed the course of the Kargil war back in 1999. He was awarded the Paramveer Chakra, but we have forgotten him since then.
GL Batra, the father of the martyr, sighs for his son who sacrificed his life for the nation, yet no efforts were made to preserve his memories for posterity. Batra recounts some memories of Vikram's childhood. Vikram was inspired to join Indian Army by patriotic stories. He was commissioned in 1997 and soon after, the Kargil war broke out.
Vikram's twin brother Vishal says that his brother excelled in both sports and studies. "Those who lay down their lives for the country are its real wealth. They should be part of people's memories, not relegated to being remembered on specific days. My brother was an unforgettable hero, a real hero and he shall always be one."
The father, G L Batra says, "If we hold precious the memories of pre Independence martyrs like Bhagat Singh, Subhash Chandra Bose, Chander Shekhar Azad and other freedom fighters, then why are no efforts made to preserve the histories of post independence martyrs? Should there not be roads and parks in the name of Kargil war heroes? My son played a major role in capturing vital positions from the enemy. … Each drop of a martyr's blood is pious. ..Then why don't we do anything to preserve their memories? It will create a sense of patriotism in our children," says the father.
Share Your View via Facebook
top trend
what next
IBTL Gallery