Mallya Minister Nexus: Scams in the sky, misery on India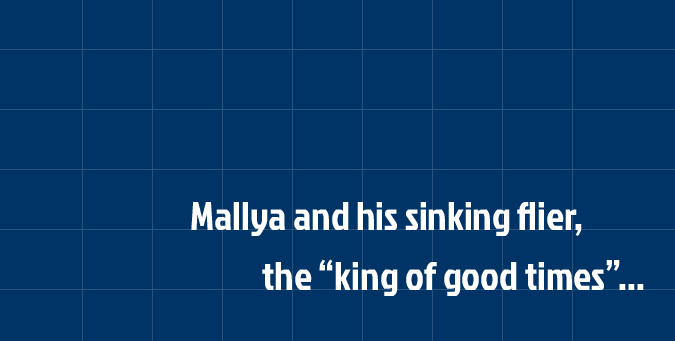 India's second largest airlines, Kingfisher, is suffering a financial crises. Its shares are at an all-time low. The airline is owned by Vijay Mallya, whose love for opulence is no secret. The same Mallya who has, for years made young Indian girls go semi-nude to appear on the calendars of Kingfisher; and of course, the same Vijay Mallya, who had gifted Whiskey bottles to all members of Indian parliament as a "goodwill gesture" on Diwali, two years back. UPA government's present Civil Aviation Minister, Vylar Ravi, has requested Finance Minister Pranab Mukherjee to "ask banks to restructure the loans of Kingfisher Airlines". It was after Vijay Mallya spoke to the Vylar Ravi. Kingfisher's debt is over Rs. 7000 Crores. Vylar Ravi has said that he will also be meeting Manmohan Singh to ensure the government takes steps to 'save' Kingfisher Airlines. Why should a private airlines with apparently no impact on Indian economy be saved by Government's intervention, is perhaps not so obvious, but a glance at facts, will expose the ugly nexus between the Ministers and Corporates to benefit each other and rob the national resources in turn.
The debt on Air India is in excess of Rs. 40000 Crore. The 82 year old airline has been suffering annual losses in thousands of crores and there have been talks of its selling off. Possibly under influence from Private players, popular media has also tried to create a voice for selling Air India away to private players, by citing its "burden on Taxpayers".
The story reveals how Air India and Indian Airlines were crushed to benefit private players.
In 2004, NCP's Praful Patel was appointed the Civil Aviation Minister.Air India was, even at that time, struggling on International routes. The indiscriminate opening up of routes to Middle-eastern carriers like Emirates, had added to its woes by taking away its passengers on those routes.Indian carriers have been bound by a rule that if an airline is less than five years old, it could not be allowed to fly international. The rule was to prevent Jet Airways from newbie competition, whose owner NareshGoyal is known to have "close terms" with Praful Patel. The controversial NeeraRadia audio tapes leaked by the Outlook magazine have referred Praful Patel as a "Minister for Jet Airways" and "Now a Minister for Kingfisher Airlines". Outlook India
But, that's where the problem started. Vijay Mallya's Kingfisher was not five years old, and he wanted to start International operations of Kingfisher, so he acquired Deccan Airlines, which was more than 5 years old, and he changed its name to Kingfisher Red, which was meant to be a low cost carrier. And, on the basis of this acquisition, he applied for permission to fly overseas, which was duly granted by the Civil Aviation Minister, and friend of Vijay Mallya, Praful Patel. Interestingly though, it was not low cost Kingfisher Red that started International flights, but the high cost original Kingfisher, which was not 5 years old. And recently, Mallyahas announced shutting down Kingfisher Red's operations.
That was the International scene. Back to the Indian skies.
Praful Patel, who held the Civil Aviation portfolio until January 2011, using his authority, was beginning to attain notoriety by issuing instructions to Indian Airlines managers to withdraw flights from specific sectors or change timings of existing flights so as to benefit Kingfisher Airlines, owned by Mallya.In 2009 alone, Air India/Indian Airlines stopped operations on 32 routes which had load factors above 90% (i.e. these were among the most profitable routes). The sectors included Gulf and Singapore sectors. The AI/IC flights on Gulf routes were replaced by Kingfisher and Jet Airways flights at the same timings. Similarly, the flights on other routes such as Chennai-Colombo, Kolkata-Bangkok, London-New York were replaced by private carriers. Mid Day
This shocking action of the Civil Aviation Ministry, however, didn't go unnoticed. Last year, the Parliamentary Standing Committee on Transport, Tourism and Culture and the Committee on Public Undertakings, both observed that Air India had been put at a disadvantage against private airlines on various counts, including its declining route network.Domain B
And then came the final nail in the coffin of Air India/Indian Airlines – the decision of merger. The argument given was that this would allow an entry into the Star Alliance which would be the silver bullet to end all of the national carriers problems. However, what appears more logical looking back is as follows.
Most bilateral agreement signed between India and other countries have specific clauses limiting the access to bilateral to 2 carriers on each side. So on a route like Chennai-Singapore, India had Air India and Indian Airlines operating under their separate AOC's which meant that Jet Airways or Kingfisher wouldn't have been able to operate to Singapore even after they became eligible to do so! This means, if Air India and Indian Airlines are merged, there will be room for a NareshGoyal or a Vijay Mallya to fly their planes on those routes. And that so happened. The two government carriers were merged and the new Air India cut down its routes to let Jet/Kingfisher reap the profits. The reduction in flights was explained as route rationalisation even when both AI and IC had loads in excess of 80% on these flights!
The results of the merger are for all to see. Before the merger in 2007, Indian Airlines had a net loss of 280 crores and was on the verge of coming out into full profitability, having already stabilized operational profits on over 90% of its route network. Air India, had a loss of around 400 crores: this meant a combined loss of around 680 crores, with the situation rapidly improving for both. Within three years of the merger however, the losses of the combined carrier have skyrocketed to 16000 crores, but here's where another scam lies.
These losses have been incurred mainly on account of debt servicing of loans taken to pay for a new fleet of planes. Air India had made a request for 24 aircraft in the MCLR category (Medium Capacity Long Range) while Indian Airlines wanted a total 43 new airbuses to replace the existing fleet of Airbuses. Thus, a total of 67 aircraft were needed. The minister decided to place orders for 111 aircraft, including 68 aircraft for Air India (instead of the 24 they had wanted). It could flummox any sane reader to think of how an airline with a turnover of a little over 7000 crores could place orders for aircraft costing over 32000 crores, when the interest burden per year alone would come to 6000 crores! This means, Air India, is shelling out over 8 croresper day in interest payments alone!A reasonable explanation appears to be that the order would put Air India into permanent debt which would assure its extinction, and when the airline goes bankrupt, its brand new aircraft can be picked up by private players at throwaway prices.
The Parliamentary Committee setup to examine the aircraft deal said this "Reasons for going ahead with huge purchases by the civil aviation ministry despite Air India and Indian Airlines not having the capacity to support it, remain unknown to the Committee. It, therefore, recommends that this aspect needs to be further probed to fix the responsibility for taking such an ambitious decision that has become a big financial liability."
To add pinch to the story isPraful Patel's decision to parcel out bilateral rights to select foreign carriers like Emirates and Lufthansa. As per NiiraRadia tapes, the rate per seat was between $7 to $28 per year. So assuming use of a 300 seater Boeing 777, an airline like Emirates would have paid around $2.8 million for every single additional flight they added. Since between 2004 and 2009, Emirates itself added over 70 flights to India from just 4 different stations, that's over 200 million dollars or 900 crores just from Emirates alone.Outlook India
Not surprisingly, Praful Patel's disclosedassets have grown from 79 Crore in April 2009 to 122 Crore in April 2011, i.e. at Rs. 5 Lakh per day. He's now comfortably looking after the Heavy Industries and Public Enterprise Ministry. NDTV
Meanwhile, we hope that the ministers in UPA, will do their best to 'save' Vijay Mallya and his sinking flier, the "king of good times".
Share Your View via Facebook
top trend
what next
IBTL Gallery