Teesta's own aid submits proof of fake affidavits to Nanavati Commission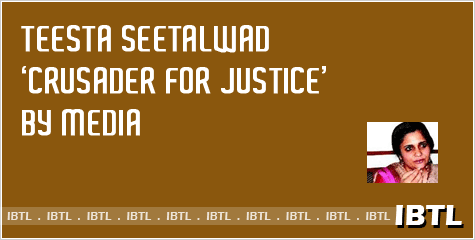 Teesta Seetalwad, who had been earlier hailed as a 'Crusader for justice' by a section of media, before she got exposed for producing 22 fake affidavits, and is out on anticipatory bail [Zee News], is not an unknown name. Just 3 months after the riots, she had taken the issue to United States Commission for International Religious Freedom, betraying her lack of trust in Indian judiciary, an act for which she was rebuked by the Supreme Court later. [Outlook]
- - - - - - - - - - - - - - - - - - - - - - - - - - - - - - - - - - - - - - - - - - - - - - - - - - - - - - - -
हिंदी में पढ़ें : तीस्ता सीतलवाड के पूर्व सहयोगी ने नानावटी आयोग को सौंपे झूठे शपथपत्र..
- - - - - - - - - - - - - - - - - - - - - - - - - - - - - - - - - - - - - - - - - - - - - - - - - - - - - - - -
The 'wise' lady is also a prestigious member of the Drafting Committee of the Communal Violence bill, prepared under the auspices of Sonia Gandhi-led National Advisory Council. [NAC]. She had been felicitated by the Communist Parties for her 'contribution to the Best Bakery Case. 'Human Rights' activists are anyway honoured world-wide for all they do and they don't. But, in 2007, our UPA led Government of India had honoured Teesta Setalvad with Padma Shri, for her contribution towards India.


The update on the matter is that Rais Khan, former aide of social activist Teesta Setalvad, has told the Nanavati Commission that he had recorded conversation involving Teesta that could prove that she had fabricated affidavits in the name of 2002 post-Godhra riot victims.
After the post-Godhra riots, Khan had worked as coordinator with NGO Centre for Justice and Peace (CJP), headed by Setalvad from February 28, 2002 to January 18, 2008. Though, one should note, that Rai Khan himself, is under scrutiny as last month, a session judge ordered to file a complaint against him in connection with the Sardarpura riots case.
In a letter written to the Commission yesterday, Khan has attached script of the conversation he had recorded. The conversation involved former DGP R B Sreekumar, brother-in-law of Zakia Jaffery Safdar Ankleshwariya, an eye witness in the 2002 Gulburg society riot case Firoz Khan Pathan and close confident of Setalvad, Saiyeed Khan Pathan.
"On perusal of these conversation it is proved beyond doubt that affidavits were fabricated, witnesses were tutored and false cases were got filed by Teesta Setalvad with ulterior motive," Khan said in his letter to the riot panel. Khan has requested the Commission to take necessary action on his submission in the 'interest of justice'.
A common Indian citizen might wonder how a person who's been under probe for producing fake affidavits in a court of law, who's disgraced the nation by taking an issue to an International forum, and who could potentially be behind bars, is conferred upon a Padma Award and continues to have the luxury of making a law that will be imposed on 1.2 billion Indians, one which has been opposed by the Hindu majority of India for its nefarious design. But, that's so happening.

An 8 minute long video clip of Rayis Khan's interview given in October 2010 shedding more light on the issue is available on youtube. [Video LINK]
Share Your View via Facebook
top trend
what next
IBTL Gallery