Save Me from Teesta and Mahesh Bhatt : Qutubbuddin Ansari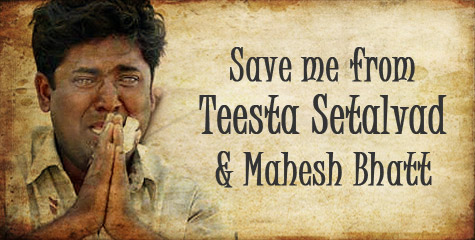 Karnavati (Ahmadabad), February 27: In 2002, in the spat of religious riots, Qutbuddin Ansari said "save me from Riots" and now in 2012 he is might be saying, "Save me from Teesta Setalvad and Mahesh Bhatt"

Qutbuddin Ansari, a 29-year-old tailor, got famous all over the world with his image clicked in amongst 'After -Godhra riots' in Gujarat in 2002. The image of Qutbuddin Ansari, with a soot-stained face and wide-eyed with terror was used like an emblem by the elements which tried their best to demonize Gujarat CM Narendra Modi and Hindutva organisations. His image was and is like a mascot for entire anti-Modi campaign.

Now after 10 years of the Godhra incident, all those anti-social elements are trying to create a sensation in the Nation and trying to bring alive the ghost of the riots and the rivalry which was emerged between both Hindu and Muslim communities in and after riots of 2002.

It is reported that Film Producer Mahesh Bhatt is forcing Qutubbuddin Ansari to attend a riots related function planned by him and Teesta Setalvad on 28 February at Mumbai.

Now as to 'celebrate' a 'decade of the Post Godhra riots', self proclaimed rights activists like Teesta Setalvad and Mahesh Bhatt are organising functions to 'commemorate' the communal riots and rivalry which each one in Gujarat wants to forget and start a new life.

'The Week' has already published a cover feature titled, "The invisible man" on Qutbuddin Ansari and attempted to dig the grave of the trauma in which both Hindus and Muslims have suffered a lot.

On 9 June 2011 Qutubbuddin has already written to the Commissioner of Police, that he is peacefully living in Ahmedabad. Ansari has also requested the police to direct Media and NGOs to restrain from using his folded hand pictures in the newspapers, magazine, website etc.

In his complaint dated 9 June 2011 Qutubbuddin says, "On 28 February 2002, at around 3:00 pm, a mob attacked the building in which I was residing. In the nick of time police arrived and saved us. During the whole episode – my photograph with folded hands, terror reflecting in my eyes and begging for mercy was captured by some media person, which got wide publicity and was used by media, NGO & others as a face of 2002 riots. Various National and International NGO'S have put my said photographs on their websites using it for publicity & donations in the name of helping riot-affected people."

Qutubbuddin further says that he is still a worst sufferer of the riots and has not received any compensation by any NGO. I went to Malegaon and later sent to Calcutta by an NGO, Citizen for Justice & Peace where I stayed there for about one year.

Qutubbuddin Ansari has exposed double game of Teesta Setalvad and her infamous NGO Citizen for Justice & Peace, saying that "Everyone has used me and my photograph with folded hands begging for the mercy for their selfish gain".

Ansari has appealed CP Ahmedabad that he is peacefully settled in Ahmedabad living with his family. And his photograph which is posted on various websites and often appears in the newspapers disturbs him and his family.

Qutubbuddin, whose face was used for vicious demonstrations by Teestas and Bhatts, is under tremendous pressure from NGO's and film industry to attend the function which he has refused to attend.
# Role of the Gujarat Govt in controlling violence : Godhra to Garvi Gujarat
# Godhra and beyond: A man called Narendra Modi
Share Your View via Facebook
top trend
what next
IBTL Gallery