Declare Ram Setu (Sethu) a National Monument, Online signature Campaign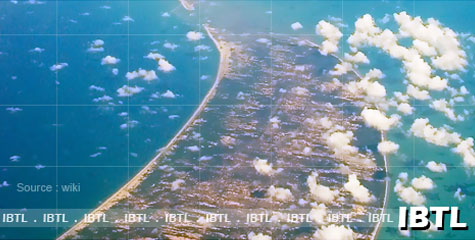 The Supreme Court directed the government to inform the court on giving national monument status to Shriram Setu (Sethu) by March 29 after hearing the petition filed by Janata Party president Subramanian Swamy seeking the court's direction to declare Shriram Setu (Sethu) a National monument. The government, however, said that the decision on whether to give Ram Setu (Sethu) a national monument status could only be decided by the Cabinet Secretary.

Now, the Supreme Court has granted more time till its next hearing on April 19 to the Center for deciding whether the mythological Ram Setu (Sethu) could be declared a National monument. When the government can give National monument status to few-centuries old Muslim mosques and structures immediately, then why does government need to 'decide' whether to give national monument status to 17-lakh year old Shriram Setu (Sethu) ?

Online signature Campaign : To request The president of Bharat to order the reconsideration of the project and give Ram Setu (Sethu) a national monument status keeping in view the historical and religious importance of Shriram Setu, the sentiments of the people and the alternative method suggested for a shorter sea route. Please participate in this online signature campaign and send your protest letters to the The Hon'ble President of India, Hon'ble Prime Minister and Cabinet Secreatary and other concerned ministries and authorities.




What is Setu (Sethu) Samudram Project? - Setu (Sethu) Samudram shipping canal project (SSCP) is a project that has been approved by the Government of India and its work has been started near Kodand Ram Temple. In this project, Palk Gulf and Gulf Mennar will be linked by making a shipping canal through Rameshwaram Island. This will allow ships and boats to navigate in the passage between India and Sri Lanka without having to circle Sri Lanka (as is being done currently). This may save about 400 nautical miles voyage on the West Coast. This project will connect the National Sea Route. This canal will shorten the length of the sea route for ships. Rs. 21 crore per year for fuel expenditure of ships will be saved.

Danger to Ram Setu (Sethu) : Pictures taken by NASA [National Aeronautics & Space Administration], USA from space show the remains of what appears to be an ages old man-made bridge between Rameshwaram and Sri Lanka. According to Hindu scriptures and belief, Lord Ram and his vaanar sena had built a bridge from Rameshwaram to Sri Lanka about 17 lacs 25 thousands years ago. The discovery of Shriram Setu by NASA confirms that Hindu scriptures and belief are correct in this matter and that Ramayana is 'history' and not "mythology" as is often construed.

Setu (Sethu) Samudram [shipping canal project] is based on the notion that it is inevitable to break the Shriram Setu for easy navigation. This will amount to damaging a monument of both, historical and religious importanceto Hindus. Now it is duty of all Hindus to protest lawfully against this project and force the Government to save 'Shriram Setu' and declare it as a National Monument !
Share Your View via Facebook
top trend
what next
IBTL Gallery