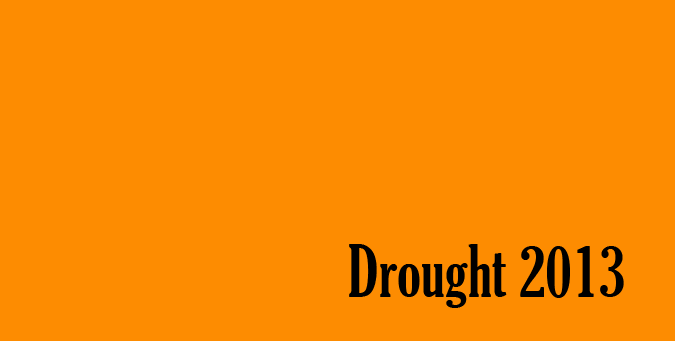 Laxman Dhotre is seen searching for work on the streets of Pune. He longs to go back to his home. His wife says, "I want to go back to our village but we can't. There is no water." Same is the case with Mahipati Itole, a migrant from Parbhani. He says, "After Diwali, the land is barren, so I had to move here. I have 5-acre land. I have studied till class 10 but have no job. There is no work in the village."
The words of some are pricking. Ram Patade, a cotton grower from Kutubkheda said, "we don't have money to pay loans. We have no option than to die starving."
The worst ever drought that the state of Maharashtra has experienced till date is the 1972 drought when almost 5 million people had no work as the crops failed. But the current drought in Maharashtra is set to break all the records. With millions estimated to be affected, lakhs of cattle rendered hungry without fodder, this drought is the worst kind of natural disaster that the state has faced. Almost 1/5th of Maharashtra is reeling under drought.
Out of the total 225.6 Lakh hectares of land under cultivation, only a small 39.67 Lakh hectares are under irrigation which is only 17.5%, while the rest is left to the mercy of the rains. The irrigation area has not increased by even 0.1% even after spending 70000 Cr rupees. (This is the crux of the famous Irrigation Scam).
But is this drought only due to fewer rains? Indeed, less rainfall has been a problem with an official estimate of 64 out of 355 districts recording 50% or more deficient rainfall. But the main contributing factor to this drought has been shoddy management of existing water resources, the lack of a proper policy of water distribution and the distribution of water to industries more than fields.
The shocking data of the Maharashtra drought is presented herewith-
Affected Villages : According to official figures, 15 districts comprising 11,801 villages are declared as drought-affected. There is acute water scarcity in 1,779 villages & 4,709 smaller habitations. Some of the villages are facing drought for the second consecutive year. 6200 villages are affected by drought in Vidarbha alone. Around 331 villages in Amravati, 800 in Yavatmal, 300 in Gadchiroli and 120 in Wardha district of the region in Eastern Maharashtra are severely affected.
Cattle Camps : There is acute shortage of fodder for the cattle. But the cattle camp management has not been that good. Ahmednagar, Solapur, Satara and Sangli together have 457 cattle camps with an allocation of Rs.275 crores. But Beed,Osmanabad,Jalna have just about 40 camps. Not Much help to other places in Vidarbha was given leading to starving cattle stock.
Water Storage : The dams in Maharashtra are in a sad state. It is ironical that the state having the largest number of dams in the whole country is currently facing droughts. According to estimates, Maharashtra has almost 25-30% of the total dams in the country. Big dams like Jayakwadi, Ujani and Koyna are running dry and have to rely on their dead stock for supplying water. Marathwada region has the worst statistics of water levels with only 9% of the total capacity remaining as compared to 30% last year. Jayakwadi dam has only 9% water left. According to the state's Groundwater Surveys, 195 of the 1531 watersheds are critically depleted, 73 already 'over exploited'.
Drinking Water : In Maharashtra currently 1454 towns and 4100 villages are supplied with 1850 tankers of water. Situation in Ahmednagar, Aurangabad, Jalna, Beed, Osmanbad is so bad that existing drinking water will last only till end of March. Drinking water supply is fast drying up as the civic authorities are releasing potable water once in 10 to 15 days in Vidarbha. Acute shortage of drinking water in Solapur, Satara, Sangli, Pune & Nashik. Solapur is set to get water after a gap of 2 days while the taps in Jalna are already running dry. The estimates say that the use of tankers could increase up to 2100.
Agriculture & Industries : In several parts of the Ahmednagar district, lack of irrigation has visibly destroyed cotton, wheat crops & sweet lime plantations, Sugarcane production expected to go down due to lack of fodder and water. Total cane area in Maharashtra and Karnataka will be down 20 to 25% for next season. Since the sugar industries are not running properly, distilleries are also getting affected. 80% of the distilleries will close down by April due to water shortage says R G Mane, secretary of the distillery association. Some of the grape plantations in Nashik have already been destroyed. Some areas are such that the crops there have literally been 'burnt' due to the scorching heat and lack of water.
The situation is so bad that the researchers say that if no steps are taken, almost 30 million people could be affected. And this would happen in that state which contributes 13.3% of GDP !!
The fuel in the fire is that the Maharashtra Government has yet not declared drought, officially.
The effects of drought have already started to show themselves. Due to lack of work, people are selling off lands and migrating to cities like Mumbai and Pune. The moral sense of people is getting affected with news coming that a brother tried to kill his own brother for water in Paithan taluka.
There is some ray of hope. EGoM has approved 1,207 Cr for drought relief, although Maharashtra had demanded money not less than 5000 Cr. Distribution of funds has been successful in districts like Sangamner, Jat, Palus, Mann, Mangalveda, Parner, Bhoom, Purandar, Athapadi, Kavthe, Khanapur, Tasgaon & Sangole.
Author : Sumeet | Follow the writer on twitter/sumeetcj
- - - - - - - - - - - - - - - - - - - - - - - - - - - - - - - - - - - - - - - - - - - - - - - - - - - - - - - - -
Disclaimer: The author is a commentator on issues of national interest. These are his personal views and do not necessarily reflect IBTL's opinion.
- - - - - - - - - - - - - - - - - - - - - - - - - - - - - - - - - - - - - - - - - - - - - - - - - - - - - - - - -
Share Your View via Facebook
top trend
what next
IBTL Gallery