Bengal on verge of collpase due to Muslim Appeasement: Tapan Ghosh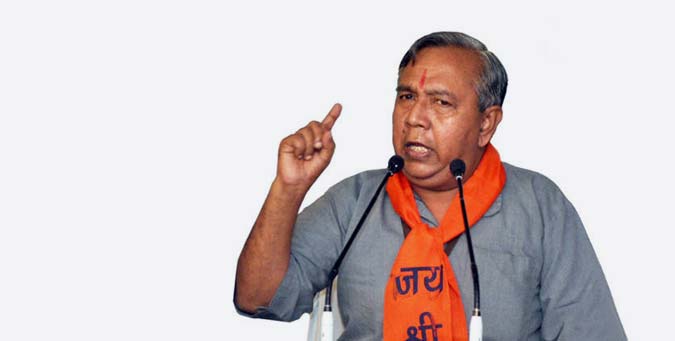 IBTL team talked to Social Activist & Hindu Samhati Chief Tapan Ghosh to know his version of the recent violence and atrocities happened on Hindus in West Bengal and the role of the left parties and Trinamool Congress in it.
Mr. Gosh at present there are religious riots going on in West Bengal, and in this regard almost the entire nation is uninformed, What do you feel about this?
First of all I would like to inform you that the riots were spread across four villages on 19th of February, in which about 200 houses of Hindus were burnt. This is just one incident, such incidents take place atleast four to five times a year. Last year on the 14th of May, there was similar situation in Taarnagar and Rupnagar of 24 south pargana districts when Muslim rioters burnt down houses of several houses. I visited those villages in person, and arranged trauma relief programmes for the victims. Two years ago in Chaopur village of Murshidabad also there was a very violent situation. Hindus were beaten blue and black, at first two houses belonging to Hindus were set on fire and later a Hindu youngster was put to death. Commotion of similar intensity was also spread in Taarnagar. Several women were sexually assaulted. About two and half years before this incident in 2010 September Hindu women were assaulted largely in Muslim majority areas of the North 24 pargana district. Those days CPM was ruling Bengal but now it is Mamtaji's government. The current governments and the previous ones have subjugated these incidents from coming to lime light because these were favourable to them. The governments have exploited these situations for their political interests. Even the Bengali is also is acting as a buffer from exposing the riots taking place in different regions of West Bengal. It is evidently failure of the Government and Media, that they could not prevent such incidents. Some to feel ashamed about is that in four villages under the Canning police circle which is hardly 60 km away from Kolkata on the 19th of February all the Hindu houses were looted and then set on fire. The natives of those villages and the victims informed me that a large numbers of Muslim have come to their villages, and that there about 150 trucks by which they had traveled from Kolkata. The rioters have looted all that that was portable. The other heavy things like grains which they couldn't carry with them; they just splashed petrol and set them on fire. During this entire incident Police acted as silent spectators.
हिंदी में पढ़ें: बंगाल में सांप्रदायिक हिंसा... मुस्लिम तुष्टीकरण एवं वामपंथी षड़यंत्र
Do you feel that this is not just a temporary phenomenon but a long term strategy? Is that seeds of separatism are being sowed similar to that in Kashmir, there was also information that Badruddin Ajmal the mastermind behind the Assam riots was also in Bengal three days ago?
I feel this is not just a Temporary phenomenon but it seems like a strategy. These happenings may be a part of long term plans. Through these actions they are showing off to the government their muscle power and are also inducing fear into the Hindu community which will compel them to flee from these villages and to migrate to other regions. I do not have any clue about Badruddin Ajmal, including that you have mentioned. Yes he did visit Kolkata to launch his party. Apart from him there is another Muslim leader P.D.Choudary who has merged his party into Badruddin's party. I feel that this is a conspiracy by top Muslim leaders of CPM and TMC. And they are involved in accomplishing the same.
What about Chief Minister Mamata Banerjee who claims that religious riots take place only in Gujarat and not in West Bengal?
There cannot be a lie bigger than this. There are atleast a thousand riots in Bengal each year. These are just subjugated and pushed under the carpet. The politicians are making policies to please Muslim voters as a part of their vote bank politics.
Do you feel that following the UPA in centre and CPM in the state, now even TMC is also playing the Muslim minority card and indulging in minority politics?
Even a blind would get to see that Chief Minister Mamata Banerjee who claims to be secular, but still goes to mosques to offer prayers. She is also providing special stipend to the Muslin students, distributing cycles among them and also paying remunerations to Imams and facilitating the minorities with many things which the others do not get to enjoy. In the vicious drama of the Alcohol issue there was an anti-social element behind the screen that is referred to as the White Emperor. He runs many illegal and unethical businesses. After the riots the government of Bengal gave such people an amount of Rs. Two lakh as ex-gratia, despite the fact that they were into ill-legal activities. In the state of Bengal the Mamata run government resorted to all sorts of things to please Muslims. And she is walking in the footsteps on the communist parties.
The Indian Media stills discusses the Gujarat riots, but pays no attention to this repeated attack on Hindus in Bengal, do you feel Media is biased?
The justification Media gives for not having covered the riots is that the news may instigate riots in rest of the country. And they claim that regulations do are stooping them from covering the riots. The question to be raised with Media in first place is that who made this regulation? Is the Press council of India working under the central government or under the government of West Bengal? The Media is lying, there is no such regulation. To report whatever has happened is the first and foremost duty of the Media and Media has failed to do so. Media is under the pressure of Muslim forces and the current government. Even the leading newspaper of West Bengal Anand bazaar patrika has always been biased and anit-hindu. They are least bothered about the Hindus (Majority)
Sentiments and publish articles criticizing Hindu gods and goddesses, none of the media ever dare to comment on Muslim believes. Bengal media has always ignored their wrong deeds. If at all in future Bengal turns to be an Islamic state, the credit would go to Media houses like the Anand bazaar patrika.
What is your opinion on the way Media is reporting about the Gujarat Riots? Wherein without any sort of judgments by any court they are projecting him as a villain with respect to the issue?
The fund Media generates through Ads and in other ways most of it comes from the Islamic (Arabic) nations or Christian missionaries. The instructions they have got is to project that Hindus are rioters everywhere and also project Modi as a fundamentalist belonging to RSS. This is their strategy. They feel that Muslims can never indulge in wrong practices. Whereas on the other hand Muslim rioters have brutally killed Vinod Mehta the deputy commissioner of Kolkata port area. They have chopped his body into pieces, cauterize him with cigarette and even cut his private parts and tortured him. Though Muslims have done all this, this have never been shown on news because Muslims are like their brothers, and when your brother does something wrong you leave it unnoticed after all he is your brother so he can do. He can even break the country or terrorize but still he is not innocent since he is your brother.
Most of the Media institutes and Higher Education Platforms seem to be in the clutches of the communists. Where the students are brain washed and convinced of communism. Can we expect them to be unbiased?
It is matter of fact that though the communist are no longer in power, they still have full control over the media and Education in state. Not just there but even in the fates of the Bengalis of West Bengal the communists exercise their power. Communism was born in the Soviet. The communist have failed from giving the Nation a vision. They have always been anti-nationals. It would not be wrong even if I say that it is the ill-fate of the Bengalis as communists exist in West Bengal. They haven't done any good to the state and in fact turned it into a sick state. Nationalists need to work in this direction. Even after the entire world faulted Stalin as Evil, the communists still worship him. That looks more like actions of a brain dead. Until they exist there nothing can be done.
There is another question similar to the previous one. Do feel that the Education system nurtured by the communists as isolated an entire generation from the rest of the nation?
Communists are the second convicts in this regard. The primary damage has been done by Macaulay through the reforms he has got. Sad part is that the English (British) and communists were friends as they were allies in the Second World War where the British and the Soviet fought together. Even in India the communists turned puppets in the hands of the British. For the reason that Nehru had good relation with the Soviet Union he allotted the education planning to the communists. For instance Nooral Hasan was holding office in the communist party, but still he was made the Education minister. In pre Independence there was an understanding between the British and the communists, which after the independence turned into an illicit relation between congress and the communists. The Indian Education system was made deficient of nationalistic vision and had small sphere of inclusion as a part of their revenge. The interference of Communists in the Education and syllabus planning is spoiling the future of our country. The revisions made in the CBSE syllabus are fine examples of this.
What do you think is the role of communists in raising Muslim acculturation and separatism tendencies in India?
Yes I feel that they intentionally ignore the Muslim fundamentalism and separatist ideas. I feel that in any corner of their heart the communist do not have anything that is in favour of India. The partition of India in 1947 is an example of the separatist ideology of Muslims. Based on the teachings of their religion people following Islam would not like to stay with people of other religions. They aim at Islamisation of the entire world as per Dar-ul-Islam and the same ambition has caused the partition of India too. The partition has also caused the death of many Hindu brethren. Several Hindu women have been raped, and still such a situation is prevailing. Is this all not a part of History? But the communists have buffered all this from the records of history and wrote up some stories as history. The massacre of Hindus and forceful conversion of people to Islam by the Mughals have been replaced stories praising the Mughals for many fake reasons. Bengal has always been under the rule of insane rulers. During Independence Justice Suhravardhi was the chief minister; in the name of Direct Action he had caused riots in the city of Kolkata. On 16th of Aug 1946 there were several communist leaders present there who were shouting aloud slogans "We want Independence only after portioning India into India and Pakistan." After which the Muslim population has raised to 26 percent whereas the Hindu population fell down to 54 percent. The Communists have ruled Bengal for about 34 years. The riots are an illustration of the growth of fundamentalism in the Muslims in all these years.
Do see any sought of Hindu Movement rising in Bengal in the coming years?
There would not be just some sought of movement but I feel there would be outburst of a Hindu revolution. All the political parties and Media houses are trying to some how suppress this. Following the same fashion in pleasing the minorities already our country had been divided once in the past. Lakhs of Hindu men were killed, Women were raped, temples destroyed but now Hindus will no longer tolerate this again. The current political parties in Bengal are dedicated in pleasing the Muslims. The need of the hour is to alienate such evil forces from coming to power. And soon the world is going to witness a mass Hindu revolution in West Bengal.
Do you think in coming days we are going to see a Pro-Hindu party forming government in West Bengal?
I don't think any pro-Hindu party can form government or even think of it, because there are about 30 percent Muslims who generally vote in bulk for the same party. Like in the last elections they have voted for TMS or Congress as they have moved away from Communists. That why the parties always try to please Muslims leaders so that they can have the support of the bulk Muslim voters who constitute to 30 percent of the voters. Even BJP which is labeled a Hindu party is also unable to raise its voice against this partiality of the government. There are many other parties which are secular. Hindu votes get divided among several parties. If a party wants to work for the interest of the Hindus, some Nationalist party needs to come forward and unite the Hindus voters.
Many different Hindu organizations are working on various issues across the country. Do you think all of them should meet on a single platform to work together?
I have interacted with several Hindu organizations from different parts of the country working on different issues; one thing I have observed about them is that they do not have a National vision. They are sincerely working to improve things in spheres they have selected, but they are not willing to work in national level as there are different problems and difficulties associated with each cause. But if a National level organisation is ready to take the lead they are willing to extend their support. That body, should co-ordinate with all of them and unite them. Small and regional organizations are also not able to raise their voice; even if they raise their voice it is not given importance in National scenario. If all the Hindu organizations are able to meet on one platform nationally then the state of Hindus in this country will develop.
Many times it seems that the Hindu groups themselves are not aware of the basic teachings of their religion. Some organizations do protests on issues of no importance, but ignore those issues which pertain to interest of Hindus. What do you feel about this?
I totally agree with you on this. I think you are talking in regard to the Bangalore pub issue. The incident is over and the anti-Hindu media has exploited the situation fully against the Hindu organisation involved in that incident. To do moral policing Valentine's Day is not the primary objective of Sri Ram Sena but it is just a part of their cause. The need of the hour is to form a Platform to accommodate all the Hindu organizations so that they work together for a National cause.
Translated by Abhishek Jagini, Follow him twitter.com/AbhishekJagini
Share Your View via Facebook
top trend
what next
IBTL Gallery