Questions to Corruption poster boy AK from the Real Anti Corruption Crusaders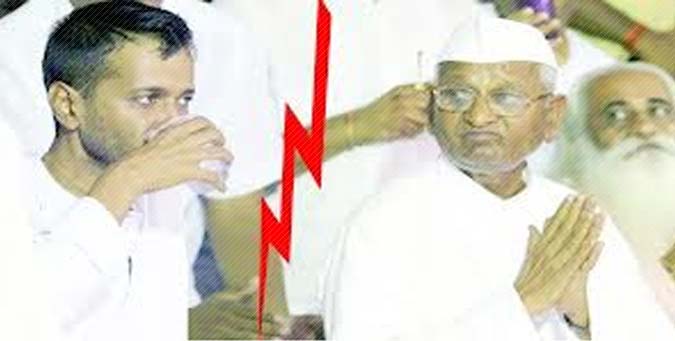 What is the name of person who has given Bunglow in Connaught Place for Rs 1 as rent to Aam Aadmi Party? Why his/her name hasn't been disclosed?

Binayak Sen is a member of Planning Comission and also drafts policies of Aam Aadmi Party? What is the connection between AAP, Maowadis and Congress?

Arvind Kejriwal says all Income Tax inpectors and officials are corrupt? In the same system people like Ashok Khemka, Durga Shakti Nagpal and many more officers are trying to clean the system from within?

Admiral Ramdas who is part AAP's internal Lokpal was against Nuclear Tests held in Pokharan. He even vowed to fast in front of 7 RCR against the tests. Reacting to this Dr. APJ Abdul Kalam had said, Ramdas can sit on a fast in Islamabad because Pakistan was planning to conduct nuclear tests. (From the book: Ignited Minds by APJ Abdul Kalam)?

Santosh Koli was killed in a hit and run case. She was the closest aide of Arvind Kejriwal. Why Arvind never persued this issue, nor demanded probe?

Arvind Kejriwal says Congress and BJP are mafias - why he doesn't prove his statement?

Why has Aam Aadmi Party given tickets to rejected workers of BJP and Congress in Delhi?

Donation for movement was collected all over the country, why is it being used for political party that only exists in Delhi?

Arvind's NGO was supported by Infosys. Nandan Nilekani is a co-founder of Infosys. Nilekani is also chief of Aaadhar Project and enjoys the rank of a cabinet minister. It is also known that Nilekani will contest from South Bangalore Loksabha on a Congress ticket. Congress-AAP bhai-bhai?

Few months back, Yogendra Yadav attended a meeting organised by Rajiv Gandhi foundation. This meeting was chaired by Sonia Gandhi where Yogendra Yadav spoke passionately about creating India of Nehru's dreams. Now he is creating India of Arvind's dreams?

Closeness of Prashant Bhushan and Sanjiv Bhat is well-known. They organised a workshop against Modi's govt in Islamic Foundation of India. Sanjiv Bhat's wife contested against Narendra Modi. Isn't it obvious Congress-AAP are different faces of same coin?

Arvind's NGO received huge sums of money from Tata Trust. Why is Arvind silent against Tata's role in 2G scam?

Why have publications like Indian Express, Tehelka, Kafila, Open, Caravan, Hindustan Times, NDTV who gave negative coverage to the movement and then again when the party was formed have suddenly started praising Arvind Kejriwal? Is Congress using its clout in media in creating an illusion that Arvind Kejriwal is a major force in Delhi elections to split opposition votes?

Associate and deputy of Yogendra Yadav named Sanjay Kumar (fellow of CSDS) in his own survey has not given a single seat to Aam Aadmi Party (Divided They Fail: 7 October 2013, Indian Express). Yogendra Yadav's survey is also farzi like #FarziKejriwal?

What is the source of income of Manish Sisodia, Gopal Rai, Sanjay Singh and Arvind Kejriwal? Are they feeding off donations from common people?

Arvind sat on a fast against several UPA ministers including Pranab Mukherjee. They called Pranab Mukherjee chor and one of the most corrupt ministers in the govt. A few days back after Rahul Gandhi did the tearing drama, Arvind was all praise for Pranab Mukherjee and said on TV that, thank God we have a President like Pranab Mukherjee.' Also, they went to meet President Pranab Mukherjee in a delegation regarding the ordinance. Has Pranab Mukherjee become clean now? What is the deal between Rahul Gandhi and Arvind Kejriwal?

Journalists also say that Arvind had several secret meetings with Ahmed Patel and Pawan Khera? Ahmed Patel is political advisor of Sonia Gandhi and Pawan Khera is political advisor of Sheila Dikshit. What is the deal? What did they talk about?

A man who has no faith in electoral system and does not vote until forced by media and vigilant citizens is now himself contesting elections?

Shazia Ilmi, Prashant Bhushan and Yogendra Yadav have openly supported the controversial communal violence bill. What is Aam Aadmi Party's stand on the same?

Prashant Bhushan and Co. have filed several PILs for Gujarat riots? Have they filed a single PIL in court regarding the recent riots in Uttar Pradesh. What is the secret deal between Arvind Kejriwal, Samajwadi Party and Congress?

In March 2012, Arvind and Prashant were preparing a list of candidates for Himachal Assembly elections. Why this drama of fasting in July and saying that they were left with no other option but to form party when it was decided many months before. Anna himself scolded Arvind, Prashant and company when he came to know about their plans to contest in Himachal elections and they had to drop their plans.

After elections were announced in Delhi, most cases of violation of Model Code of Conduct have been registered against Aam Aadmi Party - 61 against AAP, 54 against BJP, 52 against Congress and 2 against BSP as per Election Commission of Delhi. Are you cleaning the system or damaging it further?

Arvind was against High Command culture in politics. The same culture and same personality cult is there in AAP. Why posters of AAP only has pictures of Arvind Kejriwal?

How can Arvind declare himelf the next CM of Delhi. That call has to be taken by MLAs after elections! AAM Aadmi Party is nothing but Arvind-Arvind Party being run as one man's business?

Arvind says he has sacrificed by leaving IRS because the system is rotten. Why is his wife Sunita still a part of the rotten system and enjoys the perks and privileges of that same system? Why doesn't she also quit IRS and contest elections in Delhi?

Arvind lives in the same house alloted to his IRS wife in Koshambi by Govt. This is pure double-speak. Arvind and his family enjoy all perks given by the govt?

Why in all of Aam Aadmi Party there is nobody bigger in stature than Arvind Kejriwal? Why people like Kiran Bedi, Fali S Nariman, Santosh Hegde, Rajinder Singh, P V Rajagopal, Medha Patkar, Devinder Sharma, Arvind Gaur, Archbishop of Delhi, Syed Mahmood Madani are not part of the party?

Is it a fact that in your entire service of 20 years in Indian Revenue Service, you never served outside Delhi, even though the norms of the service are that all IRS officers serve a posting only for 3 years in a place'?

Is it a fact that even your wife, who also is an Indian Revenue Service Officer, has never served outside Delhi?

Is it a fact that any serving officer who goes on a study leave for two years with full pay, has to submit a full report of his study to GOI?

Is it a fact that you didn't submit a full report, but only an interim report to G0I with a promise to submit a full report later, which you never did?

Isn't it a fact that the Service Rules provide that an officer who goes on a study leave has to compulsorily serve GOI for 3 years ?

Is it a fact that you went on an unsanctioned leave, without permission, after serving for only one and a half year, post the study leave?

Is it a fact that you were transferred to Chandigarh once, but you never joined?

Is it a fact that you then sought voluntary retirement from service and even without it being approved, you absented from your office?

As a serving officer of IRS did you take permission of GOl to form your NG0?

Is it a fact that the NGO Kabir, with whom you are closely associated. received US$ 172000 in 2005, $ 197000 in 2008 from Ford Foundation?

Was this foreign money used to organize seminars, advocacy discussions, programmes, social media campaigns and publicity material related to the issue of corruption?

Being still in service did you take permission from your Ministry to receive these foreign and private funds in your NGO ?

Why there are no details of individual donors and Corporate donors on any website of your NGOs?

Is it a fact that you took a cheque of Rs. 2 Crores to Anna and he refused to accept as he felt collection was much more?

A senior member of your Core Committee has alleged that you have misappropriated funds to the tune of 20 Crores. Why you have not responded to this charge?

We would also like to know your relationship with US based NGO Avaaz, which has been funding Civil Disobedience Movements in Libya Tunisia Egypt and Syria'? What is the logistical and other support your anti-corruption movement received from Avaaz ?

Is it a fact that you had announced to lead a Tehrir Square like movement in Delhi?

Is it a fact that you have diverted the funds which you received in the name of India Against Corruption to your NGO Parivartan/Public Cause Research Foundation ?

Why have you collected funds for India Against Corruption in Parivartan/ PCRF?

You went to connect a disconnected electric connection on non-payment of dues, which resulted in a criminal offence against the consumer. As a responsible citizen of the country don't you think it was a criminal act to do so?
by Team India Against Corruption ...
Share Your View via Facebook
top trend
what next
IBTL Gallery