BJP Tsu'NaMo' washes away Congress – IBTL Opinion Poll 2013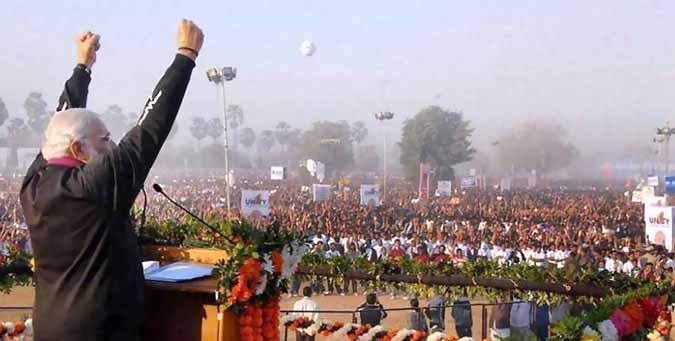 BJP named its PM candidate in late September and 4 major North Indian states, along with north eastern state Mizoram went to Polls in November-December. We decided to gauge the public mood across India, to ascertain if at all there was a Modi waves flowing. Were people really angry with Congress? The results were astounding, not because BJP was projected to get an all time high number of seats and Congress an all time Low number of seats but because there were different simultaneous waves running in various parts of the country. In general all the states were affected by Local Factors, but there was a prevalent national mood. This time the respondents were more vocal and assertive than ever before. We would not reveal the methodology of these projections. Also there is no question of releasing any kind of data wrt respondents because it is unethical to reveal details of respondent and defies survey ethics. In Total 22,368 voters were covered across 188 LS seats.
Respondent Profile
Survey Findings : What is the most important issue which you are facing? Rising prices came out as the major concern?
Who would you prefer as the next Prime Minister of India?
State Wise Projections as on December 2013
Narendra Modi powers BJP to its HIGHEST ever tally of 211 seats. BJP's best figure was 182 seats in 1998 and 1999. On the other hand, Congress would get decimated to its lowest and worst ever performance not just in terms of seats but also in terms of vote share. BJP would get its highest ever vote share as well.
Some Insights being revealed in this process
BJP vote share is projected to go up to 28% (as against 18.8% in 2009) which is its highest ever and along with the allies it would be 33.4%

Congress voteshare likely to fall to a measly 18% (its lowest ever)

Across states there was this phenomenon that respondents rallied behind Narendra Modi, except a few North Eastern states, Bengal and Orissa (Some quotes given at the end of the points)

There was immense hate & outrage against Congress in states like UP, AP & Tamil Nadu, which have contributed to its government formation for last 2 terms

In some states other leaders were more popular than Narendra Modi, like Varun Gandhi in Bengal, Jayalalitha in Tamil Nadu, and Raj Thackeray in Maharashtra etc.

In some other states there was a Modi frenzy like Rajasthan, Bihar, Kerala and Uttarakhand.

As revealed in the survey numbers, many parties like SP, TMC, BJD, JDU, etc would hold no relevance in government formation, since one of the two blocks would be able to get the required tally of 272 without the help of these 'neutral' allies

Voters' Quotes
"Rajya me Netaji, Desh me Modiji (Mulayam in UP, NaMo in India)" quipped a Yadav youngster from Ettawah. A Samajwadi Party supporter!
"We know he (Yedurappa) would lose here, but we still voted for his party KJP in Assembly because he is our leader, but in 2014, our vote is for Modi" Mangalore guy.
"We are confused whether to go with TDP or YSRC in Assembly, but for Lok Sabha, we would vote for Modi" Seemandhrite working in Hyderabad.
"In Assembly its going to be only TRS! centre BJP" A Telengana movement supporter
A Bihari, who is a strong Laloo supporter, said "I would vote RJD in Assembly 2015 and Modi in LS 2014."
This phenomenon was felt pretty much across India and confirms that a NaMoWave is flowing across the nation.
Who will form the government?
We saw BJP is winning 211 seats, still short of majority. How would their partners perform? Would they need more support to form government? Segregating the results into party wise tally so as to see which block (NDA or UPA or other Front) is closest to form the government in the next Lok Sabha elections.
NDA with 235 seats can make post poll alliance with other parties which are on mentioned in the block of 'NDA Leaning' and have 49 seats in total, making it 284 seats, enough to form the government. As 235+49 = 284 which is more than the halfway mark of 272.
UPA could just manage 100 and even with 60 seats of UPA leaning parties would only end up having 160 seats in Total. The Secular Front with 57 seats and the Federal Front with 24 seats and Others & Independents with 18 seats would hold no relevance either.
This is the story from ground, across India. we would make another attempt to predict the numbers just before the elections, when alliances and block formations are more clear.
Do not forget to give feedback!
IBTL survey findings in June/July 2013

# One Man's Worth Narendra Modi – IBTL Opinion Poll 2013 ...
# Epitome of Change Narendra Modi – IBTL Opinion Poll 2013 ...
# A Storm, 'Narendra Modi' is coming – IBTL Opinion Poll 2013 ...
Share Your View via Facebook
top trend
what next
IBTL Gallery