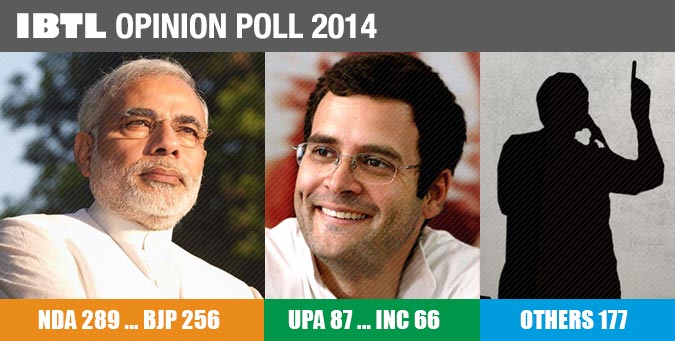 North India
April 7th would witness the beginning of most important general elections in the History of Independent India. Much is at stake for every individual. After our near to 100% accurate predictions in the last year's Assembly elections of 4 states, we are back with our Final Poll and findings before the elections to give the readers an overview of standings of various parties, arithmetic at work and analysis.
IBTL Polls of December 2013 and Jan-Feb 2014 have in depth analysis for each state; hence this edition would mainly focus on numbers prediction and brief analysis of key High Profile seats. We start the projections with North India, move towards the Eastern quarter, move down South and complete the circle with the Western India.
In the North, we have the all important state of Uttar Pradesh, which as many say, is the road to Delhi. Jammu & Kashmir, Punjab, the hill states of Uttarakhand and Himachal Pradesh, Haryana, National Capital Delhi and the Union Territory of Chandigarh would be a part of this prediction
Statewise Seats Prediction for North India
J&K – BJP 2 (+2) NC 1 (-2) PDP 2 (+2) Congress 0 (-2) Others 1 (0)
Himachal Pradesh – BJP 3 (0) Congress 1 (0)
Punjab – Congress 5 (-3) BJP 2 (+1) SAD 6 (+2)
Chandigarh – AAP 1 (+1) BJP 0 (0) Congress 0 (-1)
Haryana – INC 3 (-6) BJP 3 (+3) INLD 3 (+3) HJC 1 (0) AAP 0
Delhi – INC 0 (-7) BJP 7 (+7) AAP 0 (0)
Uttarakhand – Congress 0 (-5) BJP 5 (+5)
UP – BJP 57 (+47), BSP 10 (-10), SP 8 (-15), Congress 4 (-17), RLD 1 (-4)
Key Findings from North India
Post Candidate selection, BJP seems to have lost the momentum and is expected to win 3 seats (compared to 6 predicted in March) while INLD is gaining grounds

Entry of AAP is also a gamechanger as AAP is damaging BJP more than the Congress against the popular perception of AAP denting Dalit votes.

In Delhi, AAP is facing heavy resentment and the party may lose all of its 7 seats including Chandni Chowk

BJP expected to do well in Hill states of HP and Uttarakahnd

The biggest boost for BJP would come from Uttar Pradesh where the saffron party is tearing into its rivals, winning a thumping 57 seats, bettering its previous best performance of 1998

Non UPA and Non NDA parties have little to rejoice in the Northern part of the country

High Profile Seat – Varanasi
Year 2004 –
Total Voters 14.87 Lakhs, Votes polled ~6.33 Lakhs (Voter Turnout - 43%)
Congress got around 2.07 Lakh votes, BJP around 1.49 Lakh votes, BSP and SP about 0.59 Lakh votes each. Apna Dal go about 0.97 Lakh votes and remaining 0.60 Lakh votes to others.
Result Congress WON

Year 2009 –
Total Voters 15.62 Lakhs, Votes polled ~6.65 Lakhs (Voter Turnout - 43%)
Congress got ~0.65 Lakh votes, BJP ~2.03 Lakh votes, BSP got ~1.86 Lakh votes (fielded Apna Dal candidate Mukhtar Ansari) and SP ~ 1.23 Lakh votes and remaining 0.87 Lakh votes to others.
Result - BJP WON
Year 2012 –
(Uttar Pradesh assembly extrapolated to Lok Sabha seat): 17.18 Lakhs, Votes polled 8.82 Lakhs (Voter Turnout - 51%)
Congress got ~1.62 Lakh votes, BJP ~1.92 Lakh Votes, BSP ~ 1.49 Lakh votes & SP ~ 1.73 Lakh votes, Others (include Apna Dal) ~2.06 Lakh votes
BJP won 3 assembly seats in Varanasi, Apna Dal won 1 seat Rohaniya and SP won seats of Sevapuri segments.
So, going by any stretch of imagination... Media/Congress/AAP campaign that this is safe seat of BJP is untrue.

BJP voting percentage has fallen from ~31% in 2009 to ~22% in 2012 elections.
We did survey 1200 people in Varanasi (which is a robust sample size for a lone constituency) and weighted the respondents' profile to match that of Constituency Demographics and here are the results.
# With high profile battle and increased awareness, the voter turnout is expected to be ~70%
# Overall out of 18 lakh expected voters12.6 lakhs would cast their votes
# We asked the respondents in a 6 way fight between BJP, BSP, SP, Congress, AAP and Quami Ekta Dal in the race with BJP fielding Modi, AAP fielding Kejriwal, and QED fielding Ansari and the results were
57% preferred Modi in a 6 way fight, 16% Ansari, 6% Congress, 4% SP, 3% BSP and 2% Kejriwal, Remaining 12% for other candidates

This would result in Modi getting around 7 lakh votes and winning by a margin of over 5 lakh votes

Despite all the drumbeating, Arvind kejriwal would get merely 25000 or 2% of the votes and end of forfeiting his deposit and possibly be placed in 6th or 7th place

# In a situation if Opposition fielded a join candidate probably Kejriwal, 60% respondents said they would choose Modi, while 30% said they would choose Kejriwal
This would lead to intense Polarization of the said seat and Kejriwal would score high with the help of SP, BSP, Congress and QED votes

Some traditional voters would also vote for Modi getting over 7.5 lakh votes while kejriwal getting over 3.5 lakh votes.

In such a situation Modi's victory margin will come down to 3 lakh range

East India
The Sun may rise in the east but the same cannot be said about BJP's Sun over the years. The party has struggled to make a mark in Eastern parts of the country. The National party has thrived on alliances in Bihar, Orissa, West Bengal and Assam to win a few seats and has been virtually non-existent in the North East. Even when Ram Janm Bhoomi movement engulfed the Hindi Belt, Bihar was left unaffected. In fact Atal Bihari Vajpayee could not become the PM because BJP-Samta alliance did not do as well as expected in Bihar and the 20 seats difference proved to be the difference between a stable govt and an unstable govt. BJP won 161 seats in 1996 and failed to form govt. while it won 182 and formed a stable govt. 3 years later.
Enter 2014; the situation is not much different. BJP is weak in these states and not only this, the party has failed to cobble up effective alliances in West Bengal and Orissa, where it won 10 seats in 1999. However what makes East India important for the BJP is the state of Undivided Bihar (Bihar+Jharkhand) where the party has become stronger than ever before. Also with scattered performance in the past, 2014 holds a little promise for BJP.
If East India is not so much of good news for the BJP, it is a bigger disaster for the Congress, for it is the regional parties which call the shots in these regions. This part of the analysis focuses on Bihar, Jharkhand, West Bengal, Assam, 7 Sister North Eastern States and Orissa
Statewise Seats Prediction for East India
Bihar – BJP 26 (+14) LJP 4 (+4) RJD 6 (+2) Congress 0 (-2) JDU 4 (-16)
Jharkhand – BJP 10 (+2) Congress 0 (-1) JVM 2 (+1) JMM 1 (-2), Ind 1 (-1)
West Bengal – TMC 26 (+7) Congress 3 (-3) BJP 1 (0) Left Front 12 (-3)
Assam – AIUDF 2 (+1) BJP 6 (+2) Congress 6 (-1)
Arunachal Pradesh – Congress 0 (-2) BJP 2 (+2)
Meghalaya – Congress 1 (0) NPP 1 (+1)
Manipur – Congress 1 (-1) BJP 1 (+1)
Tripura – Left Front 2 (0)
Nagaland – NPF 1 (0)
Sikkim – SDF 1 (0)
Mizoram – Congress 1 (0)
Orissa – BJD 16 (+2) Congress 3 (-3) BJP 2 (+2)
Partywise Summary for East India
Key Findings from East India
# In Bihar, the Modi wave has virtually changed into a Modi Tsunami with the NDA sweeping almost 3/4th of the seats out of 40
# In Jharkhand, BJP gains moderately in seat share by winning 2 more seats. Congress is expected to draw a blank in both Bihar and Jharkhand
# In West Bengal, Mamta Bannerjee is replacing Left Front. Mamta would win half of the seats easily and in the remaining 21, battle is between Left, TMC, Congress and also the BJP in half a dozen seats
# For the 1st time, BJP along with its allies is challenging the Congress in the North Eastern states
# Even in the Left bastion of Tripura, Congress sweats to retain the 2nd position as BJP is turning the heat on
# In Orissa, Congress which was projected to do well earlier by IBTL, also seems to lose like elsewhere
# In all these states Modi factor was visible with the BJP's PM candidate swinging crucial votes on his own (2% in Bengal to 15% in Bihar)
High Profile Seat – Patliputra
An otherwise normal seat, Patliputra came into limelight because of the cold war between Laloo's trusted aide Ramkripal Yadav and Laloo Yadav's daughter Misa Bharti. The seat was also in controversy with Baba Ramdev pitching in his mentee, Nawal Kishore Yadav, former RJD MLC to get a BJP ticket
There is a History to this seat of Patna. In 2009, Laloo Yadav chose this seat out of fear of being defeated at his original seat Chhapra (falling in Saran after delimitation). However Laloo ended up losing Patliputra and winning Saran. The LS seat Patliputra itself was carved out of Patna in 2009.
Year 2004, Ramkripal Yadav won this seat on an RJD ticket, defeating CP Thakur of BJP in a fierce fight. CP Thakur had won the seat in 1999.
Year 2009, RJD supremo Laloo Yadav himself fought the seat after delimitation but lost narrowly to Ranjan Yadav of JDU. Ranjan Yadav was also supported by BJP as it was a part of NDA then.
In this Yadavs dominated seat, there are already 3 strong Yadav candidates and the entry of Independent candidate Nawal Kishore Yadav (if he chooses to fight on Independent ticket) would make the battle even more interesting. A 5th Yadav, Reet Lal Yadav, an influential strongman and a dreaded gangster from Patna was about to file his nomination but Laloo had to literally placate Reet Lal and persuade him to step down. This would both have positive as well as negative implications for him.
Demography – Yadavs 5 Lakhs, Bhumihars 3 lakhs, Maha Dalits 2 lakhs, Paswan 1 Lakhs, OBCs and EBCs 2 lakhs, Muslims 1.25 lakhs, Other Forward Castes and Remaning 2.25 lakhs.
Total – 16.5 lakhs
In this Yadav dominated seat, it is actually the Bhumihars who hold the key who form almost 20% of the Voter base. Since the 2 predominant candidates are Yadavs, an even split is expected. However the key to the victory lies with BJP's influential Thakur leader CP Thakur. Thakur has won this seat many times earlier. He may be the X factor that BJP needs to win this seat. No surprise that Ram Kripal Yadav met Thakur soon after filing nomination and sought his blessings.
Although Ranjan Yadav of the JDU is the sitting MP, not all the Yadavs seem to recognize him. Laloo Yadav remains the most popular Yadav leader in the seat. Almost 50% of Yadav voters preferred RJD, 25% chose BJP and merely 10% preferred JDU.
Among Bhumihars, almost half were undecided and among the remaining it was a tough split with 40% choosing BJP, 28% choosing RJD and 21% choosing JDU

Among Dalit Paswans, 70% preferred BJP while 47% Maha Dalits preferred the JDU

38% Muslims chose RJD, while 32% preferred JDU

Among the forward caste voters, BJP was the top choice with as high as 69% choosing the saffron party

The OBCs chose to flock behind BJP

Misa Bharti of the RJD was top choice among women voters with 39% choosing her

Overall the battle for Patliputra would be as close as possible. Misa Bharti maybe new but her political acumen is sharp and can be ascertained by the way she made her entry displacing her 'uncle' Ram Kripal Yadav. Ram Kripal on the other hand depends on BJP votebank whereas incumbent JDU MP, Ranjan Yadav, who much to our surprise is more of a undergog than a frontrunner this time, will depend on Maha Dalits and other EBCs for victory.
The battle would be interesting. Our projections predict a narrow victory for BJP candidate Ram Kripal Yadav over Misa Bharti of RJD. Ranjan Yadav is trailing behind these 2. There is still time and the tables can turn. Entry of new candidate, Baba Ramdev's mentee Nawal Kishore Yadav may change fortunes of the candidate sin this close battle.
South India
South has always been a weak point for the BJP and a strong point for the Congress. Even in 1977, when there was an Anti Congress wave in the entire nation, Congress did remarkably well in the states of Andhra Pradesh & Tamil Nadu. In 2004 and 2009, AP gave the highest tally to Congress (29 and 33 seats), helping it to form govt. Back in 1999, the TDP-BJP alliance won a whopping 36/42 seats in the state.
Further South, in Tamil Nadu, the state has been a barometer state, for the alliances which won most of the seats of the Dravidian state in 1996, 1998, 1999, 2004 and 2009, went on to form the government. No wonder both AP and TN remain important, not just due to the high number of MPs they count for but also due the fact that these states determine which way the wind is blowing.
Karnataka however is different and seems to give a verdict quite in contrast to the National Poll. In 2004 and 2009, BJP had won the bulk of the seats here. Earlier in 1998 and 1999, it was the Congress which swept the state. Not long ago in October 2013, IBTL had predicted that Congress would win 23 of the 28 seats in the state after a stellar show in the Assembly elections. Has the Congress been able to sustain the momentum? Would Karnataka repeat its tendency of going against the National mood? Kerala with its 20 states has always been a comfort zone for Congress. Even if Congress loses seats, it is the CPM alliance which gains (which could support Congress in the Centre more likely than not).
Statewise Seats Prediction for South India
AP (Seemandhra) – BJP 1 (+1) TDP 12 (+8) YSRC 12 (+12) Congress 0 (-21)
AP (Telangana) – BJP 3 (+3) Congress 5 (-7) TRS 8 (+6) MIM 1 (0) TDP 0 (-2)
Karnataka – JDS 2 (-1) Congress 8 (+2) BJP 17 (-2) AAP 1 (+1)
Kerala – LDF 8 (+4) BJP 1 (+1) Congress 8 (-5) IUML 2 (0) KCM 1 (0)
Tamil Nadu – Congress 0 (-8) BJP 3 (+3) AIADMK 20 (+11), DMK 10 (-8), MDMK 2 (+1) PMK 2 (+2) DMDK 2 (+2)
Pondicherry – Congress 1 (0) NRC 0 (0), PMK 0 (0)
Lakshdweep – Congress 1 (0) BJP 0 (0)
Andaman & Nicobar Islands – BJP 1 (0) Congress 0 (0)
Partywise Summary for South India
Key Findings from South India
In Seemandhra, it is a fierce vattle between TDP and YSRCP while Congress and BJP act as marginal players

In Telangana, the TRS is leading followed by the Congress

Karnataka seems to trash the trend of givinf Anti Mandate and seems to be going with National Mandate this time. Debutant AAP is also expected to win 1 seat in the state

In Kerala, despite anti incumbency, the Left is not gaining as much as expected due to the rise of BJPBJP may win its 1st ever seat in the state

In Tamil Nadu, for the 1st time there is a 3 way fight. BJP has formed a coalition of 7 small parties and seems to be closing on in the gap between the 2 leading Dravida alliance

If the trend continues, NDA led alliance may well upset Jayalalitha's plan to play a Big role in the government formation at the Centre

High Profile State – Andhra Pradesh
In this section, we would have ideally analyzed Bangalore South where BJP stalwart and 5 time MP is facing Nandan Nilekani of Congress. However the entire state of Andhra Pradesh this time offers much more exciting finds than this 1 seat, therefore this section is dedicated to analyzing Andhra and also stating out the key findings. As far as Bangalore South seat is concerned, our Poll shows Ananth Kumar of the BJP winning the seat for the 6th time, pushing Nandan Nilekani to 2nd.
The bifurcation of Andhra Pradesh has drastically changed the political situation in the largest state of the South. Each side has high wave of emotions riding with them. Formation of 2 more fronts, Jan Sena and the political outfit of ex Andhra CM Kiran Reddy would also play role this time
Many say that TDP supremo N Chandra babu Naidu was the 1st known leader to do a politics of development in a country dominated with caste, region, religion and identity politics. CBN did infact establish the city of Hyderabad in in the world map, but despite that he lost the elections badly in 2004 and then again in 2009. CBN is a good administrator but is he a good Politician?
In his life, Chandra Babu Naidu has never won an election on his own. He took over as the CM of Andhra from NTR in mid 90s. In 1998 TDP could just win 12 out of 42 seats. BJP managed to win 4 seats on its own and grabbed a voteshare of 18%. In 1999 Naidu sensed the opportunity and sensed that an alliance was beneficial to the TDP. The 18% votes of BJP helped TDP win a whopping 29 seats in 1999 aong with the countrywide Vajpayee wave. BJP also settled for a meagre 8 seats and won 7 out of the 8.
Year 2004 – the alliance lost badly because of the farmers' suicides in Rural Andhra. Separate Telangana sentiment, plight of the farmers, consolidation fo a grand alliance by opposition (INC-TRS-Left) and little focus in rural areas, ensured that TDP was routed
Year 2009 – In a desperate move, TDP allied with TRS and again ended up winning just 6 seats and handing Congress a comfortable victory. TDP stood for United Andhra while TRS stand was well known. The emergence of PRP led by Cheeranjivi also played spoilsport. The BJP was a marginal player in 2009
Year 2014 – This is 'do or die' election for TDP. Many surveys have predicted a clean sweep for the YSR Congress however as per our survey, this election is as close as possible. The sentiment is with YSRC, fresh after announcement of bifurcation, but TDP is not lagging far behind. Infact, TDP is also gaining due to its proximity with BJP. There were many voters, particularly in Coastal cities who preferred Modi as PM, but said they would vote for TDP as voting BJP would be wastage. TDP would support BJP after the elections.
In Lok Sabha both TDP and YSRC are predicted to win 12 seats each. However in the Assembly, YSRC is nose ahead of its rival. This is where the Modi wave in Coastal cities and the 4-5% votes could help TDP in getting a decisive lead in the Assembly. The campaigning by Cine star Pawan Kalyan could also help. As of date our prediction for Seemandhra Assembly is
YSRC 83
TDP 80
Congress 8
BJP 2
Others 2
In Telangana however, the story is different. The wave is in favour of Telangana, particularly in the Assembly elections. We did survey close to 500 people in Adilabad, which has a sitting MP of TDP and around 70% said they would vote for TRS in Assembly. Congress was a distant 2nd, BJP 3rd and incumbent TDP a far 4th. This is the plight of a constituency which has a TDP Lok Sabha MP. Imagine how other regions would behave.
There were however a few voters who said they will vote for BJP in Lok Sabha and TRS in Assembly. In lok Sabha we have given 8 seats to TRS, 5 to Congress. However in Assembly this gap widens. TRS is not so strong on ground, but the mere sentiment alone is pushing it to a victory, atleast at this point of time. Our predictions for Telangana Assembly.
TRS 60
Congress 28
BJP 9
MIM 9
TDP 6
Others 7
TDP would be missing its founder NTR who in surprising move was able to bring BJP and the Left Front under same alliance roof. The party is surely missing the political acumen of its founder. In Narendra Modi, Chandra Babu Naidu has got a Trump card who might have the capability to pull back TDP, by virtue of alliance. In fact Modi is someone who has Naidu's development image, NTR's political acumen, MGR's aura and Sanjay Gandhi's quick decision making ability and that makes him someone like Sardar Patel.
West India
The Politics in West Front is quite different from that of the other regions. The 3rd Front and other parties are almost non-existent here and even in most of the states except Maharashtra, the fight is directly between Congress and the BJP.
Rajasthan, Chhattisgarh and Madhya Pradesh went to Polls recently and are important states form BJP's perspective and so is Gujarat, the home state of BJP's Prime Ministerial candidate Narendra Modi. A weak or no presence in many other states means BJP has to sweep these states, winning most of the seats, if it were to stake claim for govt. formation. Will Modi wave ensure this happens?
As per our prediction however, the Congress sun seems to be setting in the West. In many states, the party is likely to become perpetually weak as it is in Bihar, UP, Orissa and Bengal
Statewise Seats Prediction for West India
Gujarat – BJP 24 (+9) Congress 2 (-9)
Chhattisgarh – BJP 9 (-1) Congress 2 (+1)
Madhya Pradesh – Congress 2 (-10) BJP 27 (+11)
Rajasthan – BJP 22 (+18) Congress 3 (-17)
Maharashtra – Congress 6 (-11) BJP 18 (+9), Shiv Sena 11 (0) NCP 9 (0) MYT 2 (+1) MNS 1 (+1) AAP 1 (+1)
Goa – Congress 0 (-1) BJP 2 (+1)
Dadra & Nagar Haweli – BJP 1 (o)
Daman & Diu – BJP 1 (0)
Partywise Summary for West India
Key Findings from East India
It is the Westerly breeze that turns into a Tsu'Namo' in the West India as NDA sweeps 117 out of 143 seats in the region

Buoyed by recent Assembly elections, BJP is expected to sweep Rajasthan, Chhattisgarh and Madhya Pradesh and winning almost every seat that comes its way

The story is not different in Gujarat as the party is winning a record 24 seats, knocking off its previous best ever tally

In Maharashtra despite MNS and AAP's presence, the BJP is expected to win 31 out of the 48 seats.

Congress would lose more seats and perform worse than the NCP

Pan India Summary
NDA – 289
BJP 256, SS 11, SAD 6, LJP 4, MDMK 2, DMDK 2, PMK 2, MYT 2, HJC 1, NPP 1, NPF 1, RLSP 1
UPA – 87
INC 66, NCP 9, RJD 6, IUML 2, NC 1, JMM 1, KCM 1, RLD 1
Others – 177
TMC 26, Left Front 22, AIADMK 20, BJD 16, TDP 12, YSRC 12, DMK 10, BSP 10, SP 8, TRS 8, JDU 4, AAP 3, INLD 3, JDS 2, PDP 2, JVM 2. MNS 1, MIM 1, SDF 1, Independents & Others 24
to be continued ...
Share Your View via Facebook
top trend
what next
IBTL Gallery