Modi govt announces Rs 2250 crore cash benifits to govt employees, 50000 new govt recruiments in a year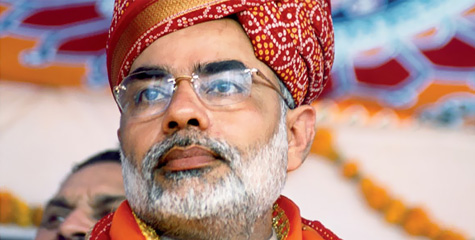 Gujarat government has announced Rs 2250 crore cash package for 8 lakh government employees on the occasion of completion of Chief Minister Narendra Modi's 10-year rule in the state. 8 lakh families will get direct benefit of sixth pay commission recommendations by receiving third installment of arrears in cash instead of getting in GPF.

The various benefits are summed up as:
Gujarat government's 4.53 lakh karmayogis will receive around Rs 1082 crore as arrears
Gujarat government's 3.47 lakh pensioners will receive Rs 295 crore arrears in cash
7% increase in dearness allowance for 8 lakh employees of the state with 1st July 2011 meaning Rs 637 crore to employees and Rs 216 crore to pensioners
Increment for govt employees on fix wages in range of Rs 800 to Rs 4400 per month in four different categories.

Vidhyasahayaks, police lokrakshaks, administrative assistants, peons, Vanpal assistants, revenue talati who get monthly Rs 4500 at present will now get Rs 5300 with increment of Rs 800 per month. Similarly teaching assistants in secondary education system get Rs 5,000 per month at present but now they will get Rs 9400 with increase of Rs 4400 per month. Teaching assistants in higher education system and unarmed police sub inspectors in the state who get monthly Rs 6,000 presently will get increment of Rs 4,000 and thus will be paid Rs 10,000 per month. Sevaks, sahayaks, Van rakshan sahayaks who get Rs 3500 per month will get Rs 4500 with Rs 1000 increment.

The government also plans to induct 50,000 youths in government system this year. According to state govt's announcement, as many as 2.25 lakh youths have got jobs in last ten years in Gujarat govt.
Share Your View via Facebook
top trend
what next
IBTL Gallery