Steve Jobs, Apple's visionary leader dies aged 56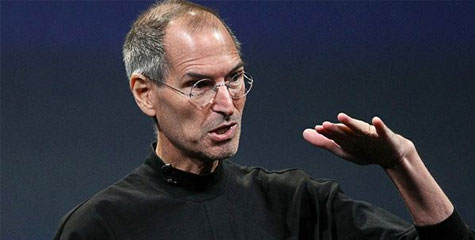 The co-founder of Apple Inc, one of the world's great entrepreneurs, Steve Jobs, who transformed the worlds of personal computing, music and mobile phones, died on Wednesday at the age of 56 after a years-long battle with pancreatic cancer. He was surrounded by his wife and immediate family when he died in Palo Alto, California.
His death was announced by Apple. "Steve's brilliance, passion and energy were the source of countless innovations that enrich and improve all of our lives. The world is immeasurably better because of Steve," Apple said in a statement.
The company paid homage to their visionary leader by changing their website to a big black-and-white photograph of him with the caption "Steve Jobs: 1955-2011." The flags outside the company's headquarters at 1 Infinite Loop flew at half mast.
The Silicon Valley icon who gave the world the iPod, iPhone and iPad had stepped down as chief executive of the world's largest technology company in August, handing the reins to long-time lieutenant Tim Cook. There remain concerns about whether Apple would stay a creative force to be reckoned with in the longer term without its visionary. Jobs died one day after the launch of Apple's latest iPhone.
A college dropout, Buddhist and son of adoptive parents, Jobs started Apple Computer with friend Steve Wozniak in 1976. The Apple II gave Apple its position as a critical player in the then-nascent PC industry, culminating in a 1980 initial public offering that made Jobs a multimillionaire. In 1985, owing to differences of opinions with the board, he was fired from the company he'd founded. Apple's fortunes waned after that. However, its purchase of NeXT -- the computer company Jobs founded after leaving Apple -- in 1997 brought him back into the fold. Later that year, he became interim CEO and in 2000, the CEO.
It was the iPhone in 2007 that secured his legacy in the annals of modern technology history.Forbes estimates Jobs' net worth at $6.1 billion in 2010, placing him in 42nd place on the list of America's richest.

His death triggered an immediate outpouring of sympathy. "The world rarely sees someone who has had the profound impact Steve has had, the effects of which will be felt for many generations to come," Bill Gates said. Twitter was abuzz with 10000 tweets per second, a fact that speaks volumes about how much Steve Jobs mattered to the tech-savvy world.
Share Your View via Facebook
top trend
what next
IBTL Gallery