Don't send Pak Hindus back until we decide - Delhi High Court tells UPA government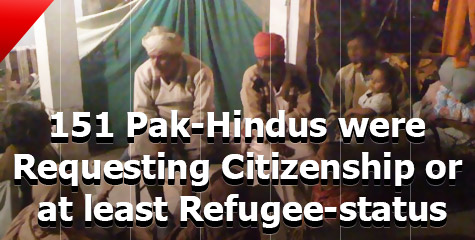 Delhi High Court has taken a strong position on the plight of Pakistani Hindus who have fled Pakistan due to oppression and persecution at the hand of Islamists. Congress-led UPA government had told them that they cannot stay here and would have to go back to Pakistan when their visa expires. These 151 Hindus were requesting Citizenship or at least refugee-status.

- - - - - - - - - - - - - - - - - - - - - - - - - - - - - - - - - - - - - - - - - - - - - - - - - - - - - - - - - - -
हिंदी में पढ़ें : उच्‍च न्यायालय ने सरकार से पूछा कि पाकिस्तानी हिंदुओं को शरण क्यूँ नहीं
- - - - - - - - - - - - - - - - - - - - - - - - - - - - - - - - - - - - - - - - - - - - - - - - - - - - - - - - - - -
Hindu Mahasabha had come to their help and had filed a PIL in Delhi High Court in this regard seeking political asylum for them. The petition stated that the validity of the visas had expired and the 151 Pakistan nationals face threat of deportation. Professor Bheem Singh, Baldev Singh Baleria and Gaurav Bansal appeared for the Hindu Mahasabha while Additional Solicitor General Amarjeet Singh Chandok appeared for the Government.

A bench of Acting Chief Justice A.K. Sikri and Justice Rajiv Sahai Endlaw issued notices to the external affairs ministry and the home ministry and sought their responses by 29 Feb, 2012 to the question why they should not be given asylum. This is significant because the presence of Crores of Bangladeshi intruders has been ignored due to vote bank politics, and these 151 Hindus were denied asylum by government. A plea has also been made to the prime minister and the National Human Rights Commission that the lives of the Pakistani Hindus would be in danger if they are sent back.

The leaders of Akhil Bhartiya Hindu Mahasabha Dr. Santosh Rai, Baba Pt. Nand Kishor Mishra, Swami Keshava Nand Saraswati, Delhi State President Colonel D K Kapoor, Chaudhary Naahar Singh, Lovy Bhardwaj, Chaudhary Angrez Singh, Jangbahadur Kshatriya, Veer Ramnath Loothara, Arun Kumar Gehlot, Chadrabhaan Agrawal, Chaudhary Ramsharan Singh, Shailendra Pratap Gehlaut, expressed happiness and thanked Dr. Rakesh Ranjan for this decision of Delhi High court.
Share Your View via Facebook
top trend
what next
IBTL Gallery