Champions of 'Freedom of Expression' stand to get exposed as Salman Rushdie plans arrival to India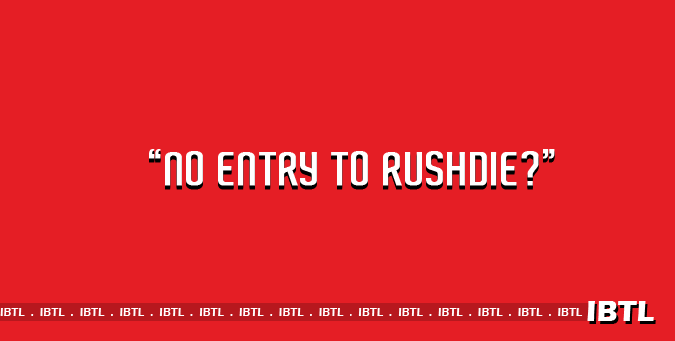 It could not have come for a worse time than this. Yesterday, India celebrated 'Pravasi Bhartiya Diwas' that is NRI day. And, a British Indian of International fame, a Booker Prize winning author, a son with Indian roots, Sir Salman Rushdie got invited for the Jaipur Literature Festival starting January 20th.

Salman Rushdie's 2nd book Midnight's Children had won the Booker Prize in 1981. However, his 4th book, The Satanic Verses was banned in India and several other countries under Islamic dominance for an alleged blasphemy against the Islamic Prophet. Even fatwahs were issued against him.

सलमान रश्दी की भारत यात्रा - 'अभिव्यक्ति की स्वतंत्रता' के ठेकेदारों की पोल खुलेगी
Interestingly, those who championed 'Freedom of Expression' when it came to the nude paintings of Hindu deities, especially female deities, painted by M F Hussain (who's a Padma Vibhushan, Padma Bhushan and Padma Shri), had become spectacularly mute when his book was banned. He visited India twice after that, with high security.

Now, his this visit comes in the backdrop of UP elections. Darul Uloom Devband, which could not tolerate its chancellor praising the Modi government for its exceptional development in Gujarat, has flexed its muscle and asked the government to 'cancel his Visa' as he has hurt the sentiments of Muslims (23 years ago). All India Muslim Personal Law Board has also raised the same demand.

What is more remarkable is the reactions from different political parties. Congress' Rasheed Masood said that his Jaipur programme should be cancelled as it could generate reactions in view of the UP elections. RLD's Kaukab Hamid said that urgent action should be taken to stop his entry. SP's Ahmad Hasan said that Indian government has been appeasing anti-muslim forces across the world and his entry must be immediately stopped. Even BJP's Mukhtar Abbas Naqwi said that his arrival during election time was not proper and it won't be wise to give him a Visa.

Sanjoy Roy, managing director of Teamworks Productions, which produces the Jaipur Literature Festival, said, "A literature platform like the Jaipur festival is a place for free speech in the best democratic traditions. In plural societies such as ours, it is imperative that we continue to allow avenues for unfettered literary expression".

Salman Rushdie, however, wrote on Twitter that he doesn't even need a visa for coming to India.

But the episode has once again exposed the skewed standards that are applied on Muslim Sentiments and Hindu Sentiments in Hindu majority India. While a painter painting nude paintings of Hindu deities is awarded with top civilian honours, and whose death is termed as 'Great loss to nation' by the Prime Minister, while Indian government submits an affidavit in the Supreme Court questioning the existance of Shri Ram, and while an essay denigrating the characters of Sita and Shri Ram is taught in Delhi University, an author for apparently hurting Muslim sentiments through a book written in England, gets entire political class lobbying against him so as to cater to minority vote bank, and the activists who take immense pleasure in defending those who denigrate Hinduism, completely tight-lipped.
Share Your View via Facebook
top trend
what next
IBTL Gallery