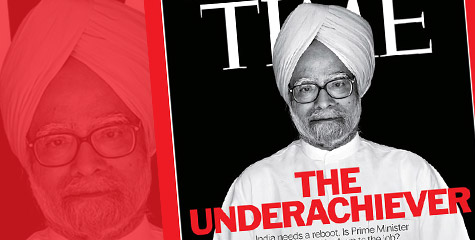 New Delhi, Jul 8: American newsmagazine Time has described Prime Minister Dr Manmohan Singh as an 'underachiever', three years after describing him as the man who changed millions of lives for the better.

Dr Manmohan Singh appears on the cover of this week's issue of Time, and in the accompanying article, the magazine has raised questions about his ability to act in the face of slowing growth, policy inaction and unpopularity of economic reforms.
"India needs a reboot. Is Prime Minister Manmohan Singh up to the job?," asked Time.

The magazine flays Dr Singh for having "squandered" the last three years, his lack of confidence, inability to rein in his ministers and "unwilling" to carry out reforms that would continue the process of liberalisation he helped start in 1991.

Criticising the UPA the article says, "The laws that could help create growth and jobs are stuck in parliament, sparking concerns that politicians have lost the plot in their focus on short-term populist measures that will win votes."

"India is stalling. To turn it around, Prime Minister Manmohan Singh must emerge from his private and political gloom," elaborates the write-up, calling the Prime Minister "a man in shadow".
The magazine says retaining the finance portfolio following the exit of Pranab Mukherjee gives an opportunity for Dr Singh to turn the economy around, though it is not sure if he could manage that.
Share Your View via Facebook
top trend
what next
IBTL Gallery