Will Work With Congress If Lokpal Bill Is Passed : Hazare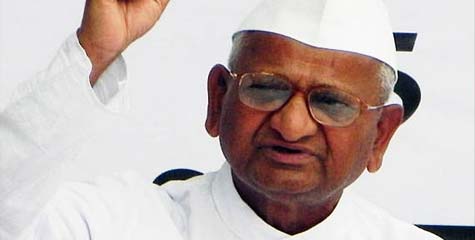 Anna Hazare has made his intentions clear to the countey. Anna has said that he will work with Congress across the country if the UPA government brings a strong Lokpal Bill in the Winter session of Parliament and keeps its words on other reforms. At the same time, Anna also warned Congress if the Lokpal Bill was not passed in the Winter session he will work against Congress in the coming assembly elections in Uttar Pradesh and four other states like in Hisar.
Anna has for long been sought to dispel the notion that he is anti-Congress. Anna has also betrayed his discomfort on being connected with RSS. Here again, Anna said that he had no connection with RSS. "I have only seen him (RSS Chief Mohan Bhagwat) on TV, I have never met him or spoken to him. These are all allegations. In politics political parties are ready to do anything. I have nothing to do with the RSS or BJP," Hazare said.
Although it is difficult to believe, but Anna said, "I don't even recognise Ram Madhav," when asked why the RSS leader was allowed on stage during the Jantar Mantar agitation. Anna also said that he had never thanked BJP President Nitin Gadkari for the BJP'S support. He further said that Arvind Kejriwal was wrong in saying that Anna Hazare is above Parliament. He said that he would tell his colleagues not to exceed their brief and speak on each and every issue.
Hazare laughed off Congress leader Digvijay Singh's claim that he was being set up as a Presidential candidate in 2012. "I neither have the aptitude nor the desire to become President.", he said.
Share Your View via Facebook
top trend
what next
IBTL Gallery