Agnivesh out of Team Anna, keeps up Anti-Indian tradition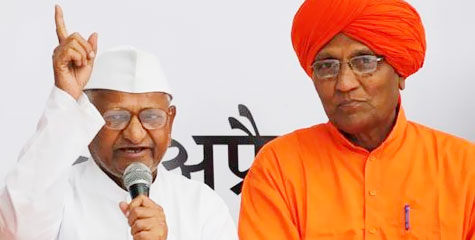 Keeping with his own tradition of going against the popular mandate, Indian people's views & emotions, self proclaimed 'Swami' Agnivesh, today declared that he is no more a part of Team Anna. The declaration came at the very crucial juncture, when Govt is seemingly bowing to the Team Anna's demands for Jan Lokpal Bill & the Jan Lokpal Bill & at the time when India Against Corruption agitation is witnessing a historical & ever growing support.
Talking to the BBC in New Delhi, Agnivesh declared his decision. Team Anna members are under pressure to relieve Anna Hajare from Fast & seat themselves for fast as they are younger than Anna. Echoing the same emotions, while extending support to Anna's cause, Shivsena Chief Balasaheb Thakre today called on Team Anna to seat on Fast relieving Anna from the burden.
Clearing his stand, Agnivesh said that he cannot stand with a man who is walking on a suicidal path. He said that he is concerned about the health of Anna Hajare. Agnivesh told BBC, that Anna had declared that his fast would be indefinite, not 'Fast unto Death'!
The anxiety of Agnivesh was clear from his interactions with the reporters of different media houses at the different times of the day. While talking to a Delhi based private News Channel, he said at 11 am that he is concerned about Anna's health & the priority should be saving his life. Talking to another news Delhi based channel at evening he expressed his anger as he could not get in touch with other members of Team Anna. He said whatever he is saying are his personal views. He again called for safeguarding Annas health. Finally he spoke to BBC declaring that he is severing ties with Team Anna.
While BBC reported that he has told some of his friends that as Anna's agitation is not for social justice, he is getting away from it, he denied that there is no differences in Team Anna! He also ridiculed Anna for claiming to "follow his inner voice". "When Anna is telling Govt to hear people's voice, he himself following 'his inner voice', which is ridiculous."
Some people are pointing to the fact that the masses which are participating in Anna Hajare's India Against Corruption campaign, are only using two slogans – Bharat Mata Ki Jay & Vande Mataram, which are annoying the seudo-secularist, self proclaimed 'swami' Agnivesh. He already expressed his objections to using this nationalist slogans & the sketch of Bharat Mata (Mother India) as he feels that those are Anti Minority slogans.
On the ground level, Muslims & Christians are participating in very large numbers in the ongoing Anna agitation, tearing apart the long held seudo-secularist (so-called) fundamentals.
Share Your View via Facebook
top trend
what next
IBTL Gallery