Muslims drifting towards BJP in Gujarat - Special Report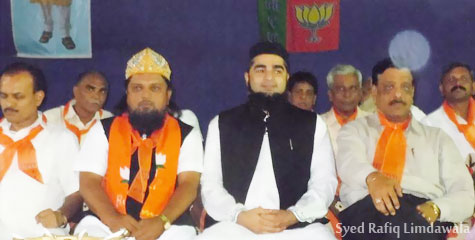 On the eve of his starting 72-hour fast for Sadbhavna Mission from Saturday morning, Chief Minister Narendra Modi today exuded confidence the mission would get the people's blessings and lend further strength to the nation's unity in diversity.
In a fervent appeal, he writes an open letter to the countrymen that India's history has been witness to the reality and Gujarat has realized that the poison of casteism and communal fanaticism do not serve anybody. Gujarat has risen over the distortions in society and national life to march on to the path of progress, peace, unity, harmony and brotherhood.
Mr. Modi said that the Constitution of India is supreme for him. There could be no favorite, no foe of a State. As the Chief Minister, he said, anybody's suffering is my suffering. Providing justice to all is the State's duty. He wished he gets everybody's blessings on this occasion to serve the people better.
Sama is considered a star in the BJP's spectacular show in six major cities of Gujarat in elections to municipal corporations that took place Sunday.
Sama, 43, is the wife of Habib Sama, a two-term general secretary of the BJP minority cell of Rajkot city. They have four children -- three sons and a daughter.
"The people have voted overwhelmingly for Chief Minister Narendra Modi," she said, crediting him with the state's economic and infrastructure development.
Sama was elected from ward 18 of the Rajkot Municipal Corporation in the Jungleshwar-Rukhadiapura area.
She says that in earlier years, fellow Muslims would chide them for not working for the Congress -- the community's traditional first choice in politics.
Over the years, as she and her husband came to be identified as the Muslim face of the BJP in Gujarat, opinions began to change.
"A stage has now been reached where the development oriented initiatives of Narendra Modi are drawing the Muslim community towards the party." she said.
According to Sama, both Hindus and Muslims desire development. When they see it happening, people are likely to be drawn towards the party behind it.
"Chief Minister Modi is a magnet in this regard who has mesmerized people with his hard work and people oriented governance," she said.
"Of the total 33,600 voters in our ward, almost 9,400 are Muslims. A fair number voted for the BJP this time," she says. The bulk voting helped her to defeat Manjulaben Hindoja of the Congress.
Share Your View via Facebook
top trend
what next
IBTL Gallery