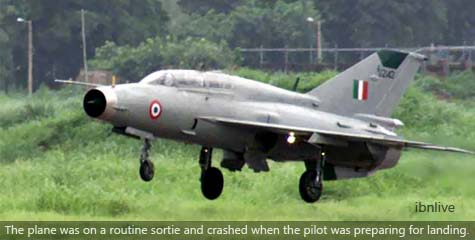 A MiG-21 combat aircraft of the Indian Air Force crashed in Rajasthan's Barmer district near Uttarlai airport on Friday but the pilot survived. The incident occurred at around 11.30 AM when the pilot was preparing for landing from a routine sortie. The pilot, Flying Officer Amit, ejected safely, Defence PRO SD Goswami said.
A court of inquiry has been set-up to probe the accident.
This is the sixth air crash involving IAF's fighter aircraft this year and the fifth belonging to the MiG-21 series warplane. Owing to the increasing number of accidents involving the MiG-21 aircraft type, the IAF has decided to phase them out by 2017.
Out of the total 976 MiG-21s inducted in the service since 1960s, more than 50% have been lost in air crashes.
Share Your View via Facebook
top trend
what next
IBTL Gallery