First all-women sky-diving team to debut on IAF day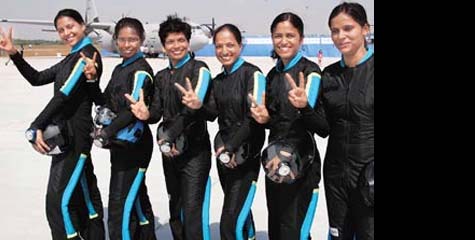 Here is an all-women team of skydivers of the Indian Air Force (IAF), which will make its official debut on Air Force Day on October 8 by jumping from an An-32 transport aircraft at the Hindon airbase on the outskirts of Delhi. The team comprises IAF officers, a psychologist, an accounts officer and engineers.
Team lead, accounts officer Asha, aa mother of 2, is a skydiving ace. She was led to the sport by her husband, Wing Commander EKN Swaroop, also an IAF skydiver. Asha had competed in heptathlon at the national level before joining the IAF, which helped her a lot. She joined the IAF in 1997 and targetted skydiving in 1999. She met with an accident in 2001 when her parachute was entangled in high-tension cables at Tambaram in Tamil Nadu. Soon, husband and wife became the first skydiving couple in the air force. When the IAF decided to form the first women's team of skydivers, Asha was the obvious choice. In the last 11 years, she has made 560 jumps.
Flight Lieutenant Priyanka Shedangi, an engineer by training, left her job in an MNC to join the IAF as a technical officer. She wanted to become a pilot but ended up being a skydiver. A proud member of the women skydiving team, she now enjoys flying - outside the aircraft.
For Flight Lieutenant Sangeeta Paulraj, an education branch officer, and also the team photographer, the experience was clearly out of the world. The Bangalore girl has under her belt a double century of jumps.
Flight Lieutenant Priyanka Hooda hails from Hissar. She took to skydiving inspired by television shows on the adventure sport. The other skydivers in the team, Rupal Thakur and Nisha Govardhan, an electronic and computer engineer, are equally thrilled to be in the spotlight.
Share Your View via Facebook
top trend
what next
IBTL Gallery